Ultimate Zambia Safari
Who: Couples and Honeymoons
From £6,010pp
The Ultimate Zambia Safari
Walk on the wild side on this 12-day Ultimate Zambia Safari that takes you from South Luangwa National Park to the Lower Zambezi and finally the iconic Victoria Falls. Enjoy unique wildlife watching as you canoe along the Zambezi, set out on immersive walking safaris and stay in remote bushcamps.
Itinerary At a Glance:
Stay in a remote bushcamp deep in South Luangwa National Park
Sip sundowners while watching hippos splash in the river
Set off on an unforgettable night safari to spot nocturnal species
Immerse yourself in the bush on unforgettable walking safaris
Catch a flight over the fabulous Lower Zambezi National Park
Take to the water on boating and canoeing safaris along the Zambezi River
Explore the thundering Victoria Falls while hiking and flying above it on a short helicopter trip
Why Book with Original Travel?
Just a few of the extra touches that come as standard on an Original Travel holiday...
See More
All of the holidays we create are completely tailor-made to you
This sample itinerary is intended to give you a flavour of what we can do
Day 1:

International Flight
Pack your bags because your Ultimate Zambia Safari begins today. Make your way to the airport to catch your overnight flight to Lusaka, via Johannesburg, a journey that takes approximately 16 hours.
Land in Johannesburg and connect across to the onward flight to Lusaka.
On arrival into the Zambian capital, you will be met at the airport by a member of our team and transferred to Mfuwe, a village on the doorstep of the glorious South Luangwa National Park. It's only 40 minutes to your first stop within the national park, after passing through the bustling Mfuwe town. Soak up the atmosphere until you enter the park and arrive at your luxury lodge where you will be staying for the night.
Today, for the first full day of your tailor-made Ultimate Zambia Safari, you'll be getting well and truly off the grid as you drive deep into the South Luangwa National Park to stay in a remote bushcamp.
The journey is part of the fun as it is also your first opportunity to spot some of the Luangwa's wildlife from giraffe, elephant, hippo, impala and of course, big cats. After your morning drive you will arrive at your luxury bushcamp in time for a lovely fresh lunch followed by some time to yourselves to unpack, settle into your room and explore the camp.
For the rest of the day, wildlife watching is the focus. The South Luangwa's savannah grasslands are teeming with life, home to four of the 'Big Five' (lion, leopard, rhino, elephant and buffalo) as well as 60 mammal species and over 400 bird species. Accompanied by an expert safari guide, learn about the park and its inhabitants as you bump across the bush.
As evening day turns to night, enjoy sundowners overlooking the Luangwa River full of honking hippos before setting off again under the cover of darkness to seek out the park's nocturnal wildlife - everything from hyenas and leopards to owls, porcupines and bush babies.
Pleasantly exhausted, return to the camp and retire to your stylish chalet where you'll get to fall asleep to the soothing sounds of an African night after a delicious supper.
Days 4-5:

Wonderful Walking Safaris
Early walks give you a completely different perspective of the park and are an absolute must on your Ultimate Zambia Safari itinerary.
Early walks give you a completely different perspective of the park and are an absolute must on your Ultimate Zambia Safari itinerary.
For the next few days you'll get to experience the morning magic as you set off into the park bright and early on immersive walking safaris. Accompanied by your private guide you'll be tracking wildlife, identifying their spoor marks and learning about the medicinal properties of the indigenous plant life.
The next few days are likely to be one of the high points of your trip; walking safaris give you the chance to truly immerse yourself in the bush and interact with the surroundings in a way that isn't possible while you're rushing through it in a 4x4. So lace up your boots and take it all in as you well and truly walk on the wild side.
Spend the afternoons relaxing back at camp until tea when you then head out in your 4x4 to gain a closer wildlife experience and explore more of the reserve. Every drive and every walk is completely different, as are the sundowner cocktail spots!
Day 6:

Flight to Lower Zambezi
After a delicious breakfast, set off on a 4x4 safari drive, travelling out of South Luangwa park to Mfuwe international airport where you'll be catching a short flight to the Lower Zambezi.
During the flight keep your eyes glued to the windows as you fly into the Lower Zambezi National Park, dotted with elephant on islands and in the middle of the mighty Zambezi river, enjoying an utterly unforgettable perspective of the stunning surroundings.
Once you land you will be taken to your intimate luxury camp where you will be staying for the next four nights.
Days 7-8:

Days at Leisure
We've left the next two days free for you to enjoy the wealth of activities and excursions on offer from the camp at your own pace.
The biggest difference here is that you can enjoy being on the Zambezi River, unlike the Luangwa River. On the water, climb aboard a pontoon boat to explore the main bank, islands and channels where you'll get to see crocs lurking, hippos sunning themselves on the banks and elephants crossing the river.
For an even closer look, take part in a canoeing safari where you'll be accompanied by expert guides as you drift in near silence along the waters and enjoy wildlife watching in its purest form.
On land, get a backstage look at the Zambezi wildlife on walking safaris and thrilling day and night game drives. You can expect to see huge numbers of elephant and buffalo, as well as lightning-fast cheetahs, spotted hyena and big prides of lion.
Back at camp enjoy some R&R as you sip sundowners on the veranda, enjoy a siesta by the pool and refuel after your adventure-filled days with hearty evening meals.
From the Lower Zambezi, you'll be travelling to the south of the country to the thundering Victoria Falls or 'Mosi-oa-Tunya' as it is locally known, translating as 'The Smoke That Thunders'.
A short one-hour flight takes you to The Falls, where you will be staying for the final three nights of your Ultimate Zambia Safari in a lovely lodge nestled within tranquil gardens.
After you've unpacked, settled in and enjoyed a late lunch, head out on an afternoon river cruise. Drift along and soak up the views as you sip sundowners - the ultimate introduction to this watery wonderland. It is time to relax - safaris can be exhausting!
Day 10:

Tour of Victoria Falls
Enjoy a full day exploring Victoria Falls on the penultimate day of your Ultimate Zambia Safari.
Armed with a rain jacket you will spent time walking opposite the falls that stretch across into Zimbabwe. We highly recommend seeing the Falls from above and a short helicopter flip is the best way to see the incredible river system.
If you're pining for an adventure, take part in the many hair-raising activities on offer from white water rafting on the rapids to bungee jumping from the famous Victoria Falls Bridge or simply return to the tranquillity of your lodge to relax by the pool.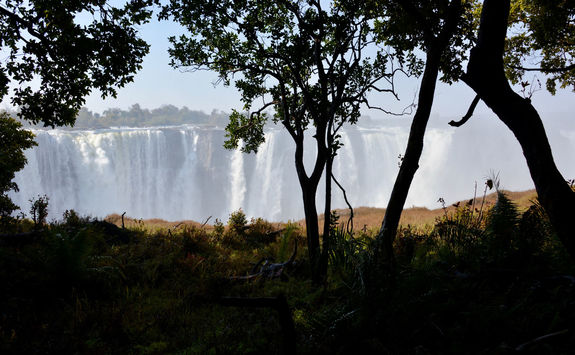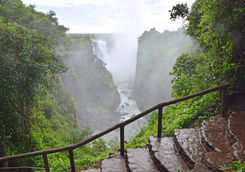 Day 11:

Time to Head Home
Pack your bags today and wave goodbye to the falls as you begin your journey home. The first part of the journey is a short flight - just over an hour - from Livingstone to Lusaka Airport.
From Lusaka catch your flight home, a journey that takes approximately 16 hours via Johannesburg. Pass the time napping, gazing out the window and flicking through your photos from the trip, reminiscing about all your adventures from the past 11 days.
Your overnight flight from Johannesburg arrives in London this morning.
All of the holidays we create are completely tailor-made to you
This sample itinerary is intended to give you a flavour of what we can do
A Rough Idea of Price
While all of our holidays are completely tailor-made and prices will vary based on things like time of year and level of accommodation, we want to give you as good an idea of how much this itinerary will cost. The below prices are based on two people sharing.
This Itinerary
If you would like to book the itinerary mentioned above, with economy flights, during mid-season and staying in our preferred room category at our preferred hotels.
Bare Necessities
If you would like to pare back the above itinerary by travelling at non-peak times, staying in a standard room and removing some or all of the guided activities.
Bells & Whistles
If you are looking for something extra special, we can discuss with you upgrading your accommodation, flights or activities.
Charlotte C is our expert for this itinerary and, as a seasoned traveller, has the inside track on the most memorable adventures.