Sarawak and Beach
Who: Couples and Solo Travellers
From £2,355pp
Seeing Sarawak and Basking on the Beach
Head to Malaysian Borneo where you can enjoy a 13-day adventure to see the wildlife and natural wonders of Sarawak as well as the beautiful tropical beaches on Gaya Island in Sabah.
Itinerary at a Glance:
Meet proboscis monkeys in Bako National Park
Trek through the rainforest near Kuching and visit a traditional longhouse
Meet villagers and learn to cook with a local family
Soak up some sun and snorkel in the clear waters off Gaya Island
Why Book with Original Travel?
Just a few of the extra touches that come as standard on an Original Travel holiday...
See More
All of the holidays we create are completely tailor-made to you
This sample itinerary is intended to give you a flavour of what we can do
Day 1:

International Flight
Make your way to the airport in London to check in for your connecting flights to Malaysian Borneo this evening. The overnight flight to the Malaysian capital takes 13 hours, before you connect on to Kuching in Borneo.
You will land into Kuala Lumpur late this afternoon and then board your connecting flight to Kuching, which will take just two hours.
By the time you land in Kuching it'll be evening and a member of our team will be waiting to escort you to your hotel. Our Concierge can recommend a restaurant for dinner or you might like to simply stay put at your hotel and get an early night.
Day 3:

Bako National Park
For your first day of exploring you will be met at the hotel by your guide and transferred 45 minutes to the fishing village of Bako, where you can hop into a boat and continue the journey to Bako National Park.
With a population of roughly 300 proboscis monkeys, Bako is the ideal introduction to Borneo's iconic and endemic wildlife species. As well as primates you'll also hopefully spot silvery langurs, bearded pigs and monitor lizards while exploring the thick forest, sandy beaches and swampy areas on foot with your guide. Birders should also keep their eyes fixed on the treetops as Bako is known for its fantastic variety of birds.
After spending a few hours in the park, have lunch at the café and then make your way back to Kuching via boat and then car.
Day 4:

Longhouse Adventures
Enjoy a traditional Malaysian experience today and visit a longhouse where you'll meet the local host and learn about life in the rainforest.
The day begins with a 45-minute transfer to Annah Rais Longhouse. Along the way you'll pass rice fields, rubber plantations, tropical forest and mountains, so make sure you keep your eyes glued to the window. When you arrive, chat to the host over a glass of tuak (rice wine) before a guided tour of the longhouse.
Next up you can explore on foot with a trek through the rainforest complete with a cooling dip in a fresh water stream. While you relax and enjoy lunch the porters will start raft building - feel free to help out if you like!
You can then spend a few hours on the raft exploring the forest waterways and trying your hand at fly fishing. Finally, trek back to the longhouse where you'll find your driver waiting to take you back to Kuching for the night.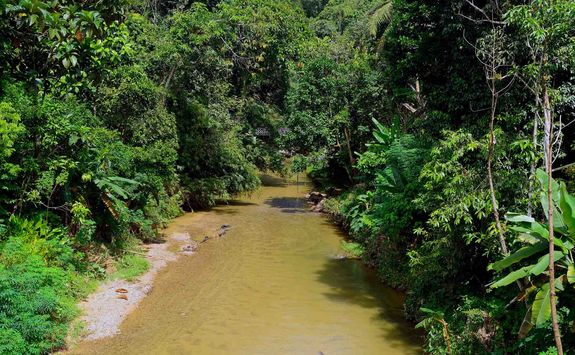 Day 5:

Cycling and Cooking
Get up early, before the heat of the day, and meet your guide for a transfer by sampam (flat bottomed boat) over to Kampong Village on the other side of the Kuching River. Here you'll begin a morning cycling tour during which you will stop at a traditional wooden stilt house to hear local folklore and visit a lively local market where you can shop for exotic fruits and handicrafts.
After a few hours of cycling you'll then make your final stop at a local family home for a cooking class. The family will take you to a nearby fresh market to pick up the ingredients and you can then learn to cook some traditional Sarawak dishes in the comfort of a home kitchen. Of course whatever you cook is then yours to enjoy with the family for lunch.
After that, you'll head back to your hotel in Kuching to spend the afternoon and evening at your leisure.
Day 6:

Semenggoh Wildlife Centre
Start today with a visit to the Semenggoh Nature Reserve which is made up of nearly 2,000 acres of protected virgin forest. You'll arrive at the centre in plenty of time to see the resident orangutans enjoying their breakfast at one of the feeding platforms.
After feeding time, leave the centre and head instead to Kampung Bengoh village, which is around a 30-minute drive away. On the way enjoy views of rice fields, rubber, cocoa and pepper farms and forests, rivers and mountain ranges. When you arrive at the village you will embark on a guided kayak along the river. As you paddle, take in the views of soaring limestone hills and local villages on the banks. You will stop for a simple lunch and a rest at one of these villages before making your way back to Kuching.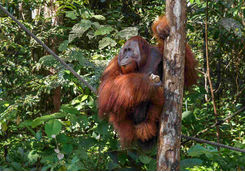 After a busy few days, treat yourselves to a lie in this morning and then spend a relaxed few hours at the hotel before check-out.
A driver will then take you to Kuching airport in good time for your flight to Kota Kinabalu which should take approximately an hour-and-a-half. When you land you'll be met by anther of our team who will take you to a nearby pier from where you can catch the boat to Gaya Island. The boat should only take 15 minutes so you'll be landing on the sandy shores and heading for Gaya Island Resort, your luxury hotel base for the next few days, before you know it.
Once you've settled in, spend the rest of the afternoon on the beach, maybe with a cocktail in hand. Dinner is then at one of the hotel restaurants.
Immerse yourself in the luxurious surroundings of Gaya Island Resort today. Chill out on your private veranda, by the hotel pool or on the beach for a day by the sea.
This afternoon you might like to try reef snorkelling with the resident marine biologist. Keep a record of the fish you spot on the identification slate which will be provided for you and you'll be amazed at how many different species you see.
For dinner tonight, head to Fisherman's Cove restaurant which is situated on the rooftop with fantastic views of Mount Kinabalu, the highest peak in Malaysia. There is a focus on sustainable fishing and organic ingredients, and the chef serves up a tasty selection of fresh seafood.
Additional Activities
Indulge in a spa treatment
The next two days are yours to relax and enjoy the facilities and activities on offer at Gaya Island Resort. Whether you want to stay active in the gym, enjoy more snorkelling or prefer to take it easy on the beach and in the spa, there is plenty to keep everyone happy here.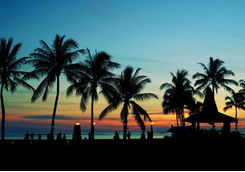 Additional Activities
Join one of the resort chefs for a cooking class where you'll learn more about the local Sabahan cuisine.
Day 11:

Mangrove Kayaking & Sunset Cruise
This morning, after breakfast in the sun, go kayaking through Gaya Island's mangrove forest. The resort's resident naturalist will accompany you and point out the best places for spotting crabs, hornbills and monitor lizards.
After kayaking the rest of the day is then yours to relax and enjoy the sunshine and your tropical surroundings. Dinner can be enjoyed at one of the restaurants or, if you prefer, we can arrange for a special private beach barbecue to mark the last night of your holiday.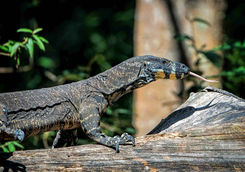 Today you'll say goodbye to Gaya Island. After checking out, sail back to the mainland before a transfer back to the airport.
Check in for your night flight back to the UK via one of the hub city airports in South East Asia. Your total flight times will be around 17-and-a-half-hours.
After a night in the air you'll land back in London this morning.
All of the holidays we create are completely tailor-made to you
This sample itinerary is intended to give you a flavour of what we can do
A Rough Idea of Price
While all of our holidays are completely tailor-made and prices will vary based on things like time of year and level of accommodation, we want to give you as good an idea of how much this itinerary will cost. The below prices are based on two people sharing.
This Itinerary
If you would like to book the itinerary mentioned above, with economy flights, during mid-season and staying in our preferred room category at our preferred hotels.
Bare Necessities
If you would like to pare back the above itinerary by travelling at non-peak times, staying in a standard room and removing some or all of the guided activities.
Bells & Whistles
If you are looking for something extra special, we can discuss with you upgrading your accommodation, flights or activities.
Holly is our expert for this itinerary and, as a seasoned traveller, has the inside track on the most memorable adventures.