Over the next two days you'll want to get fully stuck in to what a visit to Deplar Farm is all about - heli-skiing.
Kitted up and ready to go, your guide will accompany you up on the helicopter to the summit and then guide you down the side of the huge couloirs for an average of 3,000 vertical feet. As you create fresh tracks through the soft white powder and feel the Icelandic air rush past your face, the adrenaline will be pumping and you'll feel on top of the world. By the time you make it from summit to sea level, those legs of yours will have had a real workout but with fjord views like these you'll barely notice. Time to head back up! Since Iceland is so far north its spring days are significantly longer than the vast majority of the world, which can only mean, more time for skiing - there's none of this last lift is at 4pm malarkey here. The occasional closing of the weather window is inevitable in this part of the world, but with the highly-skilled pilots on constant stand-by, getting off the ground takes as long as it takes you to kit up. Something as short as a half hour gap in the weather could mean two epic runs, for example.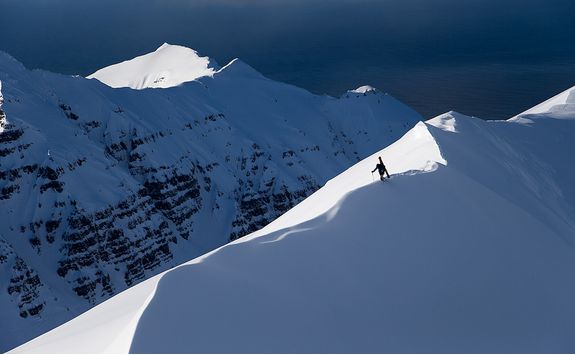 When you do eventually tire and realise your legs are rather sore, a massage back at Deplar Farm is a must. From there it's a shower and a leisurely, much deserved dinner in the main dining room, complete with roaring fireplace. Serving the finest Icelandic cuisine – think Arctic char, north Atlantic salmon, skyr, and lamb – with contemporary twists and exceptional attention to detail, chefs Alex and Andrea ensure guests are always full, happy and with every whim catered for. The panoramic mountain views from the table aren't bad either!