Spain and Portugal Road Trip
Who: Couples, Families and Road Trippers
From £3,670pp
Coastal Cities, Trekking Trails & Vineyard Tours: Northern Spain and Portugal Road Trip
Spend 16 days exploring northern Spain and Portugal; eating the best food in the Basque country, hiking along glorious trails in the Picos de Europa mountain and getting under the skin of Portugal and relaxing in the Douro Valley.
Itinerary at a glance:
Hunt out the best pintxos (Basque tapas) in San Sebastian
Hike through the Divine Gorge in the Picos de Europa
Sample the best port in Porto
Why Book with Original Travel?
Just a few of the extra touches that come as standard on an Original Travel holiday...
See More
All of the holidays we create are completely tailor-made to you
This sample itinerary is intended to give you a flavour of what we can do
Once you have dropped your bags in your room and got your bearings, you will meet your expert local foodie guide for a tour of San Sebastian's best pintxos (Basque tapas) spots, an essential part of any day in Donostia (the Basque name for San Sebastian). As you make your way between the best bars in the city - be prepared to squeeze in, most of them are four stools and 400 bottles behind the bar affairs - you will hunt out the best fresh prawns, line-caught baby squid and perfectly charred steak, pairing each with the perfect drink. Our local Concierge will recommend their favourite haunts so there's no danger of FOMO.
After a morning spend exploring the city under your own steam you will make your way to a local surf shop to experience the other essential part of life in San Sebastian - surfing.
Under the instructions of an expert, you will work up an appetite for a hearty Basque supper as you learn to pop-up, carve and maybe even hang ten on the perfect city beach break that is Zurriola Beach. After your lesson you will have some time to relax on the beach before dinner. Consult our Concierge again for their favourite spots.
After a lazy morning spent in San Sebastian, this afternoon you will make the return journey to Bilbao, the next stop on your road trip.
After you have dropped your bags in your room, we recommend going for a wander around the compact city before dinner.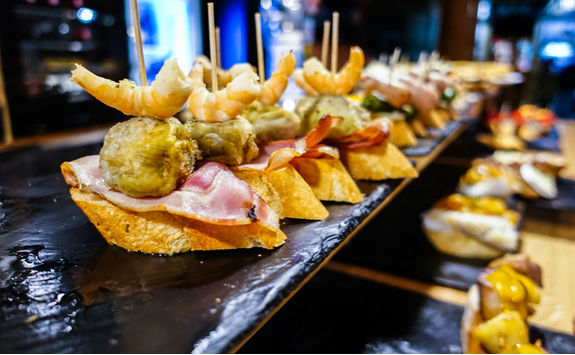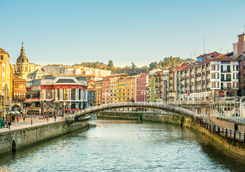 This morning your expert local guide will meet you at your hotel for a morning's walking tour of the city.
You will visit the old town, as well as the ultra-modern area around the iconic Frank Gehry-designed Guggenheim museum. If you'd like to, you will dip into the museum and learn a bit more about its permanent collection, which includes work by Yves Klien and Andy Warhol. Suitably art-sated you will move on to the Mercado de la Ribera, where you will have lunch and a pintxos and local wine tasting.
Spend this afternoon exploring the 'Guggenheim-effect' - the recent surge in art-related tourism to Bilbao, including Louise Bourgeois' spider sculpture 'Mamma.'

Day 5:

Picos de Europa National Park
After lunch today you will make the two-and-a-half hour drive to your country estate hotel in the Picos de Europa National Park.
We recommend spending the rest of the day exploring your surroundings before dinner.
The Cares river runs into the beautiful Picos de Europa National Park. Also known as the Divine Gorge, it is one of the most breath-taking trekking trails in Europe, carved out of the mountains over millennia by the Cares river.
The hiking trail follows a wonderful, near eight-mile course through the most beautiful parts of the gorge. You will follow the trail with your expert guide, who will be with you for the next two days and will keep you distracted from aching legs explaining the flora and fauna, not to mention the geological history, of the area. Post-hike, you will return to your hotel.
This morning you will hike from your hotel, with the aim of reaching Vega de Urriellu mountain hut. To reach it, you will take a funicular to the small village of Bulne, which is unreachable by car.
The views back across the valley from here are beautiful and once you have drunk your fill you will continue hiking on the well-trodden footpath towards the Collau Valley viewpoint. After a short breather you will continue hiking up to the iconic Naranjo de Bulnes limestone peak, reaching Vega de Urriellu hut in time for a well-earned mountain lunch and to appreciate the spectacular views, before descending and being privately transferred back to your hotel mid-afternoon.
This morning you will be met at your hotel and privately transferred to the launch point for your kayaking adventure along the river Sella.
After a quick lesson, you will spend the next four hours kayaking down the river, including plenty of stops for snacks and to rest your arms. At the end of your trip you will be privately transferred back to your hotel - don't forget to leave a towel and some dry clothes in the car!
Day 9:

Santiago de Compostela
After a lazy morning, you will make the four-hour drive from The Pisco de Europa National Park to Santiago de Compostela, your base for the next two days.
Day 10:

Santiago de Compostela
Today is yours to explore Santiago de Compostela at your own pace.
The city is the capital of Spain's Galicia region and the beautiful cathedral is said to be the last resting place of the remains of the eponymous St James, making this one of the key pilgrimage sites in Europe. We recommend wandering the picturesque streets and alleys, before relaxing in the main square drinking coffee and munching on churros.
After breakfast this morning you will make your way to Ourense, about an hour-and-a-half away, to drop off your hire car before a two-and-a-half hour private transfer to your hotel in Porto.
Once you've settled in, we recommend heading out to explore and hitting a few of our favourite bars for a port wine or two before dinner. This time its our Portuguese local Concierge who will be there to advise.
After breakfast this morning, you will be met by your guide for a private morning tour of Porto, taking in the charm and history of this fascinating city. You will begin in Boavista and Foz, two of the cities trendiest areas, where the Atlantic meets the Douro River, and wander around the city's best museums.
In the historic city centre, you will explore the Church of Sao Francisco, whose simple gothic exterior belies an astonishing interior dripping in gold. After taking in the Stock Exchange building and the city's Cathedral you will cross the river and visit some of Porto's best port wine cellars and learn about the fortified wine's production, storage methods and the secrets that make it one of the most popular post-dinner drinks in the world. This afternoon you will learn more about port as you enjoy a private wine tasting at one of our favourite cellars.
After breakfast this morning you will be privately transferred to your hotel in the Douro Valley, an hour-and-a-half outside Porto.
Once you have arrived at your hotel, you will have the rest of the day to explore its surroundings and the vineyard terraces of the valley.
The next two days are yours to do with as you like.
There is plenty on offer at your hotel and the Douro Valley has plenty of activities on offer, including cruises down the river and visits to local vineyards. If you would prefer something more zen, we can book you in at the hotel's salubrious spa or you can simply spend your time pottering around and getting stuck into a good book.
DOP, a restaurant which sits on the river, is owned by Portugal's answer to Jamie Oliver and is a must when in the region.
All of the holidays we create are completely tailor-made to you
This sample itinerary is intended to give you a flavour of what we can do
A Rough Idea of Price
While all of our holidays are completely tailor-made and prices will vary based on things like time of year and level of accommodation, we want to give you as good an idea of how much this itinerary will cost. The below prices are based on two people sharing.
This Itinerary
If you would like to book the itinerary mentioned above, with economy flights, during mid-season and staying in our preferred room category at our preferred hotels.
Bare Necessities
If you would like to pare back the above itinerary by travelling at non-peak times, staying in a standard room and removing some or all of the guided activities.
Bells & Whistles
If you are looking for something extra special, we can discuss with you upgrading your accommodation, flights or activities.
Harriet is our expert for this itinerary and, as a seasoned traveller, has the inside track on the most memorable adventures.