Luxury San Sebastian
Who: Couples and Families
From £1,000pp
We don't call San Sebastian the food capital of the Europe lightly; after all the city is home to 17 Michelin stars. This three-day itinerary, however, bypasses the stiff white table clothes in favour of the food the locals love to eat on a daily basis, getting you to grips with Basque cuisine.
Itinerary at a glance:
Seek out the best bar snacks in the city on a pintxos (Basque tapas) tour
Learn the secrets of traditional Basque cuisine in a cookery class with members of one of the city's famously secretive culinary societies
The city has a perfect beach break so enjoy some surfing
Why Book with Original Travel?
Just a few of the extra touches that come as standard on an Original Travel holiday...
See More
All of the holidays we create are completely tailor-made to you
This sample itinerary is intended to give you a flavour of what we can do
Day 1:

International Flight
Your flight to Spain will leave London in the very early morning and will land in Bilbao - the most convenient airport for San Sebastian - mid morning.
After you have cleared customs and collected your luggage, you will pick up your hire car and make the one-and-a-half-hour drive along the coast to San Sebastian, arriving - conveniently enough - in time for lunch. After checking into your hotel and dropping your bags in your room, we recommend that you take a wander into town to hunt out the best spot for a long and leisurely lunch - consult your handy Dossier for our favourite spots - before spending the afternoon wandering around the golden beaches and lush hillsides.
The waves at San Sebastian have been drawing surfers from around the globe to Zurriola Beach for years. Today, you will join their ranks with a private surfing lesson.
After breakfast, you will make your way down to the beach where you will meet your surfing instructor. Following a short safety briefing, you will don wetsuits and hit the waves. A couple of hours later, having caught a few waves - or at least stood up - you will head back to your hotel to dry off in preparation for an evening spent poteo-ir-de-pintxos, literally 'searching out morsels on toothpicks' - an extremely civilised post work ritual in San Sebastian. This is no pint and pork scratchings affair, with an expert local guide you will visit the best pintxoterias in town, from back street haunts to tiny bars with three stools and three hundred wines, searching out the best bar snacks on offer, always accompanied by lashings of Rioja or txakoli (the local, and slightly fizzy, white wine), poured into tumblers from a great height.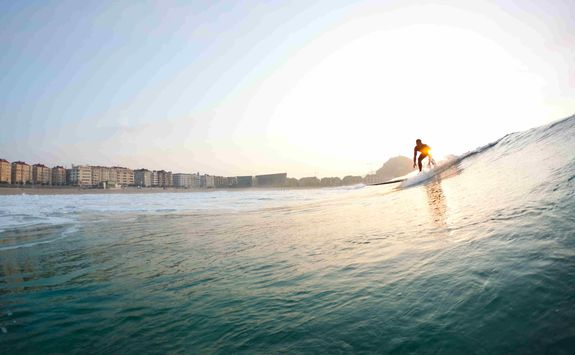 Additional Activities
Walk along the dramatic coastline to see Peine del Viento (The Wind Comb), local artist Eduardo Chillada's most famous work, consisting of rusty steel girders jutting from rocks and constantly dashed by waves.
This morning you will make your way to a local cookery school for a half-day private cookery lesson, where you will learn how to prepare traditional Basque dishes, such as hake and clams in parsley sauce, with a member of one of the city's secretive cooking societies.
As you chop, whisk and stir under the watchful eye of your expert chef tutor, you will learn just what it is about Basque cooking that draws in the epicurious from across the globe. Having devoured the fruits of your labour, and with trousers feeling rather tighter than this morning, it will be time to drive back along the coast to Bilbao for your flight home, which will leave late afternoon and land in London in the early evening.
All of the holidays we create are completely tailor-made to you
This sample itinerary is intended to give you a flavour of what we can do
A Rough Idea of Price
While all of our holidays are completely tailor-made and prices will vary based on things like time of year and level of accommodation, we want to give you as good an idea of how much this itinerary will cost. The below prices are based on two people sharing.
This Itinerary
If you would like to book the itinerary mentioned above, with economy flights, during mid-season and staying in our preferred room category at our preferred hotels.
Bare Necessities
If you would like to pare back the above itinerary by travelling at non-peak times, staying in a standard room and removing some or all of the guided activities.
Bells & Whistles
If you are looking for something extra special, we can discuss with you upgrading your accommodation, flights or activities.
Harriet is our expert for this itinerary and, as a seasoned traveller, has the inside track on the most memorable adventures.