Brazilian Nature Sabbatical
Who: Couples and Sabbatical Goers
A Luxury Nature Sabbatical in Brazil
Brazil's biodiversity is legendary in scope, this most captivating of countries is a treasure-trove of natural wonders. Spend five weeks experiencing everything; from life in an urban rainforest, to the canopy of the Amazon, to diving in a marine reserve on this epic nature sabbatical.
Itinerary at a Glance:
Arrive in Rio and see co-habitation at its best during an urban rainforest tour
Spend five nights in Costa Verde at a sustainability reserve
Venture on to Iguassu to spend five nights bird and wildlife spotting
Go jaguar tracking in the Pantanal
Get a different view of the Amazon from jungle observation towers
Head to Fernando de Noronha to marvel at the archipelago's marine conserve
Why Book with Original Travel?
Just a few of the extra touches that come as standard on an Original Travel holiday...
See More
All of the holidays we create are completely tailor-made to you
This sample itinerary is intended to give you a flavour of what we can do
Days 1-2:

Cidade Maravilhosa, The Marvellous City
Start your month-long luxury nature sabbatical in the samba-fuelled, golden-beached city of Rio de Janeiro.
With lush, forested mountains on one side and shimmering beaches on the other, there is no shortage of scenic backdrops here.
Your nature-focused trip begins with an urban rainforest tour for a chance to see how the flora and fauna are enduring alongside this metropolis.
Week 1:

Sustainability in Costa Verde
Head inland to the Costa Verde; your base for the next five days on this nature-focused sabbatical.
Staying in an ecological reserve, get involved with sustainability projects that aim to improve social and economic issues, with a focus on environmental concerns.
Week 2:

Brilliant Birds in Iguassu National Park
Journey south west towards the Argentinian boarder on the next leg of your luxury nature sabbatical, to your home for the next five days, Iguassu Falls.
The national park surrounding the falls is the most bio-diverse area in Argentina and home to 320 species of bird, thanks to the pristine forest. Spend time spotting birds and marvelling at the thundering curtains of water rushing over the falls.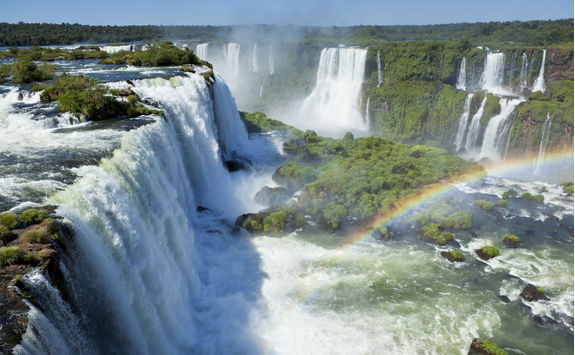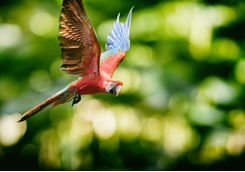 While you're here, keep an eye out for other wonderful wildlife such as jaguars, caimans, otters, giant anteaters, coatis and more

Week 3:

Jaguar Tracking in the Pantanal
The next stage of this Brazilian nature sabbatical will take you north-west, to the Pantanal wetlands. The Pantanal is the world's largest wetland and home to an estimated 1,000 bird, 300 mammal and 9,000 invertebrate species.
It has a flat topography, making animal spotting easier than in the confines of the jungle, which is ideal for jaguar tracking. Spend a week with experts who know the local jaguars intimately as you follow, photograph and learn about these big cats, who are perfectly adapted for life in this watery world.
Week 4:

Be Amazed in the Amazon
Find your very own Amazonian sanctuary while staying in an eco-lodge in the heart of a private reserve in the jungle.
With huge observation towers, spend your days watching and learning about the rainforest, from above the canopy and below it. The complexities of the Amazon will unfold before your eyes, on private trails, where you can learn more about the local flora and fauna.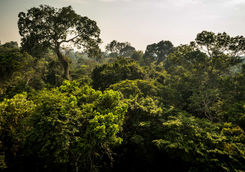 Week 5:

Marine Conservation in Fernando de Noronha
Arrive in Fernando de Noronha, the largest island in an archipelago 218 miles off the north-eastern coast of Brazil, for the last stage of your Brazilian sabbatical.
The island is a protected national marine park and ecological sanctuary, which makes it the ideal place to explore unknown beaches, dive and snorkel.
All of the holidays we create are completely tailor-made to you
This sample itinerary is intended to give you a flavour of what we can do
Ollie is our expert for this itinerary and, as a seasoned traveller, has the inside track on the most memorable adventures.