Today is sadly the last day of your holiday, so spend it as you like. We recommend heading down the coastal path to any one of the wonderful - and often deserted - beaches and secret coves that surround St Tropez and passing the day napping and frolicking in the sea.
Alternatively, we can arrange for a day of messing about in boats, with a private yacht charter for you, complete with delicious picnic lunch and expert skipper.
For your final dinner and sundowners this evening, take a taxi into town and enjoy the best drinking, dining and dancing that the most famous seaside town in Europe has to offer.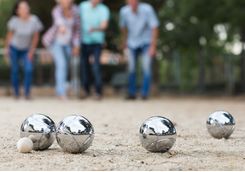 Watching a game of boules – which resembles the kind of mating ritual you might see on Planet Earth more than a ball game – is a must when in St Tropez, as is trying your hand at it.