London to Naples by Train
Who: Couples, Honeymoons and Eco Travellers
From £3,015pp
London to Naples, Amalfi Coast and Pompeii by Train
This eight-day eco-friendly train trip to Italy will see you drinking aperitifs in Turin and relaxing on the authentic Amalfi Coast. With enough time to uncover hidden gems, and experience the majestic wonders of the Mediterranean, you'll enjoy Italy by train.
Itinerary at a Glance:
Scenic train journeys through France and Italy's beautiful countryside and mountains
Captivating tour of secret Naples
Discover how Roman's lived in the UNESCO world heritage site of Pompeii
Daytrip to the enchanting island of Capri and it's majestic grottos
This itinerary can be done entirely by train
Why Book with Original Travel?
Just a few of the extra touches that come as standard on an Original Travel holiday...
See More
All of the holidays we create are completely tailor-made to you
This sample itinerary is intended to give you a flavour of what we can do
The first leg of this exciting London to Naples by train trip is from London's St Pancras Station to Paris Gare du Nord on the Eurostar. Coffee in hand, you'll be on French soil before breakfast.
After a speedy two-and-a-half hour journey under the English Channel, you will disembark in Paris. It's then an easy seven-minute ride on the RER - the Parisian metro - to Gare de Lyon, where the next part of your adventure begins. Feeling peckish? Grab yourself a fresh pain au chocolat on the way before settling in for the next part of your eco-friendly trip.
Whizzing through the beautiful French countryside, this six-hour scenic route from Paris to Turin will have you peering out of the window the whole route, as you glide across rivers and speed through the foothills of the French Alps.
Arriving into Turin in the early evening, stretch your legs and meander around the historical city centre. As well as a wealth of beautiful architecture, Turin is home to famous brands such as Martini Rosso and Cinzano, so you would be silly to miss out on an aperitif. After dinner, stroll along the River Po, and then catch the Nevabus River Taxi back to view the evening lights of central Turin from the water.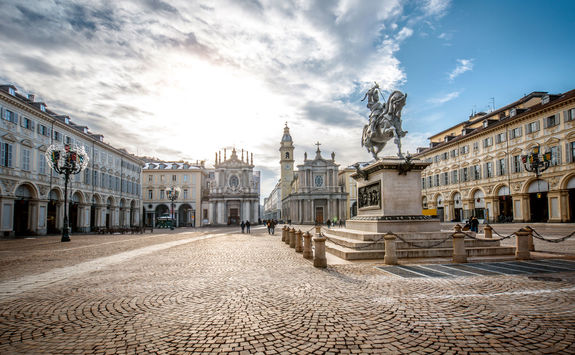 Today during your London to Naples by train adventure, it's time to travel down the spine of Italy, to Naples.
This six-hour journey will see you journey through the core of the country, passing large cities and tiny villages, remote vineyards and vast valleys, right down to the calm coast.
After checking-in to your stylish hotel, your private guide will meet you outside and take you on an off-the-beaten-track tour of Naples. Learn about Neapolitan myths and legends, mafia stories, art history, politics and anecdotes of daily life; you will also get to sample freshly cooked pastries, authentic Italian street food and, of course, pizza. Weave your way down narrow alleyways and pass through inconspicuous doorways with your guide to learn more about a city recognised as one of the oldest in the world. En route you will meet many locals and even get involved in an artisan workshop.
The rest of your day is free for you to relax, maybe indulge in a revitalising treatment at the hotel's spa, or take a serene swim in the pool as the sun sets behind the horizon.
Day 3:

Daytrip to Pompeii
Less train travel today, but still a little bit! Take a 45-minute train down the coast to the UNESCO World Heritage Site of Pompeii.
Pompeii was buried under a thick layer of volcanic ash and pumice in AD 79, when Mount Vesuvius erupted. Over a thousand years later the city was uncovered, and new discoveries are still being found today. The ash preserved the city, and creates an unremarkable snapshot of Roman life, frozen at the moment it was entombed.
Day 4:

Naples to the Amalfi Coast
After a leisurely breakfast, your driver will take you on a scenic one-and-a-half hour drive down the western coast, to the Amalfi Coast.
Your boutique hotel is located in the quaint fishing village of Praiano, boasting the best views of the Amalfi Coast, the perfect place for some R&R. You will be staying here for three nights; so settle in. Have a meander around the village, nip down to the shore and have a dip in the crystal clear Mediterranean waters. Or indulge in a spa treatment to help you unwind, before enjoying a magnificent multi-course tasting menu. During your London to Naples train trip, our Italy Concierge will be on hand to make restaurant bookings and offer insider advice on what to see and do.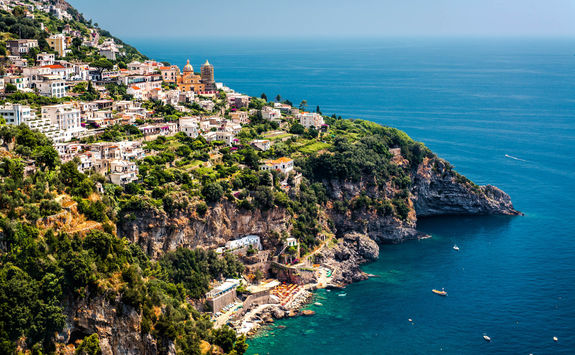 Rise and shine, today you will be heading over to the enchanting island of Capri.
You will have four hours to explore the fairytale-like island, but the journey is just as beautiful as the destination. You will have opportunities to swim in the Mediterranean and explore the heavenly, colourful grottos - so don't forget your swimsuit!
Once on the island, take the chairlift to the top of Monte Solaro for breathtaking views, before descending down to the famous Piazzetta for a coffee or aperitif and some world class people watching opportunities.
After yesterday's adventure packed day, enjoy a well-earned lay-in this morning, on this London to Naples by train holiday.
Today you have the day to yourself. Relax at your luxurious hotel, or get out and explore more of the blissful coastline.
Maybe visit picturesque Positano, the Amalfi Coast's most famed town. Stunning colourful houses delicately clinging to the cliffs, with balconies cascading down to the sea. Stroll along the steep streets adorned with unique, authentic restaurants and alluring tiny shops.
Tomorrow you will be travelling quite a bit, so utilise today to get some gifts or treat yourself, dine on some appetising Amalfi cuisine, and soak up the sun.
Day 7:

Amalfi Coast to Milan
After one last scrumptious breakfast on the terrace, your driver will take you back along the coast to Naples; this journey will take about one-and-a-half hours.
Once in Naples, you will board a train to shoot you back up the centre of Italy in four-and-a-half hours to the fashion and commercial capital, Milan. This afternoon your guide will not only take you to the famous Duomo, but take you up it... onto the roof. This spectacular tour will teach you all about the history of Milan, and give you a fresh insight into this intriguing and prosperous city.
End your day in the hotel's spa, unwinding in the panoramic relaxation room and pampering yourself with a signature treatment.
Say ciao to Italy, as today you are returning home. Similar to your outbound journey, you will take a seven-and-a-half hour train to Paris, and then the speedier two-and-a-half hour journey from Paris to London.
Enjoy a drink from the on-board bar as you race through the countryside, toasting your successful rail adventure.
All of the holidays we create are completely tailor-made to you
This sample itinerary is intended to give you a flavour of what we can do
A Rough Idea of Price
While all of our holidays are completely tailor-made and prices will vary based on things like time of year and level of accommodation, we want to give you as good an idea of how much this itinerary will cost. The below prices are based on two people sharing.
This Itinerary
If you would like to book the itinerary mentioned above, with economy flights, during mid-season and staying in our preferred room category at our preferred hotels.
Bare Necessities
If you would like to pare back the above itinerary by travelling at non-peak times, staying in a standard room and removing some or all of the guided activities.
Bells & Whistles
If you are looking for something extra special, we can discuss with you upgrading your accommodation, flights or activities.
Arran and Charlotte H are our experts for this itinerary and as seasoned travellers they have the inside track on the most memorable adventures.