Family Grenada
Who: Families
From £1,725pp
A week-long luxury family holiday filled with fun in the sun on the beautiful Caribbean island of Grenada.
Itinerary at a Glance:
Learn the basics (or advanced bits) of diving
Wild swim in waterfalls
Deep-sea fish off the coast of the island
Why Book with Original Travel?
Just a few of the extra touches that come as standard on an Original Travel holiday...
See More
All of the holidays we create are completely tailor-made to you
This sample itinerary is intended to give you a flavour of what we can do
Day 1:

International Flight
Your flight to Grenada will leave London in the morning and land in the Windward Isles mid-afternoon. It's an 11-and-a-half-hour flight, including a short stop in St Lucia, so have the iPads fully changed and the children's fun Sharky & George packs at the ready.
Once you have landed and collected your luggage, one of our team on the ground will meet you for a short private transfer to your hotel. Once you arrive, you will have time to settle in before dinner, which we have pre-booked for you.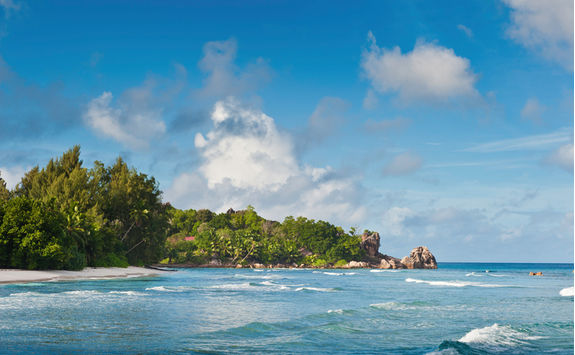 Grenada is home to some of the most beautiful and well-preserved rainforests and national parks in the Caribbean. Today, before the day reaches its hottest point, you will set off with an expert naturalist for a guided hike - tailored to the littlest legs - in the hills.
The goal of your hike is to find the best waterfall for wild swimming, so you will make your way through the national park, keeping your eyes peeled for natural pools and wildlife. Your guide will be sure to point out interesting features along the way and keep the children rapt with stories of the smugglers, pirates and slaves who used to call these hills home. After you have wild swum, you will make your way back to the hotel in time for lunch and an afternoon siesta.
There's nothing quite as fun as wild swimming under a waterfall. Make sure you ask your guide to take photos as you jump into the water as a family!

With its shallow and pristine reefs and spectacular wrecks, Grenada is one of our favourite spots for diving, and particularly for beginners. With that in mind, we have arranged a morning's diving class for you and the children.
Younger ones can enjoy a PADI Bubblemaker class in the hotel pool - designed to teach 8- to 12-year olds the basics of diving - and older members of the family can take to the beach for Junior Open Water courses, where they will discover the joys of diving down to 12m. Adults can also take a diving class, and more experienced divers can head out and dive over Grenada's wrecks and reefs.
This afternoon we recommend spending some time together on the beach or splashing around in the pool, before dinner at the hotel's restaurant.
This morning you will be met at your hotel for the hour-long private transfer to a working cocoa plantation, where you will be met by an expert guide for a private tour of the historical site.
Here, you and the children will learn about the intrepid entrepreneurs who travelled to Grenada to set up the plantations, but also their slaves, who were forced to work in brutal conditions. After your tour, you will discover exactly how chocolate is made, from harvesting the beans to the finished product and get to enjoy a tasting.
This morning you will head out in a boat for a few hours deep sea fishing. The waters around Grenada are teaming with game fish, including tuna, marlins and sailfish.
With an expert instructor, you will head to a spot where the fish are known to gather and cast your line. After (hopefully) catching a few fish, you will make your way back to the beach where a chef will be waiting to cook up your catch for lunch.
This afternoon, we recommend staying on the beach for an epic sandcastle building competition and family fun in the surf.
Day 6:

Messing About in Boats
Today, you will make your way down to the water and meet your expert sailing instructor.
Split into teams, you will learn the basics of tacking, sterns and starboards in mini-catamarans in the calm shallow waters of the bay. Your instructor will make sure to tailor your lesson to your abilities, so that by the end of the morning everyone in the family is on roughly the same level. Lesson over, it's time to compete against each other in a race we're sure will make the America's Cup pale in comparison.
For your last supper in Grenada tonight, we have arranged for you to munch your way through the best cuisine the island can offer - it isn't called the Isle of Spice for nothing - on the beach with a steel band playing. The players may even let the children have a go.
Day 7:

International Flight
After one final fun-filled morning on the beach, you will be privately transferred back to the airport after a late lunch.
Your 14-and-a-half-hour overnight flight will leave Grenada in the late afternoon, with a short touchdown in St Lucia en route.
Day 8:

International Flight
Your flight will land back in London around breakfast time.
All of the holidays we create are completely tailor-made to you
This sample itinerary is intended to give you a flavour of what we can do
A Rough Idea of Price
While all of our holidays are completely tailor-made and prices will vary based on things like time of year and level of accommodation, we want to give you as good an idea of how much this itinerary will cost. The below prices are based on two people sharing.
This Itinerary
If you would like to book the itinerary mentioned above, with economy flights, during mid-season and staying in our preferred room category at our preferred hotels.
Bare Necessities
If you would like to pare back the above itinerary by travelling at non-peak times, staying in a standard room and removing some or all of the guided activities.
Bells & Whistles
If you are looking for something extra special, we can discuss with you upgrading your accommodation, flights or activities.
Ollie is our expert for this itinerary and, as a seasoned traveller, has the inside track on the most memorable adventures.