Family Adventure Argentina
Who: Families
From £5,500pp
An Argentina Family Adventure
There's something for all the family in Argentina. This tour reveals the passions of the vibrant capital, from tango to footie. Nature shares top billing as we showcase the majesty of the Andes and the vast open grasslands of the Pampas which you can experience on horseback gaucho-style.
Itinerary at a Glance:
Explore Buenos Aires on a city tour
Experience the passionate tango with VIP tickets to a dinner show
Improve your riding skills at Estancia Los Potreros
Hike on tranquil Isla Victoria in the heart of Argentina's Lake District
View the spectacular snow-capped peaks and glacial lakes of the majestic Andes
Relax in the luxurious setting of Estancia La Bamba in the heart of Argentina's Pampas - gaucho country
Why Book with Original Travel?
Just a few of the extra touches that come as standard on an Original Travel holiday...
See More
All of the holidays we create are completely tailor-made to you
This sample itinerary is intended to give you a flavour of what we can do
Day 1:

Jet off to the Argentine Capital
Your direct overnight flight to Buenos Aires leaves London in the evening. It's a near 14-hour flight so make sure the children's iPads are fully charged and loaded with must-see movies.
Day 2:

Introducing Buenos Aires
Your flight arrives into the Argentine capital at breakfast time this morning. After you've cleared immigration and customs, your driver will transfer you to your centrally located hotel.
After settling in, explore a little of this intriguing and passionate city. The renovated Docklands area with its trendy bars and restaurants is a good place to start. Alternatively, soak up the cafe culture of Palermo, one of the city's most attractive neighbourhoods. Treat the kids to ice cream as a reward for being good on the plane - dulce de leche flavour of course!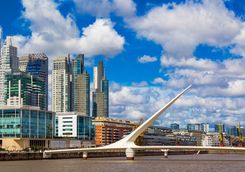 Day 3:

Explore Buenos Aires
Get to grips with buzzing Buenos Aires today on an included city tour. You'll soon be aware of its similarities to Paris: wide boulevards flanked by imposing townhouses.
You'll wander the cobbled streets of historic San Telmo and tick off the city's most important sights including the Cabildo, the Casa Rosada and the National Bank. In Palermo, follow a trip to the park with a visit to the tomb-lined avenues of Recoleta Cemetery. Be sure to pay your respects to Evita: the Duarte family tomb is here. Finally, explore the characterful and colourful La Boca district - the children will love the brightly painted houses. This afternoon, take the Tren de la Costa to Tigre, where there's an amusement park and a fun boat trip to be had.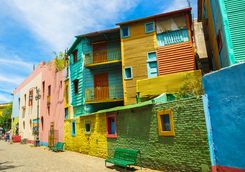 Day 4:

More From Buenos Aires
Today, continue to discover the delightful neighbourhoods of Buenos Aires. If your timing's right, watch a nail-biting derby between the city's rival football teams, Boca Juniors and River Plate.
It's hard to find a corner of Argentina more passionate about the game. Alternatively, immerse yourself in another fervently practised activity - religion. At the Tierra Santa theme park a 60ft tall plastic Jesus emerges out of a plastic mountain to re-enact the second coming. Tonight it's all about the tango. You'll have VIP tickets to a dinner show focused on the popular tango singer Carlos Gardel in the Art Nouveau club in which he used to play to packed audiences.
A driver will take you to Jorge Newbery Airport in good time to catch your flight to the city of Cordoba.
On arrival, collect your luggage and be met by another driver for your transfer to Estancia Los Potreros. A couple of hours' drive south, the ranch is located in the heart of Argentina's famous Pampas. These fertile grassy plains provide abundant grazing for huge herds of cattle and sheep. This is the opportunity for you and the children to learn how to be a gaucho in the comfortable surroundings of a ranch where it's just fine to be as active or as lazy as you like.
Day 6:

Settle in to Ranch Life
Whether the family are keen riders or complete novices, being in the saddle is the quintessential Argentine experience.
Beginners can cut their teeth on easy trail rides within the estate, taking it slowly to spot birds and other wildlife that share the space with farm stock. More advanced riders will jump at the chance to join the gauchos as they carry out their day to day duties: checking on animals' health, herding them from field to field or assisting with dipping and vaccinating. It's tiring work if you're not used to it, but the ranch pool and plentiful hammocks provide a place to relax and soothe those aching muscles at the end of the day.
Day 7:

At Home on the Ranch
On your third day at the ranch, why not try something a little different? Polo is another of Argentina's sporting obsessions and you'll have the opportunity to join - or watch - a practice session if you wish.
The horses found on the ranch are Peruvian Pasos and your hosts will be delighted to explain how they're bred and cared for. If you're more at home in an apron than on horseback, Pato will welcome you into her kitchen to share some of her favourite recipes. All the family will love to chow down on delicious roasted meats cooked asado (Argentinian barbecue)-style, which the adults can wash down with a full-bodied glass of the local Malbec.
The Argentinian Lake District is your destination today. You'll be driven to the airport for your two-and-a-quarter-hour internal flight to Bariloche.
On arrival you'll be met for your transfer to your choice of lakefront hotel, most likely with the snow-capped peaks of the Andes forming the perfect backdrop. Settle in and unwind before enjoying dinner in the hotel's restaurant.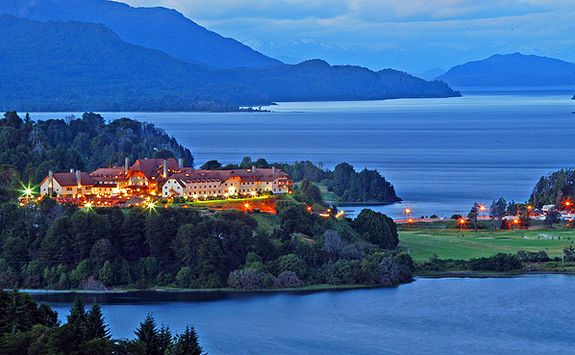 Day 9:

Scenic Tour of the Lake District
This morning join your driver for a scenic drive through the countryside near Bariloche. The road winds along the shore of Lake Nahuel Huapi and past tiny beaches.
At Campanario Bay, the family will have the opportunity to ride the chair lift up to the summit of Cerro Campanario. It's well worth the small investment as the panoramas from the top over the Andes and their many glacial lagoons are captivating. Retrace your steps and join your driver again to continue to the Llao Llao peninsula. You'll want to have a photo stop at San Eduardo chapel, perched on a rocky outcrop at the water's edge, before heading back to the hotel.
Day 10:

Isla Victoria Tour
Today, enjoy a full day tour to Isla Victoria. The island is reached by boat in about half an hour from the small port of Puerto Pañuelo.
Tall cypresses and native coigue trees support a diverse ecosystem. Disembark at Puerto Anchorena, where you and the children can hike on well-marked trails in the forest. After lunch, travel to Peninsula de Quetrihue where you'll find Los Arrayanes National Park. Wooden boardwalks lead into woodland packed with the Arrayan trees that give the park its name. This is a perfect spot for a game of hide and seek.
Young and old Disney-philes alike (and what child isn't?) will love the magical tea house at the centre of the island. According to local legend it so inspired Walt Disney that he created everyone's favourite animated deer in its honour.

Day 11:

Visit San Antonio de Areco
After a two-hour flight back to BA, you will be picked up by one of our team on the ground for a private transfer to your final estancia of the trip.
The journey will take just over two-hours, but worry not for the landscape provides enough spectacular scenery for a truly epic game of 'I Spy' and the maps in the children's Sharky & George packs will have plenty for them to spot and tick off! When you arrive at your estancia, you will be whisked to your rooms to settle in, before a spectacular supper this evening.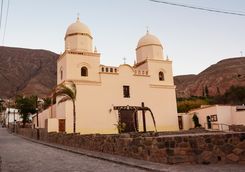 Be sure to take any budding Woodys and Jessies to the Riccardo Guiraldes Gaucho Museum, where they can learn about the history all things gaucho.

Day 12:

Cowboys and Argentinians
There are myriad activities to keep you occupied at the estancia.
Riding is encouraged, but you can swap your saddle for wheels and take a carriage ride around the estate instead. Mountain bikes are available and of course there are plenty of trails if you prefer to hike. The estate has two polo fields if you'd like to watch the local team at a practice session. The estancia also has a luxurious spa on site offering a wide range of treatments. Children tucked up in bed, swap your mate for a glass of malbec and toast to a successful holiday that all the family have enjoyed.
After breakfast, transfer from Estancia La Bamba to the airport in time to catch your early afternoon flight back to the UK. The estimated flight time is a little under 14 hours to London's Heathrow Airport.
All of the holidays we create are completely tailor-made to you
This sample itinerary is intended to give you a flavour of what we can do
A Rough Idea of Price
While all of our holidays are completely tailor-made and prices will vary based on things like time of year and level of accommodation, we want to give you as good an idea of how much this itinerary will cost. The below prices are based on two people sharing.
This Itinerary
If you would like to book the itinerary mentioned above, with economy flights, during mid-season and staying in our preferred room category at our preferred hotels.
Bare Necessities
If you would like to pare back the above itinerary by travelling at non-peak times, staying in a standard room and removing some or all of the guided activities.
Bells & Whistles
If you are looking for something extra special, we can discuss with you upgrading your accommodation, flights or activities.
Ollie is our expert for this itinerary and, as a seasoned traveller, has the inside track on the most memorable adventures.