Captivating Culture and Delicious Delicacies: A Road Trip Around Sicily and Malta
This 11-day trip to Sicily and Malta takes you from the beautiful baroque city of Noto to the gorgeous island of Gozo. Enjoy visits to historical sites, plenty of fabulous food and dreamy days spent exploring the coast.
Itinerary at a Glance:
Explore the beautiful baroque city of Noto
See ancient Roman ruins in the Archaeological Park of Neapolis
Enjoy dramatic views from the slopes of Mount Etna
Wander around the beautiful streets of Valletta on a guided city tour
Explore Gozo's gorgeous coastline by kayak or Riva motor launch
Indulge in wine and food tastings in an extensive vineyard and olive grove
Why Book with Original Travel?
Just a few of the extra touches that come as standard on an Original Travel holiday...
See More
All of the holidays we create are completely tailor-made to you
This sample itinerary is intended to give you a flavour of what we can do
Day 1: International Flight
Your tailor-made trip to Sicily and Malta begins today. After being fast-tracked through airport security, enjoy some complementary snacks and drinks in the airport lounge (even if you're flying economy) before boarding your morning three-hour flight to Catania.
After landing, collect your hire car and make your way south of Syracuse to your hotel nestled in the sleepy countryside of southern Sicily, and where you will be staying for the next few nights. The drive takes approximately fifty minutes, leaving plenty of time to enjoy a leisurely lunch, a dip in the outdoor pool and an authentic Sicilian dinner in the cosy restaurant.
Enjoy a slow start today with a fabulously fresh breakfast using ingredients collected from the gardens. Then, hop in the car and drive 30 minutes south to the beautiful baroque city of Noto - a UNESCO World Heritage Site - which was destroyed and completely rebuilt after the terrible 1693 earthquake.
Make your way to Corso Vittorio Emanuele, the city's main street, to see many of Noto's most memorable buildings, including the Cathedral (whose dome collapsed in 1996) and the Monastero del Santissimo Salvatore with its graceful tower.
Beginning at Porta Reale, wander past pretty piazzas adorned with handsome churches and delve into gorgeous public gardens filled with fragrant flowers and swaying palms.
Our Concierge can recommend a lovely local spot for a bite to eat once you've worked up an appetite and then you can explore some more or head back for a lazy afternoon at your hotel.
Your tailor-made trip to Sicily and Malta continues today with a full-day tour of Syracuse. You'll be met by your guide at your hotel and then it's a 20-minute drive to this handsome and historic city.
Begin at the Archaeological Park of Neapolis which is home to the most important Greek Theatre, one of the largest Roman amphitheatres ever built, and which dates from the fifth century BC. Next, move on to the Catacombs of St John. Built between the fourth and sixth centuries AD, this vast tangle of tunnels was used first as an early Christian cemetery and later as an air-raid shelter in WWII.
Refuel with a tasty lunch (your guide can recommend the best places to eat) and then continue your tour with a visit to Ortigia, Syracuse's Old Town. Stroll along the charming narrow streets and visit the iconic sites. Wander through the Piazza Duomo with its magnificent Baroque Cathedral; see the Church of Santa Lucia alla Badia, famed for its very well-preserved Caravaggio painting - The Burial of St Lucy; gaze at the legendary Spring of Aretusa; walk around the ruins of the Apollo Temple and delve into the old Jewish Quarter.
If you have time, you might like to add a visit to the Museum of Papyrus, the Bellomo Museum of Medieval Art or an Archaeological Museum of Paolo Orsi. You will then be transferred back to your hotel, arriving in time for well-earned dinner.
Day 4: Sensational Scenery in Taormina
Pack your bags this morning and make your way back towards Catania - a journey that takes just over one hour - where you'll be staying in an elegant villa close to Mount Etna.
We recommend spending the day exploring the beautiful countryside around Taormina. Admire the rolling green landscapes of the Peloritani mountains as you pass through small, sleepy towns and hit the hills for incredible views of the Aeolian Islands and Mt Etna.
Come evening, we will make a reservation for you at a lovely little restaurant in the heart of the town of Taormina itself, where they serve freshly caught fish and homegrown lemons.
Get up bright and early today ready for a tour of Mount Etna, a must on your tailor-made trip to Sicily and Malta.
Make your way to the foot of the volcano to meet your 4x4 driver who will take you 6,500ft up the mountain with plenty of stops along the way to soak up the dramatic views.
Swap four wheels for two legs as you enjoy a walking tour around the otherworldly Silvestry Craters and the crater created by the 2001 eruption. Then, if you prefer to go higher, you can take a cable car up to 8,200ft and continue by a special vehicle up to the level of almost 10,000ft, the closest point to the main craters where you can visit the 2003 crater.
From the slopes of Mount Etna, it's a one-hour-and-thirty-minute drive back to your hotel. Spend the rest of the evening relaxing by the outdoor pool, reading a book from the library and tucking into a farm-fresh feast using local ingredients from the hotel's own gardens.
Today you'll be embarking on the second part of your tailor-made trip to Sicily and Malta as you return your hire car to Catania and board the short one-hour direct flight to Malta.
Once you land, make your own way by taxi into central Valetta where you will be staying for the next two nights. The rest of the day is yours to spend as you wish. Perhaps you'd like to pop out for a wander round Malta's compact capital or maybe you'd prefer to enjoy a lazy afternoon settling into your hotel ready for a busy day exploring tomorrow.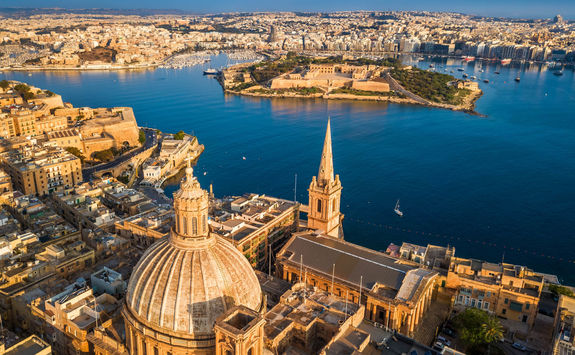 Day 7: Guided Tour of Valletta
Today, you'll be taken on a guided tour of Malta's wonderful walled capital.
Begin by visiting the Upper Barakka Gardens, a picturesque park with breathtaking views of the Grand Harbour. Next, make your way to St. John's Co-Cathedral, a magnificent building adorned in riches that date back to the times of the Knights of Malta.
From the Cathedral, wander through the beautiful streets of Valletta, stopping off at the Grand Masters Palace (when open to public), splendid squares and ancient monuments that have stood the test of time.
The afternoon is yours to spend as you wish. Continue to wind your way through the streets of this UNESCO-listed city, stopping off for a bite to eat in a local restaurant and, come evening, a nightcap in one of the many bars.
For the final few days of your tailor-made trip to Sicily and Malta, you will be exploring the idyllic island of Gozo - one of the 21 islands that make up the Maltese archipelago.
After being collected from your hotel in Malta, you will be transferred to the ferry port to boat across to Gozo. Once you arrive, collect your hire car and head to your hip hideaway hotel where you will be staying for the next three nights.
Day 9: Gozo's Stunning Scenery
Soak up Gozo's sublime surroundings today as you enjoy a day at leisure on this beautiful island.
We can organise a half-day kayaking excursion for you in the morning. During the trip you'll get to admire the coastline from the water and explore sea caves, secluded beaches and picturesque inlets.
Spend the rest of the day as you wish. Perhaps wandering along one of Gozo's beaches, enjoying a hit of culture on a visit to the ancient Ggantija temples - so old they pre-date the pyramids of Egypt - and tucking into tasty meals in the restaurants dotted across the island.
We'll arm you with plenty of recommendations of what to do on the island and your hotel hosts will look after you immaculately from arranging private yoga sessions and a boat trip in a vintage Riva motor launch, to helping you to pack a delectable packed lunch to enjoy in a secluded cove.
As the day draws to a close, we recommend visiting Victoria's Citadel at sunset, when it is largely deserted and you can enjoy the wonderful views over the surrounding landscape all to yourself.
Today will see you taking a guided tour of an extensive vineyard and olive grove for the penultimate day of your tailor-made trip to Sicily and Malta.
At Ta' Mena Estate - situated in the picturesque Marsalforn Valley between Victoria and Marsalforn Bay - you will be immersed in the sleepy surroundings of the gorgeous Gozitan countryside. Spend your day wandering through fruit gardens, orange groves, an olive grove with around 1,500 olive trees, and over 24 acres of vineyards.
After exploring, break for a wine tasting with wine produced in their state-of-the-art winery and taste plenty of fabulous fresh produce from cold-pressed extra virgin olive oil to sublime sundried tomato paste. All the while enjoy sensational sun-soaked views over the Gozo Citadel and the surrounding hills and villages.
Today is the final day of your tailor-made trip to Sicily and Malta. Spend the morning on Gozo as you wish. Perhaps you fancy doing some last-minute exploring or maybe you'd prefer to indulge in a lazy morning relaxing poolside with a good book.
Then it's time to pack your bags, return your hire car to the ferry terminal and take the ferry back to Malta. From here, you will be transferred to the airport in time for your late afternoon flight back to London. The journey takes just over three hours which is plenty of time for a speedy nap and a scroll through your photos from the trip.
All of the holidays we create are completely tailor-made to you
This sample itinerary is intended to give you a flavour of what we can do
A Rough Idea of Price
While all of our holidays are completely tailor-made and prices will vary based on things like time of year and level of accommodation, we want to give you as good an idea of how much this itinerary will cost. The below prices are based on two people sharing.
This Itinerary
If you would like to book the itinerary mentioned above, with economy flights, during mid-season and staying in our preferred room category at our preferred hotels.
Bare Necessities
If you would like to pare back the above itinerary by travelling at non-peak times, staying in a standard room and removing some or all of the guided activities.
Bells & Whistles
If you are looking for something extra special, we can discuss with you upgrading your accommodation, flights or activities.
At Your Service
We rarely boast about our service but we believe it's what sets us apart and makes us truly original, so please forgive this moment of unabashed self-promotion.
Francesca, Arran and Charlotte H are our experts for this itinerary and as seasoned travellers they have the inside track on the most memorable adventures.