Tailor-Made Tour Albania
Who: Couples, Groups and Solo Travellers
From £2,410pp
Coast, Countryside & Culture: A Tailor-Made Tour of Albania
This is a classic introductory tour of Albania, making the most of the central and south regions over 10 days. Experience the wild beauty of its untouched beaches, forests and mountains, and the country's ancient ruins left behind by marauding empires.
Itinerary at a Glance:
Explore colourful and lively Tirana, the beating cultural heart of the country
Be surrounded by white Ottoman houses in Berat, the town of a thousand windows
Hike through Llogara Park, one of the most dramatic mountain and sea panoramas
Visit the magic hillside town of Gjirokastra
Discover the historic city of Kruja
Raft the Osumi Canyon (weather permitting)
Why Book with Original Travel?
Just a few of the extra touches that come as standard on an Original Travel holiday...
See More
All of the holidays we create are completely tailor-made to you
This sample itinerary is intended to give you a flavour of what we can do
Day 1:

International Flight
Your tailor-made tour of Albania begins today. Catch a four-hour flight from London, landing in Albania late evening where one of our team will meet you for a 30-minute private transfer to your hotel, by which point it will be time for bed.
This morning your tailor-made tour of Albania really kicks off with a full-day guided tour of Tirana - the lively cultural capital of Albania.
Founded in the early 17th century, it's the perfect place to wander on foot, learning about historical sites such as Et'hem Bey Mosque, the clock tower, Scanderbeg Square and the National Historic Museum. Having undergone a transformation since the fall of communism, Tirana's centre is now almost unrecognisable, with buildings brightly painted in bold primary colours.
After breakfast today, your private car will take you west to the coastal city of Durres. Founded in 627 B.C. by Greeks from Corcyra (present-day Corfu) and Corinth, it's full to the brim with history. Greek and Roman authors called it the 'Admirable City' for its temple and numerous monuments and statues but today there are only a few remains left to tell of the city's glory days.
While you're here you'll visit the Amphitheatre, as well as the well-stocked Archaeological Museum. Once you've finished exploring this intriguing place, jump back in the car and head south to Divjaka where you'll be staying for the night.
This morning you'll make the 40-minute drive to the historical Ardenica Monastery. Inside the church you'll find 18th century paintings on display by celebrated Albanian artists such as the Zografi brothers.
After exploring, you'll continue to the ancient city of Apolloni on the famous Via Egnatia - one of the most important cities during Roman times and a must on your tailor-made tour of Albania. Due to its fame and importance it was known as Apollonia Prima (essentially top-dog of all of the 16 ancient cities built to honour the Greek and Roman god Apollo).
After a serious dose of history and culture, you will be privately transferred to your hotel in the National Park of Llogara in time for dinner.
Day 5:

National Park of Llogara
Today, to the sounds of bird song and the smell of wild flowers, you'll embark on a gentle hike with a picnic lunch through the park forests. You'll be able to enjoy dramatic mountain and sea panoramic views including the spectacular Vlora Bay and the steep western slopes of the Karaburuni Peninsula, dropping into the waters of the Ionian Sea.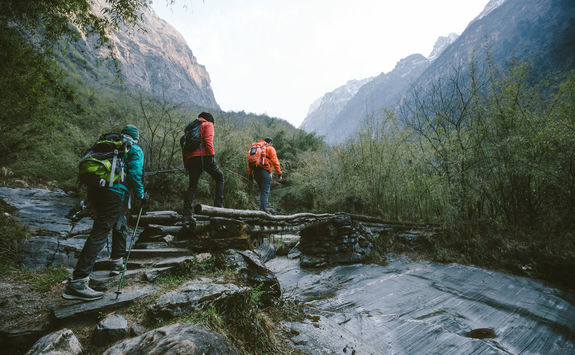 This morning you will make your way to Saranda, an idyllic coastal city nestled between the turquoise Ionian see and lush green olive groves for the sixth day of your tailor-made tour of Albania. There are spectacular views along the Albania Riviera and en route you should stop to visit Porto Palermo, passing by Ali Pasha's impressive fortress, and the waterfalls of Borsh.
Afterwards, continue along the coast to reach the ancient city of Butrint - a UNESCO World Heritage site considered to be the best archaeological site in Albania and probably one of the most important in the entire Balkans. First settled by Greek colonists but home to numerous civilisations throughout time, the site is rich with history and culture and ready to be explored.
After your visit, return to Saranda for one more night, with plenty of time for a pre-dinner dip in the sea.
Today your driver will take you inland to Gjirokastra. On the way, stop at the Blue Eye, an exquisitely clear, bright blue fresh water spring that supposedly holds the gateway to the underworld somewhere in its seemingly-bottomless depths.
Once you arrive in Gjirokastra, you'll visit the town's historic fortress, part of which was turned into a political prison during the communist regime. For an insight into Albanian culture, history and people, visit the Ethnographic Museum, which also happens to be the house where the Albanian dictator Enver Hoxha was born. The rest of the evening if yours at leisure to relax.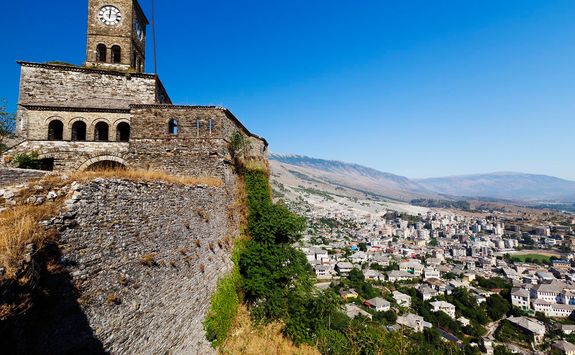 Today head to Berat, an outstandingly well-preserved Ottoman city that's home to some of the best Ottoman architecture in the Balkans, as well as the Onufri Museum, castle, and several churches and mosques that are well worth visiting.
Berat earned the name of 'town of a thousand windows' due to its staggered layers of closely built houses creating a picturesque postcard set amid rugged mountains with the icy cap of Mt Tomorri often visible in the distance. Spend the afternoon wandering around before the nightly passeggiata - a leisurely evening social stroll - for which it seems the whole town turns out in its finest to gossip as the sun sets.
This morning, for the penultimate day of your tailor-made tour of Albania, you will be taking the scenic route to Osumi Canyon in a 4X4, led by an expert guide. This beautiful area of rolling hills covered in bee hives and walnut trees descends down into a valley where (weather permitting) you'll enjoy a rafting adventure today.
Here you explore the river and its stunning surroundings with incredible rock formations and waterfalls - all by raft. The beauty of the canyon is enhanced by a series of waterfalls, each one more beautiful than the last and the abundance of water makes rafting smooth and fun. After your adventure you will be met and taken to Skrapar for lunch before driving back to Berat.
Day 10:

International Flight
Today is the final day of your tailor-made tour of Albania. This morning you'll make your way back north to the historically important city of Kruja. This city is famous as the centre of Albanian resistance against the Turkish Ottoman in the 15th century under national hero, Scanderbeg. He kept them from crossing into Western Europe for 25 years, thus earning the title 'Champion of Christ,' which he was given by Pope Calixtus III.
Visit the Skanderbeg Museum - a rich Ethnographic Museum - and the Old Bazaar where you can find the best handmade crafts, from embroidered items, carpeting, silver objects, copper, alabaster, filigree, traditional clothing, and antiques.
Once you've finished exploring and shopping for precious souvenirs, you'll be privately transferred back to Tirana in good time for your evening flight home. The journey will take roughly one hour, and your flight will land back in London in the late evening.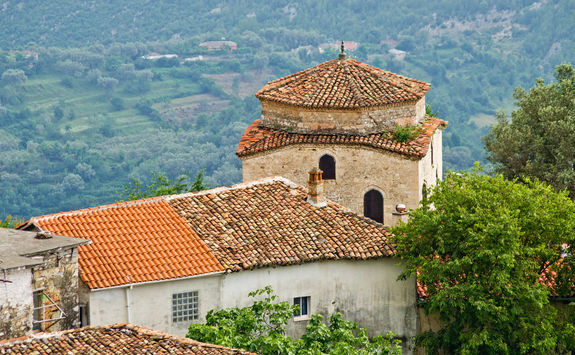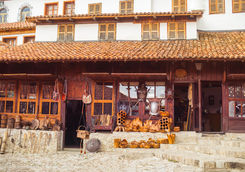 All of the holidays we create are completely tailor-made to you
This sample itinerary is intended to give you a flavour of what we can do
A Rough Idea of Price
While all of our holidays are completely tailor-made and prices will vary based on things like time of year and level of accommodation, we want to give you as good an idea of how much this itinerary will cost. The below prices are based on two people sharing.
This Itinerary
If you would like to book the itinerary mentioned above, with economy flights, during mid-season and staying in our preferred room category at our preferred hotels.
Bare Necessities
If you would like to pare back the above itinerary by travelling at non-peak times, staying in a standard room and removing some or all of the guided activities.
Bells & Whistles
If you are looking for something extra special, we can discuss with you upgrading your accommodation, flights or activities.
Harriet, Kate L and Charlotte H are our experts for this itinerary and as seasoned travellers they have the inside track on the most memorable adventures.