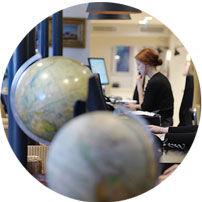 Papua New Guinea is pretty much as close as you can get to frontier travel in this day and age. The interior of the country (the Highlands) remained completely uncharted until the 1930s. The colonial powers had thought that the area was uninhabited due to the rugged terrain, but when they ventured inland in search of gold they found over a million people still living a virtually stone age lifestyle, completely untouched by modern civilisation. Why would you come here? Its all about the diversity both in terms of people and culture (there are over 800 active languages) and wildlife (particularly birds) as well as the thrill of adventure.
Any trip to the interior of the country should try and take in at least two, and ideally more of the different areas as seeing and taking part in the diverse cultures is what makes this place so special. Whether you choose to canoe down the Karawari river in an outrigger canoe, visit the Huli Wigmen in Tari, trek the famous Kokoda Track, or explore the fascinating island provinces; there is enough to keep you occupied for months (though we will make sure you get the best in whatever time you have). For many people, the reason to travel here is the unspoilt and world-class diving that lies off both mainland Papua New Guinea and its island provinces (and around the Solomon Islands, too). And it doesnt disappoint. From the pristine coral of Walindi and the big fish at Kavieng, to the offshore reefs at Tufi and liveaboard diving in the Solomon Sea, this area of the world really does have it all from a diving perspective. And the best bit? There is virtually no-one there.
Papua New Guinea Holiday Ideas
A few suggestions to get the holiday planning process started
Contact a specialist directly at + 44 (0) 20 3958 6120
Review
What our clients say about us
This is the first time we went on a trip with Original Travel, a specialist advisor who listens to our expectations, and really the feeling of being pampered from departure to arrival. The concierge service is so efficient that we quickly become addicted.
Papua New Guinea Guide
Practical advice, client testimonials and inspiration to help you prepare for your holiday
Contact one of our Papua New Guinea specialists