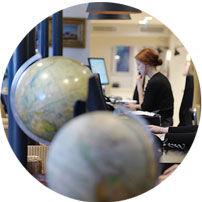 East of Lilongwe, and stretching predominantly northwards from the capital, Lake Malawi is vast, and spills over the borders into Mozambique and Tanzania, where it is known as Lake Nyassa. Long the haunt of chilled-out backpackers, the lake is increasingly known for its boutique eco-properties and, consequently, the well-heeled type of traveller. Clear blue water, knock-out sunsets and pristine sand shores are reminiscent of Indian Ocean beaches, with the atmosphere refreshingly low-key and relaxed. Malawi's famous lake boasts more species of fish than any other body of freshwater in the world. More than 600 have been discovered so far,
and many of these are the small, brilliantly coloured cichlids favoured by aquariums worldwide, which, combined with the lack of currents, makes for great snorkelling and diving. Other activities that we can arrange for adults and children alike include mountain biking, canoeing on the lake, guided walks and birdwatching.
Lake Malawi Holiday Ideas
A few suggestions to get the holiday planning process started
Malawi Regions
Discover more 100% tailor-made holiday ideas
A few of the benefits of travelling with us
What our clients say about us
Malawi customer reviews (1 reviews)
4.5/5
Original Travel were very efficient and professional at every stage of the trip: from the preparation to the time in Malawi and even on our return. Our consultant was very knowledgeable about Malawi and her advice always very relevant. We had no worries once we got there and everything met and even exceeded expectations.

In short, it was perfect! You can trust Original Travel to organise your dream holiday to Malawi!
Malawi Guide
Practical advice, client testimonials and inspiration to help you prepare for your holiday
Contact one of our Malawi specialists