The combination of the Algarve's reliably sunny climate and the area's fantastic family-friendly hotels, boasting excellent facilities and suitably relaxed atmospheres, makes this a great choice for a European family holiday.
If you can drag the children away from the activities on offer at the hotel (or yourselves away from the sun loungers), we can arrange numerous activities for you to enjoy. You could head out on a luxury yacht for the day with your own skipper and explore the coves dotted along the coast, where you can either sit back, relax and let your skipper do the work or take the chance for the children to learn the ropes from them, and do a bit of sailing themselves. You can then stop off and explore deserted coves and feel like true pirates as you search for hidden treasures. Along the coast there are also some excellent surfing spots, perfect for private surfing lessons if your little ones are desperate to get in the waves.
Away from the water, we can arrange visits to local markets followed by cookery classes; hiking tours to admire the incredible views of the sloping red cliffs; cultural and guided tours and much more. The Algarve is also famous for its golf courses, so either take the children out to perfect their swing, or let them enjoy the countless activities on offer at the hotel while you enjoy the full 18-holes.
For our top luxury hotel picks in the Algarve, as well as a suggested family itinerary, take a look below.
Family Fun with Original Travel
Planning a successful family holiday takes a similar amount of organisation and fortitude as a small scale military operation. But fear not, our team of specialists (many of whom are parents themselves) are here to take the stress out of the planning process so those toddler tantrums and teenage meltdowns are kept to a minimum.
From our carefully curated Sharky & George fun packs, which keep children entertained on those long journeys, to knowing the most family-friendly hotels and holding client focus groups, we pride ourselves on making sure that you have the best family holiday imaginable because there's no more important time together.
Where to go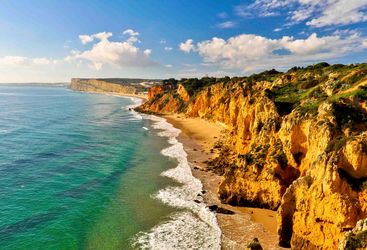 The Algarve
For those wanting to stay poolside, the Algarve that we know and love couldn't be more perfect, but for those looking for something a bit different,...
Where to Stay
Martinhal Beach Resort & Hotel
Martinhal Beach Resort & Hotel has set itself a modest goal - to be the finest luxury family resort in Europe. We like what we see so far.
Aldeia da Pedralva
Just a few short years ago Pedralva was a ramshackle village full of derelict houses and one small pizzeria catering to the local surfing community....
Vila Vita Parc
Vila Vita Parc is a family friendly resort in Portugal's Algarve.