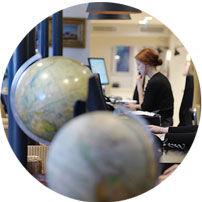 Take one incredible destination; add a charismatic authority with expertise on said destination; sprinkle into the mix a small group of like-minded and discerning individuals; leave to marinade in extraordinary experiences, and then serve memories to last a lifetime. Welcome to our Small Group Tours. Just occasionally an expert's insight is too vital for our (ahem, multi award-winning) tailor-made holidays to cut the mustard. That's why the focus for our Small Group Tours is on the experts themselves, and we choose the best possible one for each of these particular trips. After all, what better
way to explore the most original corners of our astonishing planet than in the company of someone who knows the lie of the land and can scratch beneath the surface to bring it all vividly to life?
Small Group Tour Ideas
A few suggestions to get the holiday planning process started
Small Groups Holidays by country
A few of the benefits of travelling with us
Review
What our clients say about us
This is the first time we went on a trip with Original Travel, a specialist advisor who listens to our expectations, and really the feeling of being pampered from departure to arrival. The concierge service is so efficient that we quickly become addicted.
Contact one of our specialists