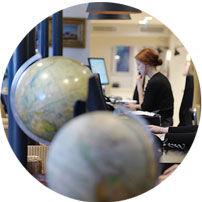 Uruguay honeymoons are well worth considering. Why, you ask? Well, it might have something to do with the stunning beaches, chic boutique hotels, the fast-growing wine industry, rolling fields and beautiful mountain scenery. Or the fact that in a small country all of the above is within easy reach, so you don't have to waste precious time getting from one place to another. Alternatively, combine Uruguay with either Argentina or Brazil for the ultimate cool combo honeymoon. A country with a sparse population, Uruguay is the perfect setting for some quality one-on-one time. Any locals you do come
across are likely to be extremely easy going and their relaxed South American attitude is contagious. Not that you won't be relaxed enough already: Uruguay's beaches are pristine sandy stretches, and boho beach joint Jose Ignacio, full of hip gourmet restaurants, is the perfect starting point for any post-wedding indulgence. Sling on a Uruguayan poncho and watch what has been described by some as the best sunset on the planet, not a bad start to marital bliss, we reckon.
Uruguay Honeymoons Ideas
A few suggestions to get the holiday planning process started
Other Uruguay collections
A few of the benefits of travelling with us
What our clients say about us
Uruguay customer reviews (1 reviews)
4.5/5
Back from our amazing holiday. Thank you so much for all your planning, we had an incredible trip. Really blown away by Uruguay. We had a great last day at Hotel Unique as well.
Uruguay Guide
Practical advice, client testimonials and inspiration to help you prepare for your holiday
Contact one of our Uruguay specialists