Itinerary Highlights
Exploring the vineyards, asado and stunning beaches of this small but welcoming country
Staying in a luxurious country mansion in the middle of the vineyards
Sampling a traditional meal in private at Colonia & Montevideo
A carbon neutral trip, concierge service and WiFi
Contact one of our Uruguay specialists + 44 (0) 20 3958 6120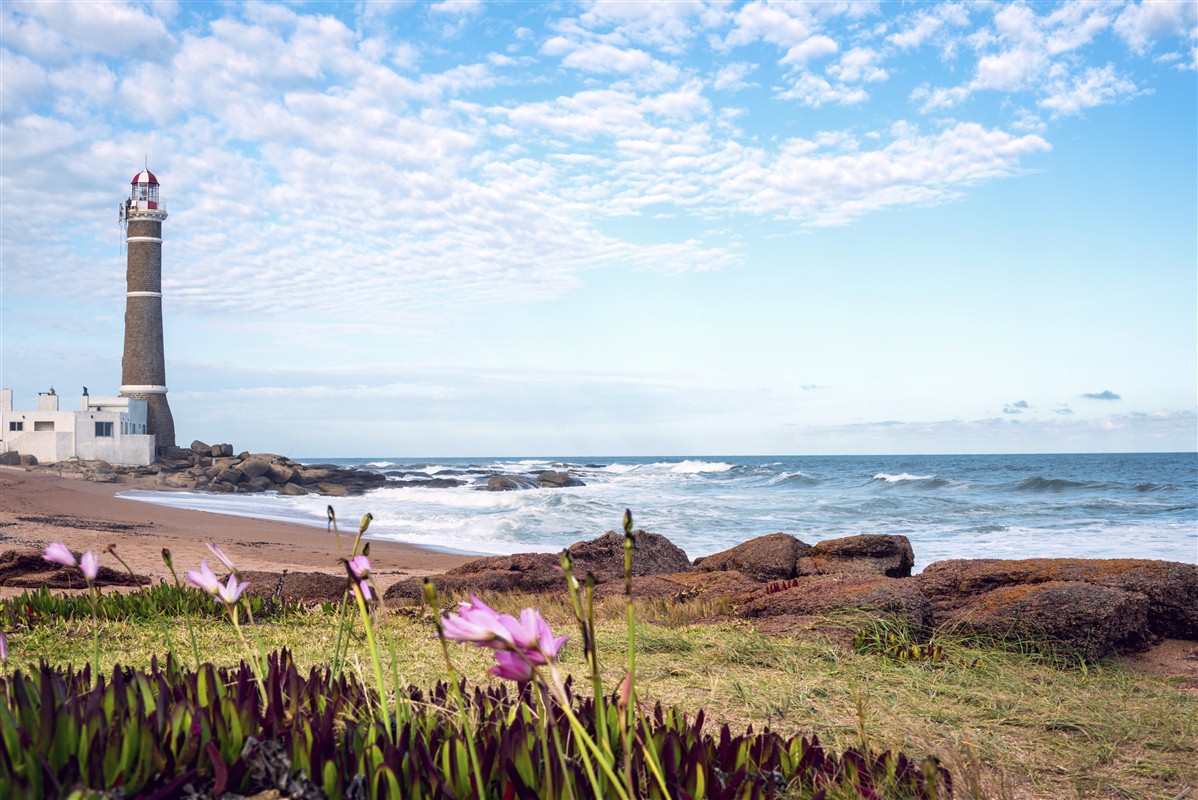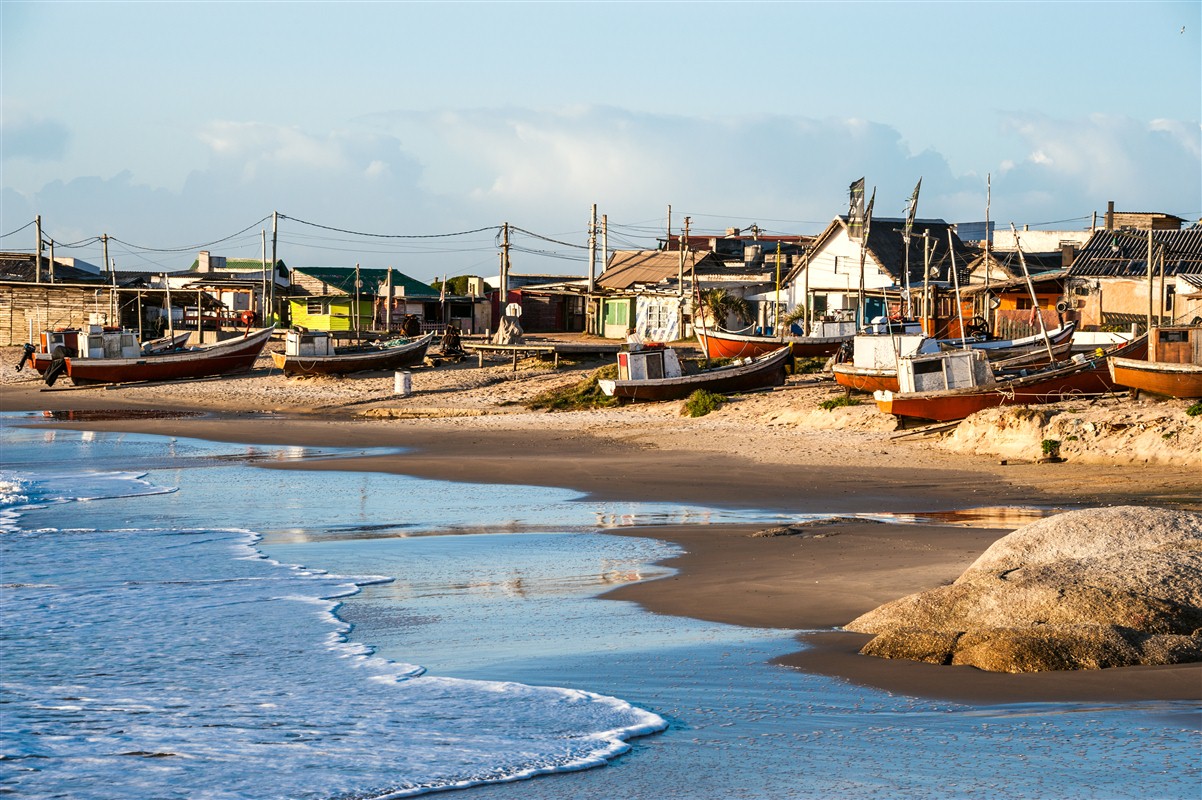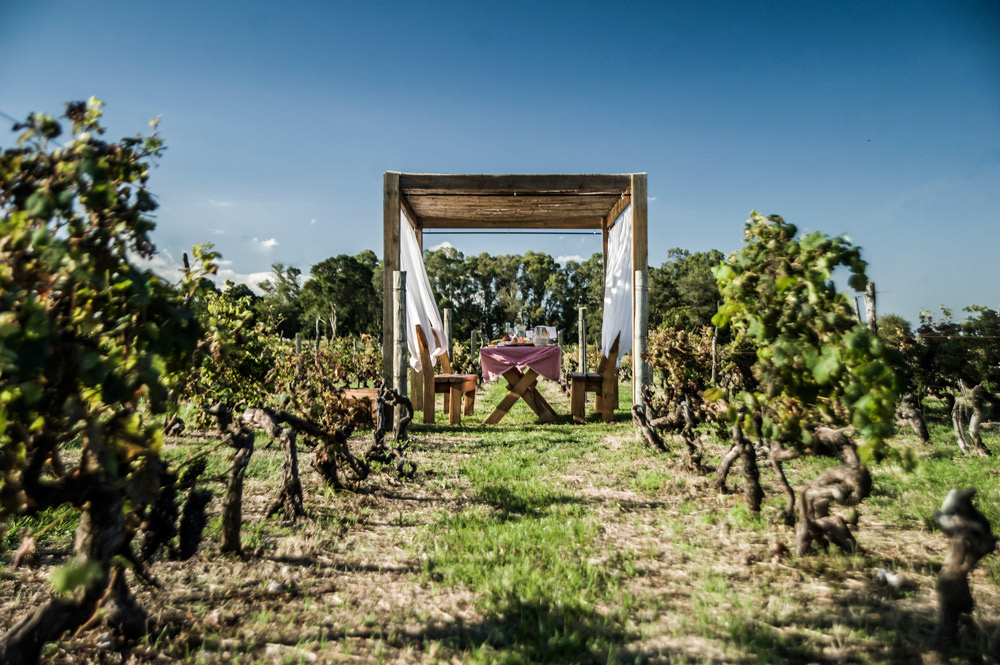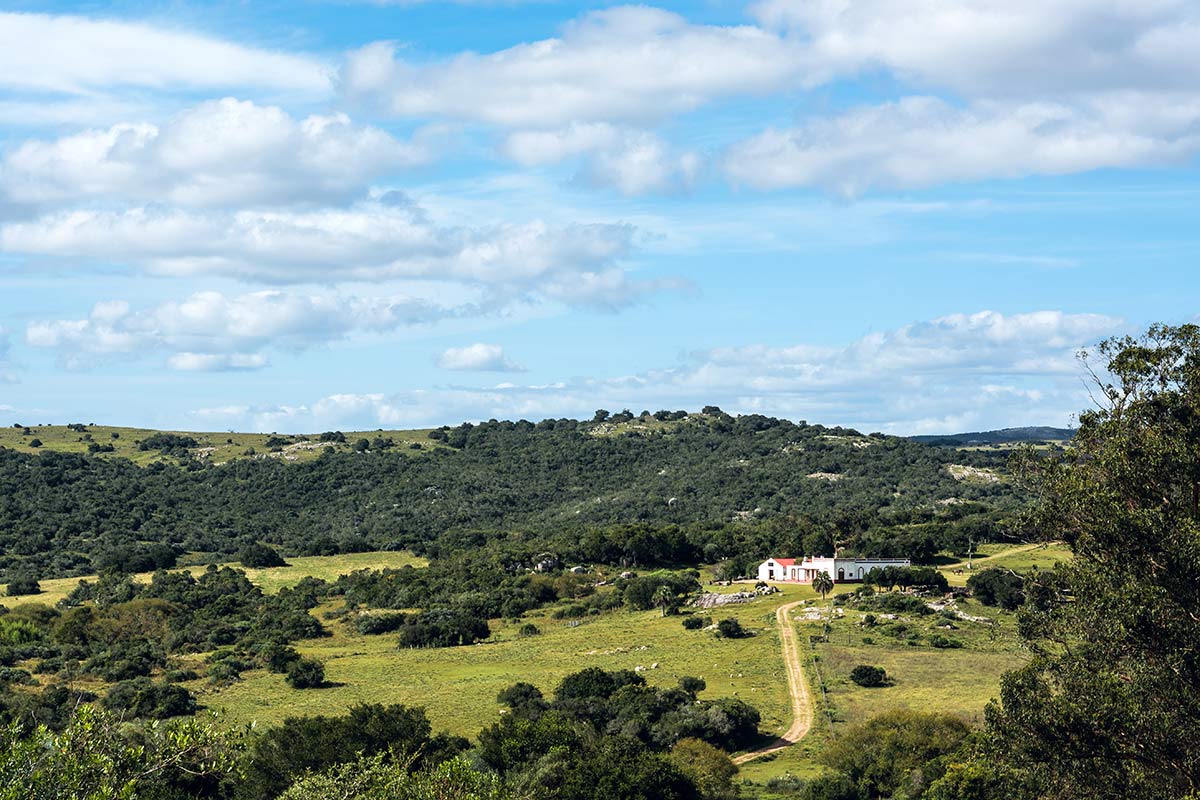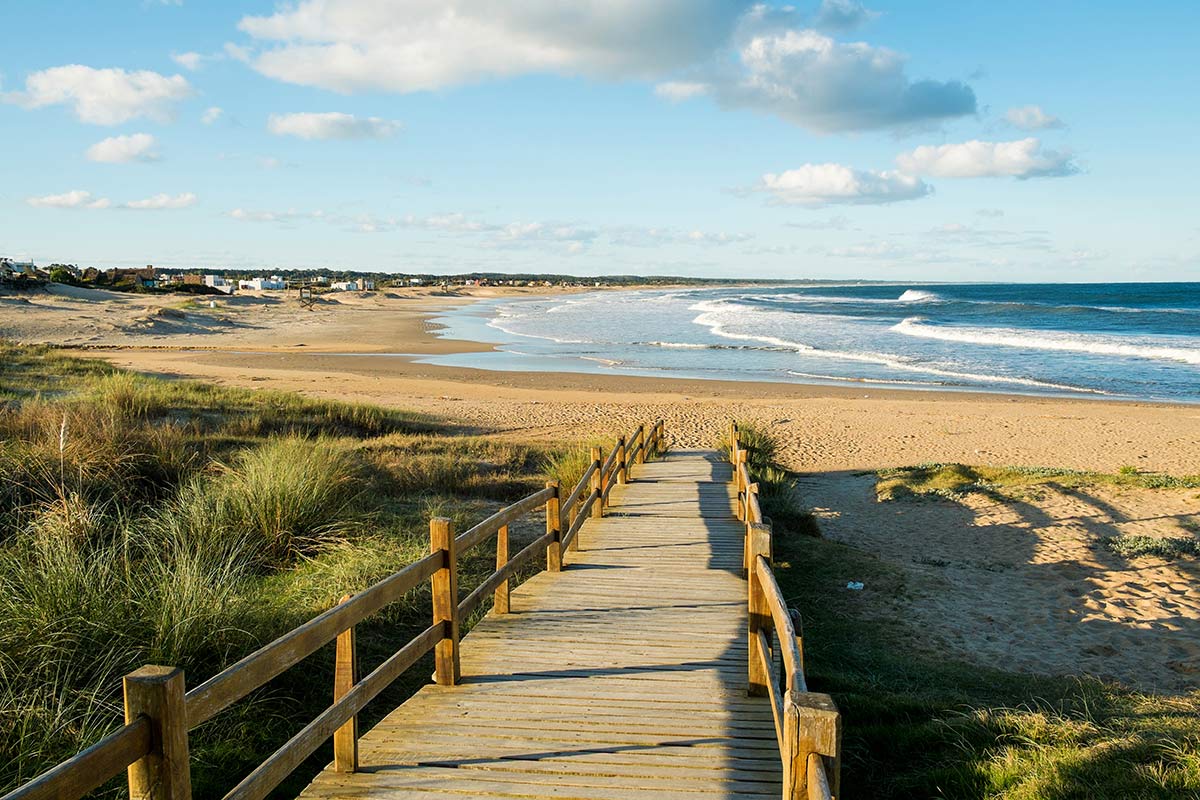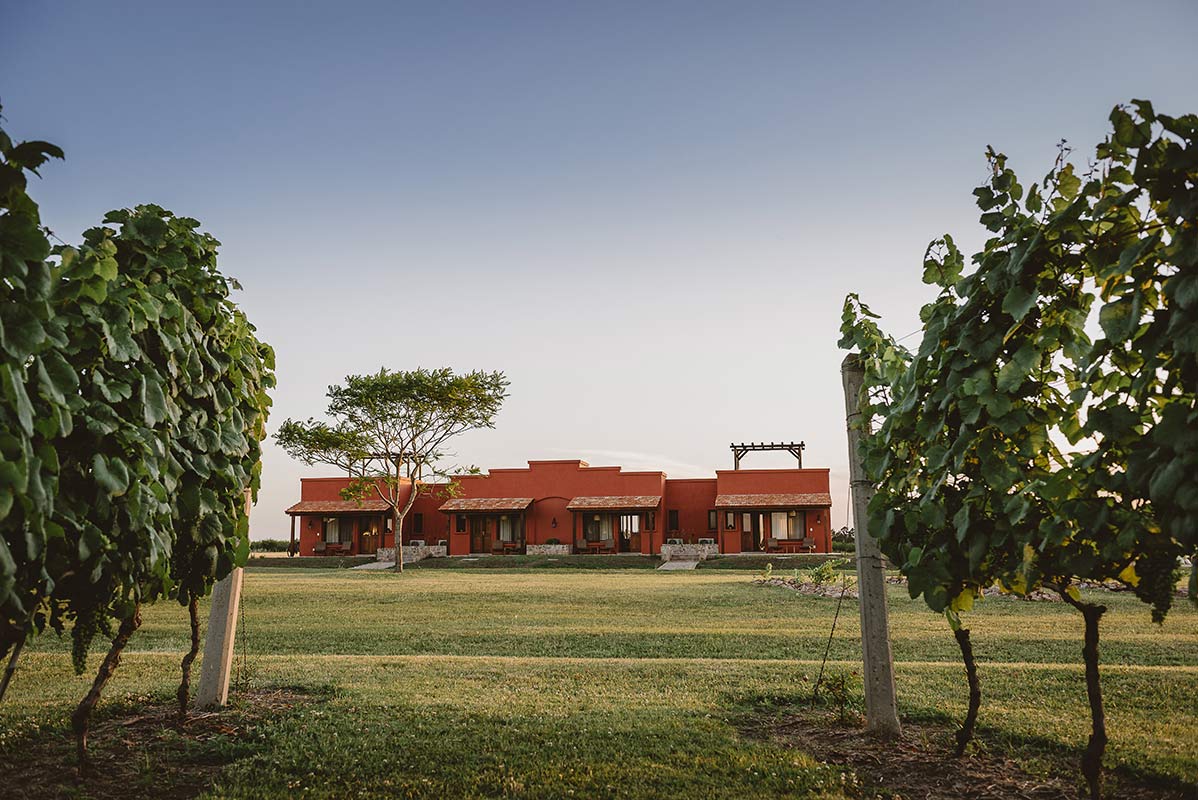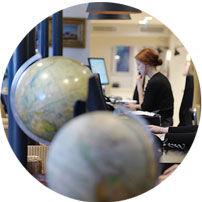 A different way to experience South America
Get ready for an adventure as you set off on a road trip through one of South America's most generous micro-countries. Each year, Uruguay attracts luxury travellers from across the South American continent and the rest of the world. But, there is more to a tailor-made Uruguay holiday than showy extravagance: the country has a wonderful bohemian side which celebrates a flip-flop-wearing, laid-back-living kind of lifestyle. On arrival, you will immediately leave the capital, Montevideo, to return later once you're more familiar with the atmosphere and culture of the country.
Head straight for Colonia del Sacramento, the country's oldest city, which is located on the Rio de la Plata's banks.
The Portuguese colonists left their mark here but, over time, the Uruguayans have made it their own. Today, it is a charming little place where history and charm mixes with the salty air. From here, it takes around one hour to get to Carmelo. If the country were bigger, these towns would call each other neighbours. Head north, crossing a region famous for its wine and agricultural produce. Continue you tailor-made Uruguay holiday by retracing your steps and return to the capital and its port. There is something endearing about Montevideo, thanks to its small size, eclectic architecture and casual vibe; just like the rest of the country. Here, you will discover various local treats including: mate (an invigorating caffeine-rich drink loved by the nation); and top-quality meat, which you can sample at the market stalls. Next up: Pueblo Eden, which literally means 'Village Paradise', a serene location slightly further from the coast. In this rural region, life certainly flows at a "tranquilo" rhythm following the pace set by nature. You might experience an overwhelming desire for the beach; and why bother trying to resist it when there is such a beautiful coastline just a stone's throw away? Visit Jose Ignacio, an cute fishing village which has been transformed into a high-end seaside resort. Located a little away from Punta del Este's hustle and bustle, this is the perfect place to relax with your toes in the white sand and watch the sun set over the horizon.
Accommodation
On a trip like this, we think your choice of accommodation is just as important as all the other details. That's why we've chosen unique and charming accommodation options which are bursting with character. In Colonia del Sacramento, you'll stay in the middle of the historic district with a river view; in Carmelo, you'll enjoy an intimate lodge nestled in the heart of the vineyards; your hotel in Montevideo is more like a palace, with its castle-like atmosphere which is a nod to grandiose times gone by; in Pueblo Eden, settle in a lovely countryside retreat surrounded by a delightful panorama of vineyards; finally, in Jose Ignacio, we've selected a contemporary and trendy waterfront property. Everywhere you stay, you'll be pampered by attentive staff and can relax by the swimming pool – a private one in the case of Pueblo Eden. Each property is as close as possible to nature – in the countryside, surrounded by vineyards, or on the banks of the Rio – and far away from the crowds.
Your trip
Uruguay is a perfect destination for a road trip thanks to its (very) small proportions and good quality roads. Throughout your tailor-made Uruguay holiday, you'll have your own rental car, equipped with our GPS smartphone app loaded with addresses, so that you can explore the surrounding regions. To help you get the most from every step of your trip, we've included a few highlights on your agenda: a guided tour of Colonia where you can try maté and eat in one of the city's best restaurants (we've reserved you a table); and a visit to Montevideo's old town complete with a traditional lunch at the Mercado del Puerto. Of course, you can also add other activities to your itinerary depending on what you enjoy doing. To organise other activities, or if you need to resolve any small issues, just get in touch with our on-site concierge who will be happy to help you.
Route
Everything is 100% tailored to you
DAY 1
FLIGHT TO MONTEVIDEO
Your tailor-made Uruguay holiday begins with an international (overnight) flight to Montevideo. You will arrive the next day.
DAY 2
MONTEVIDEO - COLONIA DEL SACRAMENTO
When you arrive, pick up your rental car and drive to Colonia del Sacramento, a two-and-a-half-hour journey along the Rio de la Plata. You will start off your tailor-made Uruguay holiday with a two-night stay in a small and intimate accommodation which boasts a great location in the historic city, right on the edge of the river. With just a small handful of rooms, it has excellent personalised service and it is serene and stylish throughout with light and spacious rooms complete with exposed stone walls and sleek contemporary décor. Added to this is the wonderful views of the river, breakfasts on the terrace and delicious dinners at sunset.
DAY 3
COLONIA DEL SACRAMENTO
Discover Colonia, the country's oldest town and a UNESCO World Heritage site, on a guided tour which gives you an insight into the value of its historical heritage. Both solemn and intimate, the urban landscape successfully fuses several different architectural styles and you will find a mingling of Portuguese, Spanish and post-colonial influences. All of this can be discovered during a walk to the city's port, its fort, past the Spanish and Portuguese houses in the city centre and along the Rambla bordering the old town. During this visit, you can also enjoy a cultural immersion as you taste mate, a traditional Uruguayan drink which is a daily ritual for the locals. Local techniques and practices are different from those of neighbouring Argentina and you'll be able to learn all about it here.
For the evening, we've reserved a table for you in an excellent restaurant close to the historic centre. It is set in a fully restored building dating back to the 1920s which is decorated with beautiful antique furnishings. It's lovely to sit on the terrace, or in the indoor lounge, while you taste traditional Uruguayan dishes prepared with produce from the restaurant's own organic vegetable garden.
DAY 4
COLONIA DEL SACRAMENTO - CARMELO
It takes one hour to drive to Carmelo where you will stay for the next two nights of your tailor-made Uruguay holiday in the heart of a large wine-growing property which serves as a lodge, a farm, a renowned restaurant and – it should go without saying – a wine cellar. There are just five guest rooms meaning you'll always enjoy the utmost privacy during your stay. Inside, its vintage charm is combined with modern comforts which are guaranteed to make you feel at home. During the day, go cycling through the vineyards, swim a few leisurely lengths of the swimming pool and enjoy a refreshing drink on the terrace. Make sure you also visit the former grocery store – where the restaurant is now located – for a delightful wine and cheese tasting.
The vineyards here, which were planted by Spanish colonists, have focused on a single grape variety for a long time, Moscatel, but a new variety – the tannât from Madiran – was introduced by Basque Pascual Harriague in the late 19th century. Today, it is still one of Uruguay's main varieties of grape and is thriving thanks to the arable land and the sunshine. Carmelo is the ideal base for visits to the bodegas where you can learn more about Uruguayan wines and their history. While you're in the region, don't hesitate to visit two or three different vineyards which vary in size but all are dedicated to a love of wine.
To see and do: go canoeing on the Rio de la Plata, go horse riding – gaucho style – to explore the surroundings, or try your hand at polo.
DAY 6
CARMELO - MONTEVIDEO
It takes three-and-a-half-hours to drive to the capital where you will stay for two nights in a superb national heritage building facing Montevideo Bay. Giving off the atmosphere of a Haussmann-style castle, it is like a Uruguayan palace which combines nostalgia for early 20th century Montevideo with the impeccable elegance of French decor. The rooms and suites are comfortable and well equipped and there is also a pool and a casino.
Optional: Dinner and a show in an intimate club where you can experience Uruguayan culture through local dances and music.
During your visit, enjoy a guided tour of the old town. As well as being the capital of Uruguay, Montevideo is its main port; facing the impressive estuary of the Rio de la Plata, an Argentinian river that flows into the Atlantic Ocean. Smaller and less hectic than its Argentinian neighbour, Montevideo is a lovely place to explore on foot. Your guide will introduce you to the long avenues, lovely parks, and its mishmash of different architectural styles (Art Nouveau, colonial era etc). Along the way, you will visit the Cathedral, the Torres Garcia and the Gurvic museums, the gate of the Citadel, and the plaza Constitucion. Don't forget the Mercado del Puerto, a former goods warehouse which has been transformed into a local market and which has been buzzing with small restaurants, parrillas (grill restaurants), art galleries and craft shops since 1960. You'll find an unparalleled choice of meats here and the food is usually cooked in front of you and then served at the counters. We've organised a lunch in one of the market's most traditional restaurants to give you the opportunity to taste some local specialties and learn about the region's customs.
To see and do: Stroll around the port; through Plaza Independencia; and Avenida 18 de Julio; admire the dizzying eclecticism of Palacio Salvo; visit the former military fort of Fortaleza del Cerro; and wander through the Prado Park botanical garden.
DAY 8
MONTEVIDEO - PUEBLO EDEN
It's a two-hour drive to Pueblo Eden where you will stay for the next two nights of your tailor-made Uruguay holiday in a stylish property nestled in the heart of a 250-hectare vineyard. It has a few cabins surrounded by glass and covered with green roofs which blend in perfectly with the landscape. Each cabin boasts panoramic views over the vineyards as well as its own small private swimming pool. Inside, the style is minimalist focusing on light oak and dark stone. There is also an excellent restaurant with a delicious farm-to-table menu.
Pueblo Eden, a tiny town in the Maldonado department, has a peaceful vibe and a "tranquilo" rhythm – which is helped by the fact there is so little car traffic. Here, you can wander along the dirt roads as you please and enjoy the verdant country setting. Although isolated, the village is known for its delicious food so we recommend that you taste its culinary delights as soon as possible.
DAY 10
PUEBLO EDEN - JOSE IGNACIO
After a 50-minute drive, you will reach Jose Ignacio where you will be staying for three nights in a charming property with contemporary architecture and attentive service just a few steps from the beach. The décor of these trendy suites and bungalows gives it a very artistic vibe and each one comes with an ocean view. The hotel has a lovely restaurant and a swimming pool – perfect for a refreshing dip. This property has a truly unique atmosphere; so much so, it might make you want to extend your Uruguay holiday.
DAYS 11 & 12
JOSE IGNACIO
This former fishing village has become an upscale seaside resort. Here, you can explore its dirt streets, picturesque lighthouse and brightly coloured boats. However, don't expect a "bling" atmosphere: Jose Ignacio is more hippie chic. There are lots of ways you can make the most of the serene surroundings: clear your head on a seaside walk, enjoy a sunset dinner, and laze on the hot sand.
To see and do: Visit the Atchugarry Foundation, created by the eponymous sculptor who wanted the Foundation to promote art in all its forms; explore the surrounding countryside; and admire the beautiful buildings.
Optional: Visit Jose Ignacio with a private guide or enjoy a day trip to one of the country's most beautiful natural sites: Cabo Polonio.
DAYS 13 & 14
JOSE IGNACIO - RETURN FLIGHT
Sadly, your tailor-made Uruguay holiday has come to an end. The drive to Montevideo airport will take around two-and-a-quarter-hours. There, return your car and board your overnight flight home. You will arrive the next day.
A la carte
DINNER AND A SHOW IN MONTEVIDEO
After a great dinner, experience Uruguayan culture with a performance showcasing its music and dances. This evening's show has an intimate and cosy atmosphere like that of a cabaret. To make sure your evening is
A Rough Idea of Price
Dependent on season, accommodation and activities
The cost for this trip is from £5,000 per person. The final cost of the trip depends on the way we tailor it especially for you. The final cost varies according to several factors, which include the level of service, length of trip and advance booking time. The exact price will be provided on your personalised quote.
A few of the benefits of travelling with us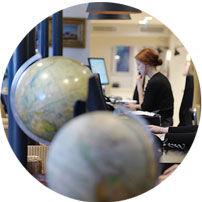 Get in touch
Our experts have the inside track on the destinations they sell and will tailor-make a holiday to your unique requirements.
Contact one of our Uruguay specialists