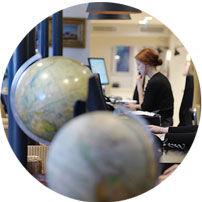 In the south of Europe, Croatia peers outwards to the top of Italy's boot. Keeping them apart, the Adriatic Sea laps at the shores of Croatia's pebble-lined coast, where sun worshipers lay out in the midday heat. But the beaches don't end with the mainland; a vast array of small islands – ranging from lush green havens to village hideaways – are scattered in the waters, taking up their own well-deserved space. Here, among the bounty of beaches, the big question you'll have to ask yourself is: fine sand or pebbles? Head inland, and you'll discover mountains, canyons, and waterfalls as well as the
milky-green waters of Plitvice Lakes National Park, one of UNESCO's World Heritage Sites. If you're looking to immerse yourself in the local culture, Croatia hot holidays can also be spent within the hustle and bustle of its towns. Explore the old streets of Split and Dubrovnik for a stroll through Croatia's history and a taste of some of the best seafood around. However you choose to spend your holiday, the consistent climate and tropical landscapes make Croatia the perfect balmy summer escape.
Escape to the Sun by country
Other Croatia collections
A few of the benefits of travelling with us
What our clients say about us
Croatia customer reviews (1 reviews)
4/5
The trip was amazing! The Dubrovnik Palace and Aman were fantastic. The boat trip of the Elaphiti islands was definitely a highlight. The boat was excellent and the staff were incredible. It was truly a memorable day. Thanks for all of your help putting this together. It was the perfect mix of relaxation, food and history.

We hope to return in the future.
Croatia Guide
Practical advice, client testimonials and inspiration to help you prepare for your holiday
Contact one of our Croatia specialists