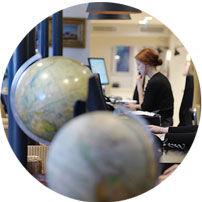 A country known for its ancient ornate temples and busy cosmopolitan cities, Thailand cultural holidays are a lesson in how tradition and modernity can coexist and blend beautifully. Begin your holiday in Bangkok, Thailand's culture-filled capital city where the mouth-watering smells of Thai delicacies greet you on every street corner and opulent palaces and temples are sprinkled around like gold dust. Explore the city on foot, or on an exciting tuk tuk tour, to soak up the bustling city life and visit the top cultural sites including the 150-foot-long reclining Buddha at Wat Po. If you've got time to explore further,
head up to Thailand's northern region, where you'll find religious and historic hubs like Chiang Mai, as well as the jungle-filled landscapes of Chiang Rai – famous for its 'Golden Triangle', a remote area where the borders of Thailand, Laos and Burma converge. When you're ready for some R&R on your Thailand cultural holidays, head to the coast where you can spend your days island hopping, diving, and sunbathing on the never-ending white sand beaches. Thailand is known as The Land of Smiles and rest assured; we'll make sure you're left smiling with a holiday that is filled to the brim with Thailand's charm.
Cultural Holidays by country
Other Thailand collections
A few of the benefits of travelling with us
What our clients say about us
Thailand customer reviews (2 reviews)
4.5/5
We had a great time. Everything went well and according to the plan. The hotels were all outstanding and in Samui we got a free upgrade to one of their residences with a private pool - what an experience.
Thailand Guide
Practical advice, client testimonials and inspiration to help you prepare for your holiday
Contact one of our Thailand specialists