With the philosophy of keeping the true familial experience of a hacienda at its heart, Hacienda San Antonio is one of our top pick locations in Latin America.
At the foot of a majestic volcano, and amidst the scenic surrounds of the Mexican highlands, Hacienda San Antonio has been masterfully refurbished to the highest standards. Each of the 25 suites have been uniquely designed, and featuring individual artworks throughout. The Grand Suite Quetzal on the first floor overlooks its own garden at the front of the hacienda, and it even has a separate sitting area and a terrace running along the front. Stunningly maintained gardens with an aqueduct, fountains and perfectly manicured lawns are overlooked by the rest of the suites, each with their own ensuite bathroom and individual interiors.
To ensure dining monotony is not an option, the location of supper changes each evening, moving from the Terrace, to the Club Room, to the Mirador Terrace. With its own farm and ranch, Hacienda de San Antonio prides itself on the self-sufficiency of meat, vegetable and cheese production. Organically produced, menus are predominantly based on traditional Mexican specialities, with international influences too.
With a spring-like warmth all the year round, horseback riding, mountain biking, bird watching, nature walks and hiking are all available to explore this scenic setting. The glistening waters of the pool are also a tempting option, or a competitive streak of tennis is possible with the live-in pro.
Why We Love It

With its simply stunning setting, we defy anyone not to fall in love and want to buy their own hacienda after a stay here.
Tom, Original Traveller
Itineraries that feature Hacienda San Antonio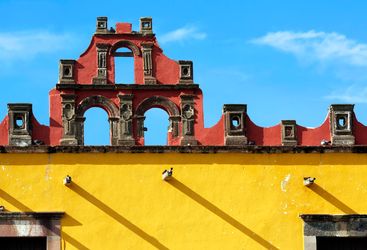 Best for: Couples, Honeymoons and Families
Culture and Beach in Mexico
On this two-week luxury holiday to Mexico, you will enjoy some of the best culture, cuisine and white sandy beaches the country has to offer. Itinerary...
14 Days
From £5,225pp