Enter the party on a grand scale. The next edition of the most famous carnival will take place from 1 to 9 March 2019. Is it a moment of grace in troubled Brazilian times? Or a week of total madness that everyone takes advantage of to free themselves from the hassles of ordinary life? It's both, in a single swirl of samba, feathers and caipirinhas
The Rio Carnival ? It's an event, an institution, a religion Each year images circle the globe of spectacular parades marching to the rhythm of raging drums, led by beautiful dancers covered in feathers. It's a break for the 6.5 million Cariocas, as the inhabitants of Rio are called. Carnival week is sacred. It brings the whole population together, galvanised by music and dance, and yes, a few caipirinhas too (the country's flagship cocktail of white rum, cachaca, cane sugar syrup and lemon), in a splendid euphoria. Once there, it's impossible to arrange even the smallest meeting, unless it's with those who put the P in Party, not caring whether it's day or night, Monday or Friday. The seven days span both Mardi Gras and Ash Wednesday (5 and 6 March). It's hot and will stay hot. Rio revels, sings and twirls.
Rio Carnival: Official Carnival and Side Events
The highlight of the Carnival is, of course, the parade of samba schools, which, with plenty of hips, rhinestones and percussion, compete to be named champions of the year. There are around 70 of them in Rio alone. Visiting them during rehearsals (usually Friday or Saturday night) is sure to charm you. They are neighbourhood associations made up of people who are crazy about dance and music, who want to show off their talent, to offer a scene whose power and harmony will distinguish them from their neighbours. They make the city vibrate throughout the year. Some are very rich, others hanging by a thread. Regardless, it's euphoria that invariably guides them to the same altar of festivities that seems hardwired into Brazilians' DNA. Two ways of experiencing the exceptional event on which they focus: Carnival.
For the official parade, head to Sambodrome, Avenue Marques de Sapucai. Over the years, the Carnival has indeed become a huge commercial operation. It is true that as the event grew, it became chaotic, paralysing the city and generating as much trouble as happiness. So there's no more of the spontaneous waves of dancers and musicians who would appropriate the sidewalk and beaches wherever they wanted. They've given way to official stands with stone benches, cushioned seats and VIP boxes. On this 2625ft long and 39ft wide esplanade, the best schools will parade in front of more than 80,000 spectators. To ' be there ', you have to pay for the privilege: anywhere from roughly [EUR]50 if you've signed up a long time in advance and are happy to join a packed throng, and more like [EUR]1, 000 for the evening, if you require canapes and colourful cocktails. It's also worth noting that the troupes parade every night and that the show, which is exceptional, lasts until the early hours.
Beija Flor won
This royal alley only welcomes virtuosos. Samba schools are classified by divisions, much like football teams. Each year, the last two of each group are relegated to the level below, while the top two go up a division. These are the first divisions to be judged in the Sambodrome, and each with several hundred members. All wear their colours, choose a parade theme (they're free to choose - video games, football, China, love...) illustrated by larger-than-life floats, dancers, singers, and musicians who perform a song composed specially for the occasion, and non-stop.
With stunning scenery, over-the-top costumes, elaborate choreography and endless rhythm, the party reaches its peak here. In the end, the 36 members of the jury will decide on the winner as well as the king and queen for the year. In 2018, Beija Flor (hummingbird) school, a regular victor with fourteen wins under its belt, won. All blue and white, they will obviously put their title back on the line in this new season.
Join the dance
However, the people of Rio, who walk as if they're dancing, and talk with a hint of samba in their voice, could not be satisfied with the 'official' marks of ' their' carnival. The streets are theirs and they continue to doggedly occupy them. Then there are the more modest samba schools, those from neighbourhoods that do not yet have the glory of the most well-off: Unidos da Tijuca, Imperatriz, Beija Flor, Rio Grande, Vila Isabel... They parade with their only wealth and weapon: passion. Best of all : during the Rio Carnival, anyone can enter the dance behind the school members. Respect : they have been rehearsing for months, sacrificing a significant portion of their income to build floats and dress those in the parade. Here, the Carnival reverts back to its popular beginnings, its initial fire, bringing together people of all skin colours, elegant heiresses and favela kids, e-entrepreneurs and footballers, dance fans, chic students and young street kids. In short, its Brazil in microcosm. A piece of bad news (quickly offset by an excellent deal): the municipality of Rio has cut its subsidies to the samba schools. Some of them no longer have the means to rehearse at the Sambodrome and have to make do with the streets of their neighbourhood. It means a great (free) show guaranteed.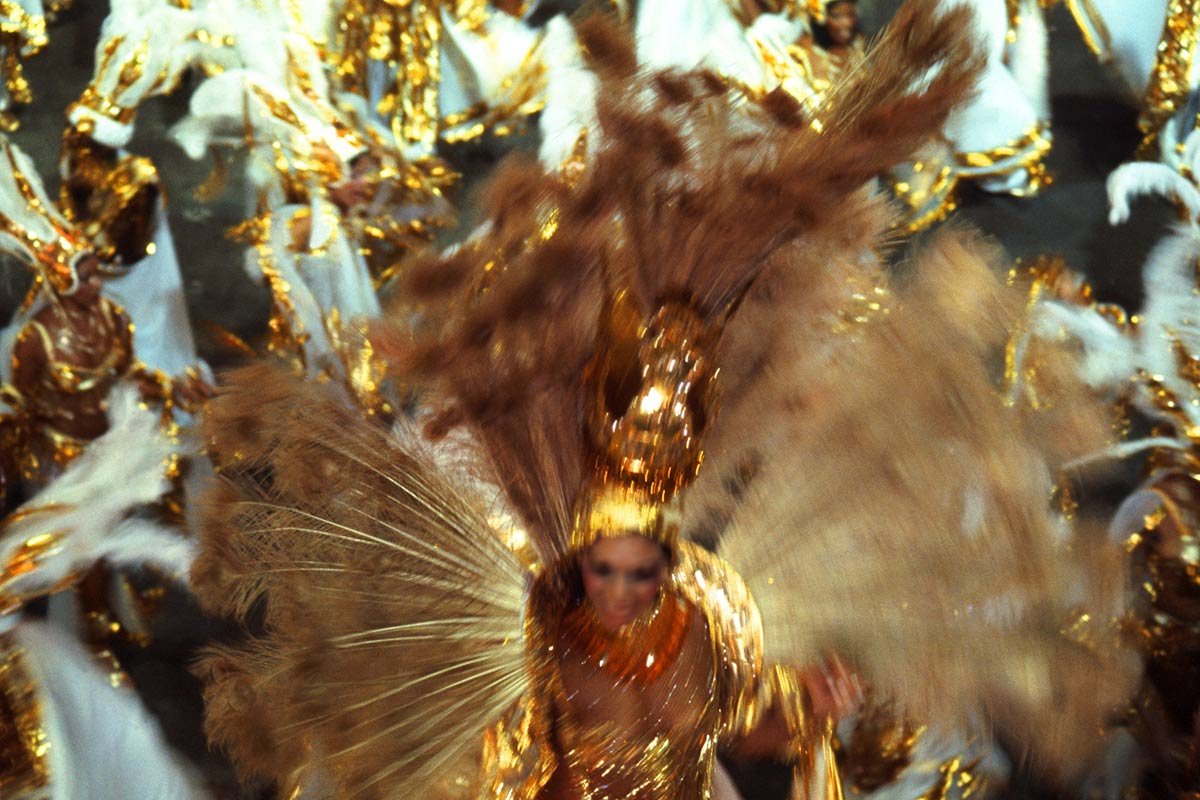 John Foxx/Getty Images
Over 400 events
Finally, remember that, paradoxically, attending the Carnival requires a lot of organisation. Events (more than 400 city officials warn), create congestion in the city and cause daunting traffic jams with endless travel times. Fortunately, many free newspapers distributed in hotels and on the streets keep scrupulous track of must-see events. We can therefore get ready and make a plan hour-by-hour. Rio is certainly not the only city to share in the festival's glories. Practically all Brazilian cities have their own Carnival, Salvador de Bahia, of course, Recife, Sao Paulo... Each has its own style, music, heritage and idiosyncracies. After dancing and singing at the Rio Carnival, there's nothing more tempting than swinging there to new beats...
By
Jean-Pierre Chanial