Svalbard Big Short Break
Who: Couples and Solo Travellers
From £2,060pp
Ice Caves, Husky Sledding, Arctic Wildlife & Northern Lights: A Big Short Break to Svalbard, Norway
If you're after the quintessential arctic Big Short Break destination, look no further than Norway's Svalbard archipelago. On this five-day trip deep in the Arctic Circle enjoy adrenaline-fuelled adventure under star strewn skies and (hopefully) the Northern Lights.
Itinerary at a Glance:
Trek through ice caves
Head out and hunt for the Northern Lights
Mush a team of eager huskies along frozen rivers
Why Book with Original Travel?
Just a few of the extra touches that come as standard on an Original Travel holiday...
See More
All of the holidays we create are completely tailor-made to you
This sample itinerary is intended to give you a flavour of what we can do
Your flight from the UK to Norway leaves mid-morning, so make sure to arrive early to make the most of our additional services and relax in the airport lounge after we have whisked you through check-in and security.
Once you have arrived in Oslo you will connect on to your next flight, which will take you to Longyearbyen - three hours north and (stat alert) as far from Oslo as the Norwegian capital is from North Africa. Once you have collected your luggage, you will be privately transferred to your hotel for the next four nights.
Day 2:

Ice Cave & Northern Lights
This morning you will be met at your hotel by your expert guide in a slightly left-of-field vehicle - a snowcat. Once you have wrapped up warm, you will head to a local ice cave to explore on foot. With headlamps to light your way - after all, there is little sunlight here for large parts of the year - you will make your way through the eerily blue and meandering caverns with your guide.
This evening you will head out into the wilderness again, getting away from the bright lights of Longyearbyen to try and spot the Aurora Borealis (northern lights) with dinner and an expert guide. Whether or not the 'polar fireworks' make an appearance you will be treated to some seriously spectacular skies.
This is one of Europe's most breath-takingly spectacular environments, so make sure your camera is fully charged – if there's one thing you don't want it's a dead battery.

Early(ish) this morning you will be met by your guide for a full day snowmobile adventure, riding all the way to Svea - a small mining community.
As you ride through the wintery wilderness you will be able to spot local wildlife - including, hopefully, polar bears and their prey, the ringed seal - with the help of your guide, who is a pro at spotting the white bears on the ice. Boffins observing the region have discovered several dens and it isn't unusual to see mothers and their cubs frolicking in the ice.
This morning you will join a team of mushers for a huskie-led adventure through the wilderness. After an introduction to mushing techniques you will set off along frozen rivers and though beautiful mountains. Make sure to keep your eyes peeled for Rudolph the reindeer and friends, as well as arctic foxes. On your way back, you will visit the dog yard and, perhaps the most important element of the trip, meet the latest litter of puppies.
If you didn't manage to spot the Aurora Borealis the night-before-last you now have another chance this evening as you head out on snowcats to spot the Northern Lights. Your guides will take you into the Advent Valley where, eyes glued to the sky, you will hear how the lights are formed and keep warm with hot chocolate - no gløgg (Norwegian mulled wine), you're driving.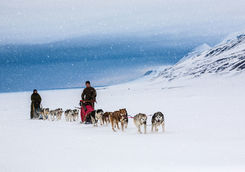 Day 5:

International Flight
After breakfast this morning, you will be privately transferred back to the airport in good time for your lunchtime flight home, which will connect via Oslo and land back in the UK in the evening.
All of the holidays we create are completely tailor-made to you
This sample itinerary is intended to give you a flavour of what we can do
A Rough Idea of Price
While all of our holidays are completely tailor-made and prices will vary based on things like time of year and level of accommodation, we want to give you as good an idea of how much this itinerary will cost. The below prices are based on two people sharing.
This Itinerary
If you would like to book the itinerary mentioned above, with economy flights, during mid-season and staying in our preferred room category at our preferred hotels.
Bare Necessities
If you would like to pare back the above itinerary by travelling at non-peak times, staying in a standard room and removing some or all of the guided activities.
Bells & Whistles
If you are looking for something extra special, we can discuss with you upgrading your accommodation, flights or activities.
Kate L and Charlotte H are our experts for this itinerary and as seasoned travellers they have the inside track on the most memorable adventures.