South East Sicily Road Trip
Who: Couples and Road Trippers
From £3,625pp
Scenic Walks & Town Tours: A Road Trip Around South East Sicily
Spend 10 days getting under the skin of Sicily, the ball to Italy's boot, on a luxury road trip around the south-eastern coast. Take in ancient history, traditional cuisine and the island's spectacular nature in the company of expert guides, and enjoy some glorious Sicilian sunshine.
Itinerary at a Glance:
Dig deep into antiquity in the Valley of the Temples
Wander ancient city streets with an expert guide
Hike to the rim of Mount Etna, Europe's largest active volcano
Why Book with Original Travel?
Just a few of the extra touches that come as standard on an Original Travel holiday...
See More
All of the holidays we create are completely tailor-made to you
This sample itinerary is intended to give you a flavour of what we can do
Day 1:

International Flight
Your three-hour flight from the UK to Catania will land in Sicily in the morning. Once you have cleared customs and collected your bags, you will pick up the keys to your hire car and make the two-hour drive across the island to Agrigento, arriving in time for a late lunch.
After a suitably long lunch, you will have the rest of today to settle in and get your bearings before dinner. Our local Concierge can recommend a few places to eat and drink this evening.
This morning you will meet your expert guide for a walking tour of Agrigento.
The tour will be tailored to your interests, so there will be a short discussion with your guide about what you'd like to see - we would highly recommend seeing if you can spot the 'letter of the Devil' in the cathedral, as mentioned in Giuseppe Tomasi di Lampedusa's magnum opus Il Gattopardo (The Leopard), though the film was made in Montechiaro, 20 minutes down the road.
Literary buffs can also take in famous dramatist and writer Luigi Pirandello's home. There is plenty of history from antiquity onwards to absorb, including some gory battles, or you can simply take in the best cafes and delis in town, the choice is yours.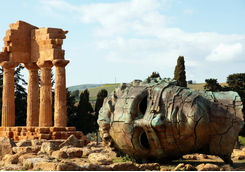 After breakfast this morning you will make the two-and-a-half hour drive - we will include detailed driving instructions in your final documents - to your next hotel, which is on a country estate just outside the charming town of Ragusa.
Once you have settled in, we recommend spending the rest of the day relaxing and pottering around in the grounds. We can also arrange spa treatments should you wish to up the relaxation to the next level.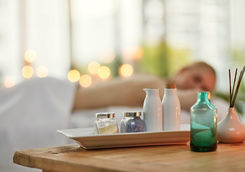 Day 4:

The Balcony of Sicily
After lunch today, you will meet your guide for a small group tour of the tiny village of Chiaramonte Gulfi, also known as the Balcony of Sicily. This is an area rich in wonderful monuments and cultural attractions and wonderful views stretching from Gela to Etna. The region has had a varied history since it was founded back in the 6th century BC, being colonised by the Romans and Moors among Sicily's many invaders over the centuries.
You will take in the key sights, including the Villa Comunale, the medieval Arco del'Annunziata and a couple of our favourite museums. After your tour, you will head for a wine tasting and dinner at a local restaurant, followed by a tasting of the highly rated local olive oil. After dinner, you will be driven back to the hotel for a relaxing evening.
After breakfast this morning you will make your way to Ragusa to begin a tour of Ragusa and Modica, two of Sicily's loveliest baroque towns.
The tour starts with a visit Santa Maria delle Scale, a small pocket of gothic splendour in the middle of the city's baroque bustle. Continuing down the 'gothic in the middle of a baroque city' line, you will then visit San Giorgio's portal and the Villa Comunale, a former Franciscan monastery. You will head to Modica for lunch, about 25 minutes away, and have a wander around the town's beautiful churches and head to Scicli, via the beautiful Fiumara Valley, on your way to your next hotel, about an hour away on the coast near Syracuse.
Day 6:

Syracuse & Ortigia
This morning, you will meet your guide at reception for a full day's tour of seaside Syracuse's most interesting spots. You will begin with its ancient Greek history, starting at the theatre carved into the rock. You will progress through time, visiting the Catacombs of St John (built between the 4th and 6th century AD).
After lunch, you will visit Ortigia, Syracuse's charming Old Town, a labyrinth of narrow streets perfect for strolling around and the Piazza Duomo, ducking into the magnificent baroque cathedral built on top of the 5th century BC Temple of Athena before visiting the Church of Santa Lucia alla Badia, to take in Caravaggio's spectacular painting of the aforementioned Lucia, patron saint of the city. The bad boy of the renaissance art scene stopped here after his temper got him into trouble (again) in Malta. Your tour will finish with a visit to the city's Jewish Quarter.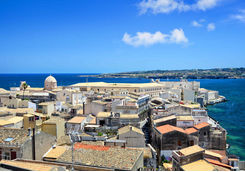 Day 7:

Cooking Up a Storm
Today you will have an authentic cookery class with the chefs at your hotel and learn to make specifically Sicilian dishes. Having helped to select fresh ingredients from the gardens, you will be taught the skills and traditional techniques, which you will then be able to put to use for dinner parties back home. You will cook three dishes, before enjoying the fruits of your labour.
This morning you will make the one-hour-40-minute drive north to Taormina. Once you have dropped your bags off we recommend consulting our Concierge for their favourite lunch spots in town before your afternoon walking tour of the city.
A private guide will show you the most interesting parts of Taormina, a city surrounded by mountains and perched above a turquoise sea with the majestic and spectacular Etna as a backdrop. The town is an intimate collection of tiny streets and flower-filled balconies. Your tour will finish at Taormina's magnificent Greek amphitheatre.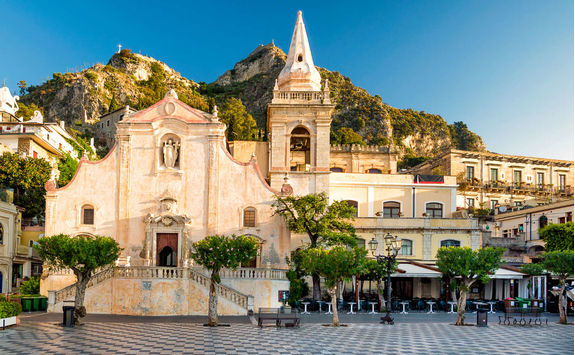 Day 9:

Mount Etna and the Alcantara Gorges
Early this morning you will meet your expert guide for a full-day 4x4 tour of Europe's largest active volcano, Mount Etna, and the Alcantara Gorges. As you drive past villages and fields of hazelnuts and vineyards you will learn about how, despite the risk, people here are deeply wedded to the land and the lives they lead here.
Once on the mountain, you will hike to the ruins of what was once the Betulle Hotel, until it was covered by a lava flow in 2002 - a sobering reminder of the power of nature. You will continue up the mountain, hiking to the crater before making your way to a Sicilian winery. You will have a tour of the winery before enjoying a lunch of local specialities and a wine tasting.
Day 10:

International Flight
After a lazy day at your hotel - let us know if you would like to book in some spa treatments to counteract the leg-work you put in yesterday - you will make your way back to Catania for your thee-hour flight home to the UK.
All of the holidays we create are completely tailor-made to you
This sample itinerary is intended to give you a flavour of what we can do
A Rough Idea of Price
While all of our holidays are completely tailor-made and prices will vary based on things like time of year and level of accommodation, we want to give you as good an idea of how much this itinerary will cost. The below prices are based on two people sharing.
This Itinerary
If you would like to book the itinerary mentioned above, with economy flights, during mid-season and staying in our preferred room category at our preferred hotels.
Bare Necessities
If you would like to pare back the above itinerary by travelling at non-peak times, staying in a standard room and removing some or all of the guided activities.
Bells & Whistles
If you are looking for something extra special, we can discuss with you upgrading your accommodation, flights or activities.
Harriet and Kate L are our experts for this itinerary and as seasoned travellers they have the inside track on the most memorable adventures.