Time to rest up, relax and reflect on the wonderful adventure you've just had.
There's a delectable beach and warm turquoise sea and pools to swim in, but this is also somewhere that merits exploration, so over the next few days consider some of the following activities, from paragliding to hiking, snorkelling to diving, and dhow rides to mountain biking.
If that all sounds a little, well, active, then you could easily spend a few days relaxing in your entirely private villa, lounging around in the private - and very decent sized - pool and taking in the majestic views from your terrace or veranda.
Come evening, drink cocktails under the moonlight right on the shoreline before eating dinner in a restaurant with views of the sea. For something even more special, take a private dinner together in the intimacy of your villa, attended by a butler.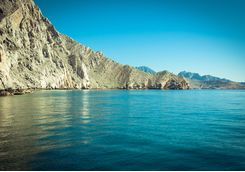 Additional Activities
Take a sunset cruise across Haffa Bay
Experience the soaring thrill of paragliding.
Go mountain biking.
Stride along the Smuggler's Bay Hiking Trail
Snorkel in crystal clear water
Dive the Musandam Peninsula's fine dive sites - For qualified divers only
Take a PADI dive course