Northern Namibia Safari
Who: Couples and Honeymoons
From £3,440pp
Wildlife and Wilderness: A Northern Namibia Safari
Immerse yourself in the wilds of Namibia on this ten-day Northern Namibia safari that takes you from the country's capital to its wildlife-rich national parks. Venture across the north by 4x4 and stay in luxury lodges, enjoying plenty of game drives and walking safaris along the way.
Itinerary at a Glance:
Set off on a thrilling nocturnal game drive in Okonjima Reserve accompanied by a knowledgeable guide.
See Namibia's national parks up close on immersive walking safaris.
Bump around the bush on a game drive through Ongava and into neighbouring Etosha National Park.
Stay in a remote wilderness lodge in the shadow of the Erongo Mountains.
Track cheetahs, leopards, hyenas or lions with research teams
Why Book with Original Travel?
Just a few of the extra touches that come as standard on an Original Travel holiday...
See More
All of the holidays we create are completely tailor-made to you
This sample itinerary is intended to give you a flavour of what we can do
Day 1:

International Flight
Your Northern Namibia safari trip begins today. After being fast-tracked through security, relax in the airport lounge (even if you're flying economy - just another of our additional services that are always included) before boarding your 11-hour overnight flight to Johannesburg.
On arrival into Johannesburg, connect across to the two-hour onward flight to Windhoek. When you land in the Namibian capital, you will be met at the airport and transferred 45 minutes to your hotel in a luxury air-conditioned vehicle.
Once you have settled in, your 4x4 hire car will be delivered to you and you will be shown all its functions, provided with a map, advised on fuel stations and have the opportunity to ask any questions you may have on the vehicle, the route or driving in Namibia.
After your long journey, treat yourself to a tasty supper this evening in the city followed by a nightcap in legendary local Joe's Beerhouse, before retiring to your room for an early night.
After breakfast at your hotel, load up the car and make your way to Okonjima, a nature reserve located in the Omboroko Mountains two-and-a-half-hours away - your first taste of driving through the beautiful Namibian landscape.
Nestled among the Omboroko Mountains, this is more than just a lodge. Famed for its frequent cheetah and leopard sightings as well as its AfriCat Foundation Okonjima is a leading light in carnivore conservation as well as pangolin and brown hyena research, this is the perfect place to enjoy a responsible safari experience and learn about what threatens these incredible species.
You'll be staying here for the next two nights of your Northern Namibia safari in a cosy villa deep in the wilderness so get unpacked and settle in before enjoying a leisurely late-afternoon lunch.
As evening draws in and the temperatures begin to drop, wrap up and set off to explore the park after dark on a thrilling nocturnal game drive accompanied by a knowledgeable guide. You'll get the chance to see everything from bat-eared foxes and aardwolves to leopards, hyenas and owls, all under the cover of darkness.
Return to your luxury lodge for sundowner cocktails and candlelit dinner beside a crackling fire before calling it a night and heading to your villa to drift off to the sounds of the African night.
Your Namibia adventure continues today with a full day exploring Okonjima.
Begin your day with a morning game drive to meet some of Namibia's wonderful wildlife in its natural environment. See leopards lazing in the sun, wildebeest wandering through the grass and giraffes peering out from the treetops. Along the way, keep an eye out for some of the 250 bird species that have been spotted in the reserve - it's a bird lover's paradise!
Return for a lazy lunch at the lodge before visiting the AfriCat clinic and educational centre to learn more about their amazing work. If the morning has taken it's toll though, an afternoon siesta will recharge the batteries before setting out after tea, this time on foot, on an immersive guided walking safari. Gain an insight into the flora and fauna as you are immersed in the wilderness and learn more about the wildlife - big and small - from your passionate guide. An optional additional activity is cheetah and leopard tracking. This gives you a glimpse of what it is like for the researchers on the reserve to keep up with these animals as well as understand how important the work is and what they aim to achieve through their research.
Come evening, enjoy another delicious meal and share stories around the campfire before heading off to bed.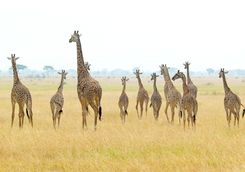 Day 6:

Little Ongava Bound
Today, at the halfway point of your Namibia adventure, you'll be waving goodbye to Okonjima and driving two-hours-and-forty-five-minutes to the Ongava Game Reserve, one of the country's largest private reserves on the southern boundary of Etosha National Park.
Here, while immersed in the wilderness on game drives and walking safaris, you'll get to experience the park's wealth of wildlife including lions, rhino, elephant, giraffe, antelope and much more.
After settling into your luxury lodge with its impressive views over the watering hole in front of camp, and jumping in the cool pool to refresh yourself from the drive, set off to explore the park on foot this afternoon. During your nature walk, delve into the wilderness with one of the experienced local guides who will share with you their intimate knowledge of the landscapes and its wildlife.
Come evening, your walk will take you back to the lodge as the stars begin to appear. This is the perfect time for a sundowner and the chance to enjoy the vast skies from your expansive veranda before a romantic dinner under the stars.
Day 7:

4x4 Safari into Etosha
Today you'll be setting off on an unforgettable game drive through Ongava and into neighbouring Etosha National Park to see more of the region's incredible wildlife. Try your hand at guiding skills as you follow the roads in the park and see what you can spot.
The afternoon is yours to spend as you wish. For a truly incredible wildlife experience, head off on foot to track rhino with a trained guide. Alternatively, if you fancy a more relaxing end to the day, take a seat in one of the peaceful photographic hides to try your hand at capturing the beauty of the park's wildlife, or cool off by the pool.
Day 8:

Wilderness Walking in the Erongo Mountains
Today, on the penultimate day of your Northern Namibia safari, you'll be driving approximately four hours to your final destination, a wonderful wilderness lodge in a secluded valley in the shadows of the volcanic Erongo Mountains.
Experience the raw beauty of the Erongo Bushveld as you embark on a nature walk with an experienced guide through the mountains and, come evening, see the sky painted pink as the sun disappears behind the granite peaks.
Return to the lodge in time for a hearty dinner and then cosy up in your luxury tented chalet for your final night in Namibia.
Sadly, today is the final day of your Northern Namibia safari. After a warming breakfast of freshly baked breads and sugary sweet pastries, drive back to Windhoek, two-and-a-half-hours away, to catch your connecting flights home.
After arriving into the capital, drop off your hire car and make your way to the airport in time for your flight to Johannesburg, which takes two hours. In Johannesburg connect across to your onward overnight flight to London, which takes just over 11 hours, so plenty of time to scroll through your safari snaps.
Your flight arrives back in London in the early morning.
All of the holidays we create are completely tailor-made to you
This sample itinerary is intended to give you a flavour of what we can do
A Rough Idea of Price
While all of our holidays are completely tailor-made and prices will vary based on things like time of year and level of accommodation, we want to give you as good an idea of how much this itinerary will cost. The below prices are based on two people sharing.
This Itinerary
If you would like to book the itinerary mentioned above, with economy flights, during mid-season and staying in our preferred room category at our preferred hotels.
Bare Necessities
If you would like to pare back the above itinerary by travelling at non-peak times, staying in a standard room and removing some or all of the guided activities.
Bells & Whistles
If you are looking for something extra special, we can discuss with you upgrading your accommodation, flights or activities.
Matt is our expert for this itinerary and, as a seasoned traveller, has the inside track on the most memorable adventures.