Driving the Great Ocean Road
Who: Couples, Honeymoons and Road Trippers
From £3,550pp
City Sights, Scenic Drives & Hearty Hikes in Victoria, Australia: A Great Ocean Road and Grampians Road Trip
Road trips are an iconic way to experience Australia and make the whole holiday feel like much more of an adventure. This 13-day Great Ocean Road and Grampians combo comprises all that you'd want in an Australian trip - beaches, wildlife, stunning scenery and a whole lot of food and wine - without any long stretches on the road either. What's not to love?
Itinerary at a Glance:
Fall in love with the bohemian culture in Melbourne
Take in sweeping coastal view after sweeping coastal view on the Great Ocean Road
Hike till your hearts are content in the Grampians National Park
Put your feet up with a large glass of wine in Daylesford
Why Book with Original Travel?
Just a few of the extra touches that come as standard on an Original Travel holiday...
See More
All of the holidays we create are completely tailor-made to you
This sample itinerary is intended to give you a flavour of what we can do
Day 1:

International Flights
Zip up your bags and head to the airport for the start of your Australian adventure. There are a number of airlines flying to Melbourne from the UK so we can help you choose the routing that suits you best.
Whether you stop in Asia, the Middle East or Perth the journey time will be around 23 hours.
After a day spent up in the clouds, you'll land into Melbourne this evening, and will no doubt be very happy to find one of our friendly Aussie team waiting for you.
Let them help you with your bags and then make the half an hour drive into town and your hotel. After a long journey, we suggest keeping this evening pretty simple, with a light dinner at one of the nearby restaurants (we'll recommend the best of a fine bunch in Melbourne) and then an early night.
Day 3:

Meandering in Melbourne
Melbourne has grown quite the reputation as Australia's capital of cool in recent years, so spend today finding out why.
The vast network of trams in the city centre is totally free so, armed with a map, you should have no problem exploring on your own. You might like to start by wandering along the colourful laneways and into the vintage shops and quirky cafes around Fitzroy, then make your way back to the centre to visit the Southbank and the iconic Hosier Lane. Covered in street art and with various items hung across its narrow width this is the epitome of Melbourne's edgy art scene.
Now that you've got your bearings a little, this evening we have arranged for you to join a small group foodie focused tour. Over the course of the evening, you'll be taken to visit several of Melbourne's best dumpling eateries; thanks to the large Asian population these are a speciality in the city. With a fun local guide to ask for recommendations and chat to, this is also an opportunity to get a real insider's view on Melbourne's hotspots.
Additional Activities
If it's open while you are visiting, Queen Victoria Night Market is a real must visit, with live music and fairy lights adding to the atmosphere.
Day 4:

Vino in the Valley
After your culinary adventure last night, today you'll continue the gastronomical theme and enjoy a private guided winery tour in the Yarra Valley.
Just an hour north east out of the city, the Yarra Valley is one of Australia's best and most scenic wine regions and home to over 150 wineries. There is also an abundance of locally produced foodie treats to find here, with everything from cheese to chocolate on sale.
Your day's tour starts with some breakfast bubbly at a specialist sparkling wine producer, followed by a cheese tasting at a nearby dairy to soak up the fizz. The Yarra Valley area is known for its pinots and chardonnays but your guide will happily tailor the tour to your tastes and your next stop is at a winery of your choice. Then, enjoy an excellent lunch of fresh local produce in historic Healesville.
After this, you can choose to spend the afternoon at a nearby wildlife sanctuary, where you can feed the kangaroos or take the dingoes for a walk, or visit a gin distillery or brewery. As you drive back to Melbourne in time for dinner, keep an eye out for kangaroos and birds on the scenic drive home.
As today is your last day in Melbourne we have left it free for you to a) enjoy a lie in after yesterday's wine indulgence, and b) explore any of the areas you might have missed.
Sweeping St Kilda Beach and boulevard are just a short tram ride away so getting some sea air here might be a good place to start. Alternatively, stay in the centre and visit Queen Victoria Market for your fix of vintage goodies and delicious food. After a pit stop for lunch or a drink along the sunny Southbank, head to the bustling Flinders Square and one of the many museums and galleries in the city - the Australian Centre for the Moving Image is one of our favourites.
Your dumpling guide from your first night will have likely recommended several restaurants and bars (as will our detailed destination Dossier), so start early and make the most of your last night.
Additional Activities
Visit Phillip Island and see the resident penguins
Take a guided tour of the iconic MCG (Melbourne Cricket Ground)
Take a day trip to Mornington Peninsula, where you can visit the beaches, dip in the hot springs and enjoy a tipple at one of the wineries
Today marks the start of your road trip along the Great Ocean Road. Collect your hire car (we will have arranged everything for you, including booking a convertible if required) and then hit the road headed south out of the city.
After only about an hour, you'll join the coastal road at Torquay and then hug the sea shore all the way to your stop for this evening in Apollo Bay. The total driving time is only about three hours, but we suggest making several stops along the way, to make the most of the journey and the scenery.
Make your first stop in Torquay at the Surf Museum. Torquay is the home of Quicksilver and Rip Curl and is where the Rip Curl Pro Surfing Competition is held every Easter. This really is a surfer's paradise, and you'll always find someone to watch riding the waves even if the pros aren't in town.
Next stop on your road trip is the little town of Lorne, where a fresh seafood lunch at A La Grecque awaits. Just another half an hour down the coast, stop at Kennet River and go for a stroll, looking for wild koala in the Blue Gums. Finally, with less than an hour's drive, arrive in Apollo Bay for the night.
Additional Activities
If you're inspired by watching the pros, take a surf lesson at Bells Beach and learn to ride the waves yourselves
Take a break from driving today and enjoy some time in Apollo Bay. You might like to stroll along the sandy dunes and find yourself a spot on the beach to make camp for the day, or for the more adventurous there are various sightseeing spots in the nearby area.
Located at the foothills of the Great Otway National Park, Apollo Bay is the ideal base for a day hiking in the rugged coastal park. Complete your hike with a visit to the Cape Otway Lighthouse, where you'll be rewarded with sweeping panoramic views from the top.
Additional Activities
Sneak ahead of your itinerary and enjoy a first glimpse of the Twelve Apostles from above during a scenic helicopter flight
Get up and hit the road early today as you'll be heading for the Great Ocean Road highlight, the Twelve Apostles, and you'll want to beat the day trip crowds.
The drive is only about an hour and a half long so you'll still have plenty of time to enjoy the views and stop at particular photogenic spots on the way. When you do arrive at the Twelve Apostles Visitor Centre, park up the car and head to the lookout platform on foot. There are various different lookouts to gaze out on the dramatic limestone pillars rising from the sea, so spend some time wandering and snapping photographs. One thing you'll quite quickly notice is how many pillars there are, as in fact the twelve pillars are now just seven. But, numbers confusion aside, there is no denying that they are still visually stunning.
When you've taken in every angle from the viewing platform, head down Gibsons Steps to the beach and get an on the ground perspective of the pillars towering above you.
Having climbed back up the steps to your car, enjoy an hour and half of sitting down and driving before you arrive in your stop for the night, Port Fairy. To break the day up a bit more, you might also like to stop in Warrnambool, where you can spot migrating Southern Right Whales (June-October), or at the Tower Hill Wildlife Reserve to spot kangaroos and koalas.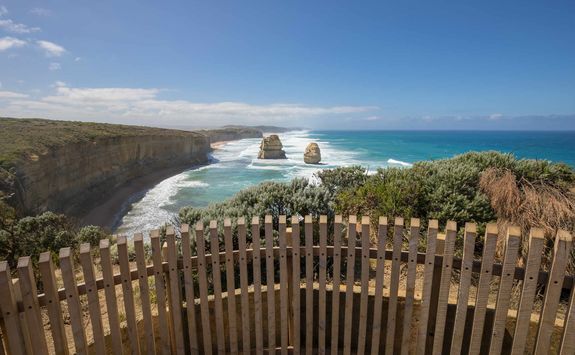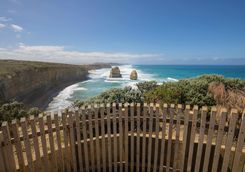 Take a stroll around Port Fairy and grab a leisurely breakfast this morning before you get back in the car and make the two hour drive north, away from the coast and up into the Grampians National Park.
When you arrive at your hotel, drop your things and don your walking shoes as you head out for an afternoon of exploring. Made up of grand sandstone mountains, gushing waterfalls and dense wildflower covered terrain, this is ideal walking territory and the various lookouts offer some seriously awe inspiring views. Spend this afternoon staying fairly close to your hotel and getting your bearings as tomorrow will be a full day.
Come evening, cosy up in your hotel with a large glass of wine and embrace the silence surrounding you.
Additional Activities
Explore the Grampians on horseback rather than foot on a riding excursion
Day 10:

Walking in the Wilderness
Hop in the car and head to Halls Gap village in the heart of the national park this morning. This is one of the best places to base yourself for a full day of hiking and adventuring and also has a fantastic visitor's centre where you can pick up maps and tips aplenty.
Spots you might like to try and visit on your day of hiking include the Pinnacle Lookout, Boroka Lookout and MacKenzie Falls. The staff at the visitors centre will be able to advise a route based on your abilities and appetite for walking, but since most of these spots are accessed by a short walk from the nearest car park, there is something to suit everyone.
Additional Activities
Go canoeing or kayaking on Lakes Bellfield, Fyans or Wartook
Give rock climbing a go in one of the best natural playgrounds you'll find
Learn about the indigenous aboriginal culture here at Brambuk Cultural Centre
After two days of strenuous leg stretching adventure, we thought you deserved a bit of rest and relaxation to end your trip. So make the drive to Daylesford, which is around two hours east of the Grampians and home to an abundance of beautiful boutique hotels, natural mineral springs and great food and wine.
Once checked into your hotel, spend the rest of today and tomorrow enjoying your peaceful countryside surroundings. There are various leisurely strolls to take, several comfy spots to get stuck into a good book in, and plenty of time to simply just enjoy spending some quality time together. Follow your days with drinks in the evening sun and leisurely dinners at either your hotel or one of the nearby wineries - we can recommend our favourites - and you're likely to leave feeling as relaxed as you have in a long while.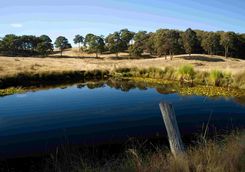 Additional Activities
Head to one of the natural mineral spas for an afternoon of pure pampering
Go wine tasting at the numerous wineries in the area
Sadly, with one last hearty Australian breakfast to see you off, it's time to head home today.
Hop in the car and make the drive to Melbourne airport, which is just over an hour away. From there you'll be able to drop off the car and check in for your flight.
As with on the way, you'll be connecting overnight via Perth, Asia or the Middle East en route back to the UK, and the total journey time is around 23 hours.
All of the holidays we create are completely tailor-made to you
This sample itinerary is intended to give you a flavour of what we can do
A Rough Idea of Price
While all of our holidays are completely tailor-made and prices will vary based on things like time of year and level of accommodation, we want to give you as good an idea of how much this itinerary will cost. The below prices are based on two people sharing.
This Itinerary
If you would like to book the itinerary mentioned above, with economy flights, during mid-season and staying in our preferred room category at our preferred hotels.
Bare Necessities
If you would like to pare back the above itinerary by travelling at non-peak times, staying in a standard room and removing some or all of the guided activities.
Bells & Whistles
If you are looking for something extra special, we can discuss with you upgrading your accommodation, flights or activities.
Jacqui is our expert for this itinerary and, as a seasoned traveller, has the inside track on the most memorable adventures.