Classic Tour of Armenia
Who: Couples, Groups and Solo Travellers
From £2,185pp
This week-long tailor-made classic tour of Armenia takes in the best monasteries, temples and sights in the country. Enjoy a ride on the world's longest aerial tram, visit 'Armenia's Stonehenge' and enjoy plenty of wine, brandy and cheese tastings along the way.
Itinerary at a Glance:
Explore the markets and museums of Yerevan
Hike around Lake Sevan
Enjoy views of Mt Ararat
Explore 'Armenia's Stonehenge'
Discover the rock paintings of Karahunge
Hike to Garni Temple
Why Book with Original Travel?
Just a few of the extra touches that come as standard on an Original Travel holiday...
See More
All of the holidays we create are completely tailor-made to you
This sample itinerary is intended to give you a flavour of what we can do
Day 1:

UK to Yerevan via Paris
Your tailor-made classic tour of Armenia begins today. After being fast-tracked through security, relax in the airport lounge (all thanks to our additional services, as standard) before boarding your six-hour flight to Yerevan via Paris.
When you land you'll be met by our representative on the ground before taking a private transfer to your hotel, just a short drive away into the city centre.
Spend the evening settling into your hotel, enjoying a delicious meal and then getting an early night ready for a jam-packed day of exploring tomorrow.
Your tailor-made classic Armenia trip kicks off this morning with a tour of the country's buzzing capital, Yerevan. Overflowing with culture, flower-filled parks, tree-lined shopping avenues and smoke-filled jazz bars and cafes, there is a lot to love about the city.
Your driver and guide will meet you at your hotel this morning to begin your tour, starting in Republic Square and heading on to the Cascade, a huge stairway with fantastic views of the city spread out beneath you. Visit the Memorial Park, a homage to the victims of the Armenian Genocide, and then continue on to the History Museum of Armenia where you can see the world's oldest shoe!
After a leisurely lunch, spend the afternoon browsing the Vernisage flea market and wandering through the central food market. Come evening, taste traditional Armenian cuisine at a lovely local restaurant - we can recommend plenty.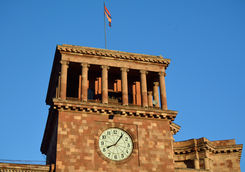 After filling up on a heart breakfast at your hotel, meet your guide and driver and head to Echmiadzin, the Armenians' spiritual centre and one of the worldwide centres of Christianity.
Visit the Treasury with its ancient exhibits and achingly beautiful architecture and then continue on to the ruins of Zvartnots Cathedral, a seventh century architectural gem listed as a UNESCO World Heritage site. If your visit falls on a Sunday, you may also go to the Sunday liturgy.
After lunch at a local house, transfer back to Yerevan to visit the famous depositary of ancient manuscripts at Matenadaran. Afterwards, enjoy a tour of a nearby brandy distillery - tasting included. End the day with a delicious dinner in the capital before returning to your hotel pleasantly exhausted.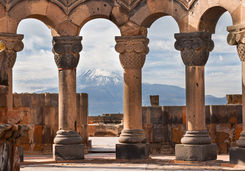 Day 4:

Khor Virap, Noravank and Goris
Your tailor-made classic Armenia tour continues today with a tour of the Vayots Dzor region, Armenia's agricultural heartland.
First stop is the Khor Virap Monastery. Set within the spectacular scenery of the Ararat valley with Mt Ararat (of Noah's Ark fame) looming large behind it, the monastery is spectacularly situated. Venture down into the pit dungeons where Gregory the Illuminator - known for introducing Christianity to Armenia - was imprisoned for 14 years, and snap plenty of shots of the cinematic surroundings.
Continue the tour to Noravank Monastery, set high up the Amaghu gorge and nestled between rocky mountains and red cliffs. Visit the Tushpa winery and taste Armenian delicious wines and cheeses.
End the day with a visit to the Areni Cave, where the world's oldest shoe was found, before heading on to the town of Goris, where you will be spending the next two nights.
Day 5:

Khndzoresk, Tatev and Karahunge
This morning begin your exploration of Goris with a gentle walk through old Khndzoresk - a historic cave village located on the steep slope of a gorge. Travel back in time as you wander past the natural and manmade caves which were inhabited by troglodytes as late as the 1950s.
Next, an hour's drive away, explore the monastic complex of Tatev - an architectural masterpiece dating from the ninth century. Often referred to as 'the monastery built on the edge of nothing', Tatev stands scenically on the edge of a deep gorge. To reach the monastery, you take the world's longest aerial tramway, known as the 'Wings of Tatev.'
End the day with a visit to Karahunge - otherwise knows as 'the Armenian Stonehenge' - an ancient observatory that dates back to the sixth century BC and contains a number of rock paintings that are said to focus on astronomy.
Hop back in the car for a short 30-minute drive back to Goris for a hearty dinner and overnight stay.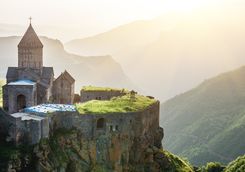 Day 6:

From Goris to Lake Sevan and Dilijan
Today, you will depart Goris and be driven into the mountains along the Selim Pass towards the resort town of Dilijan, roughly two hours away.
First stop along the way is Orbelian's Caravanserai. The best-preserved caravanserai in the country, it was built in 1332 by Prince Chesar Orbelian to accommodate weary travellers. An inscription in Armenian and Arabic details this to be an important stop along the Silk Road trade route.
Next on the agenda is Noraduz - an ancient cemetery full of khachkars (cross-stones) dating back to the sixth century - and Lake Sevan, the largest freshwater lake in the country that sits over 6,500ft above sea level.
Your final stop today is the popular little resort town of Dilijan, known as the 'Little Switzerland' of Armenia. Potter down Sharambeyan Street where there are plenty of crafty shops to browse and then head to your hotel where you will be staying for the night.
The penultimate day of your tailor-made classic tour of Armenia begins with a gentle two-and-a-half-hour hike in the Dilijan Highlands. You'll be met by your guide and taken along the Parz Lich trail, passing a lovely little lake and traversing a green valley and dense woods. The hike finishes at lake Gosh where you can take a break and enjoy the peaceful surroundings.
Next, it's on to Garni Temple, an impressive architectural building from Hellenistic times set near an incredible gorge. The temple was originally dedicated to Helios, God of the sun, and sits on a bluff surrounded by rocky mountains and blossom trees. While here, you may like to take a short one-hour hike down into the gorge to see the otherworldly 'Symphony of Stones' rock formations.
Now that you've worked up a healthy appetite, it's time for lunch at a local house in Garni where you'll get the chance to savour a warm slice of lavash bread baked fresh by the women in the town. Afterwards, transfer to the Cave Monastery of Geghard, a unique monument carved out of the rocks, before heading back to Yerevan.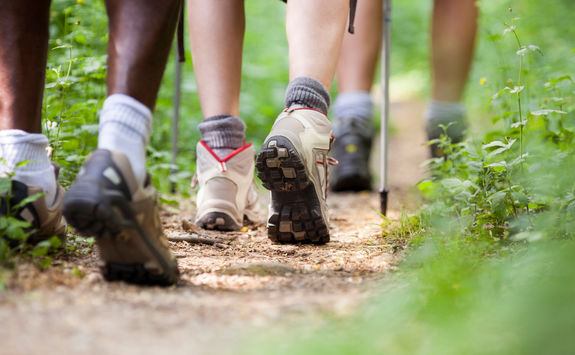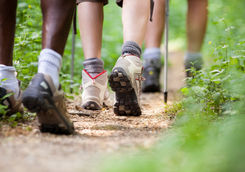 Today is the final day of your classic Armenia trip. After a leisurely breakfast at the hotel, you will be transferred to the airport for your flight back to the UK via Paris.
All of the holidays we create are completely tailor-made to you
This sample itinerary is intended to give you a flavour of what we can do
A Rough Idea of Price
While all of our holidays are completely tailor-made and prices will vary based on things like time of year and level of accommodation, we want to give you as good an idea of how much this itinerary will cost. The below prices are based on two people sharing.
This Itinerary
If you would like to book the itinerary mentioned above, with economy flights, during mid-season and staying in our preferred room category at our preferred hotels.
Bare Necessities
If you would like to pare back the above itinerary by travelling at non-peak times, staying in a standard room and removing some or all of the guided activities.
Bells & Whistles
If you are looking for something extra special, we can discuss with you upgrading your accommodation, flights or activities.
Harriet and Kate L are our experts for this itinerary and as seasoned travellers they have the inside track on the most memorable adventures.