'Safari': the word, originally derived from Arabic and translating roughly to long journey, was introduced to the English language by explorer Sir Richard Francis Burton in the 19th century.
Fast forward to 2014 and the term has come to represent a whole raft of once in a lifetime experiences complete with their own complex lexicon (mokoro safari, anybody?).
It does mean that the world of the safari can be an impenetrable one for first-time travellers - so if you're considering a long journey of your own, consult our list of common FAQs below to debunk common safari myths.
Myth No 1: It's all about the Big Five
The Big Five (that's lion, African elephant, Cape buffalo, leopard and rhinoceros) have become synonymous with the quintessential starter safari. However, as Original Traveller and experienced safari-goer Ian Scott-Gall explains, 'When you go on your first safari, there's a huge amount to look at - and that can be quite daunting.'
If you're a safari rookie, it's worth knowing that you can't necessarily bank on ticking off all five on your first trip out in the bush. 'Don't expect to spot all big five on your first trip - most people only get to see leopard on their third or even later' says Ian.
Our advice? Be strategic and ask your guide to show you the iconic safari animals - think lion, giraffe and elephant - before building up to the more rare sightings. The elusive Little Five (buffalo weaver, ant lion, rhino beetle, leopard tortoise and the elephant shrew) are good to save for when you're more of a seasoned safari-goer.
If you're an experienced Africa traveller, venture off the traditional safari trail and along a path less travelled, where you'll discover bountiful pockets of wildlife-dense spots. Wild chimps hang out in the Mahale Mountains of Tanzania, whilst your best bet for gorilla sightings are in Rwanda, Uganda, or Congo, which has the world's largest population of Western Lowland Gorilla.
Alternatively, if it's big cat sightings you're after, Botswana and Zambia are your best bets, according to expert Miranda.
Read more: Tips for second-time safari-goers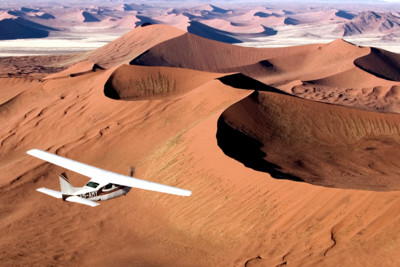 Myth No.2: It's all about the 4x4
How does the safari-goer appear in your mind? Khaki-clad à la Ernest Hemingway, possibly sporting enormous binos, and definitely cruising around in an open-sided 4x4 covered in a thin veil of dust. Well, cast that stereotype aside, because (conversely to your 4x4 prejudices) there's a rather remarkable collection of alternative ways to see Africa.
Riding safaris are increasingly popular across a breadth of destinations: Botswana is the birthplace of this rather epic endeavour, but Kenya and South Africa are both equally unforgettable too.
Namibia is home to the pioneering Schoeman's Skeleton Coast Flying Safaris, an unparalleled experience that deserves to be bumped straight to the top of you bucket list. Though the emphasis is on time spent in the air - above an eerie, undulating coastline - the family will take you across the quartz-laden sand in all manner of adrenaline-fuelled modes of transport.
But if you're more comfortable with your feet firmly on the ground, a walking safari is an exciting alternative. Traverse the plains of Zambia (known as the home of walking safaris and for excellent guides), Botswana and Kenya - our experts will advise on the ideal destination for you.
Read more: A flying safari experience in Namibia; A wild walking safari in Zambia
Myth No.3: It's tricky to experience the 'real Africa'
Not so. Whilst certain destinations (think: Kenya, Tanzania) are considered safari stalwarts, and consequently attract considerable numbers every year, there are plenty of underexplored destinations.
Zambia is often referred to as the 'real Africa', with particular emphasis on the great wilderness that is the Lower Zambezi National Park. If you're keen on the idea of a walking safari, head to the South Luangwa - the region is known for its legendary guides, so you'll be in safe hands.
Zimbabwe is a destination many are still reluctant to visit, but with tourism providing a source of income to many of the country's ordinary citizens, visits bolster Zimbabweans where it really matters - and offer great value for money, too. The guides are probably the most knowledgeable in all of Africa, and the parks are uncrowded. Zimbabwe is also the country to visit if you're an elephant fan - our expert Millie found herself sharing a plunge pool with a group of thirsty pachyderms.
Read more: Millie's amazing Zimbabwe safari; A wild walking safari in Zambia
Myth No. 4: It's not environmentally responsible
This is a common misconception, and one that we are keen to dispute. Africa expert Ra has written a blog on ethically responsible safaris in South Africa that serves as a great introduction to the issue.