Will you stay at La Mamounia or the Royal Mansour? The two legendary hotels in the Ochre City have both recently been refurbished. Which one will you choose for your next getaway ?
Escape to the bright lights of Marrakech (just under a million people), the capital of southern Morocco and opt for accommodation that is the stuff of legend. On the one hand, there's La Mamounia, which has welcomed all the great and the good of politics, the elite and showbiz since 1925. On the other hand, there's the Royal Mansour, opened in 2010. A work of art meticulously executed by the kingdom's greatest artisans, cabinetmakers, sculptors, weavers, ironworkers and painters. Each of them has a style of its own and each has its ardent fans.
Royal Mansour/The Leading Hotels of the World
The two rivals, both just yards away from Djemaa el-Fna Square, the Medina and Morocco's most famous souq, are actually state-owned and hence part of the kingdom. They therefore also form part of the Royal Palace, which grants both hotels the privilege of sourcing fresh produce from His Majesty The King's farm estate.
First glance
First glance. Impressive on both sides. The Mamounia opens onto a gigantic lobby in the middle of which is a large sculpture , created in 1907. A man on the back of his camel is armed with a spear, which he points at a leopard. The current decor is by Jacques Garcia, a fan of red and black, dark corners and hanging lights. It exudes an atmosphere of Moroccan chic - mosaics, carpets, marble and leather armchairs... Great attention to detail. A dedicated team keeps watch in front of lifts. Its members take their customers wherever they wish.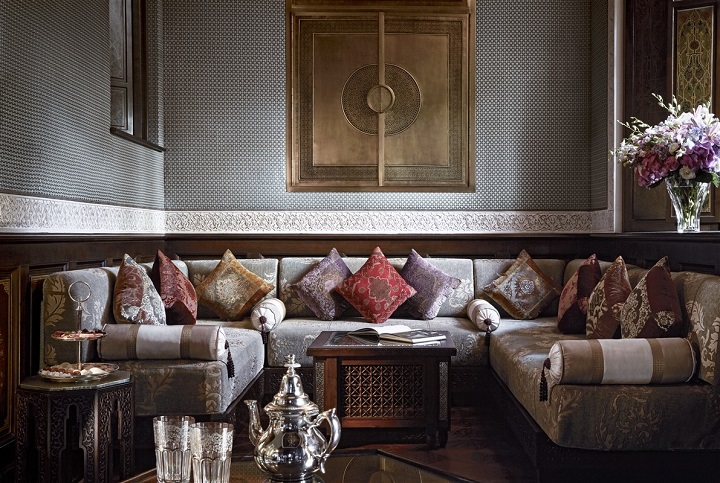 Royal Mansour/The Leading Hotels of the World
You enter the Royal Mansour through a huge carved wooden door. It opens onto ponds lined with lanterns and a hall with a definite wow factor. That feeling remains throughout your stay. Refined Moroccan craftsmanship : sculpted plaster, stitched leather walls, a lacework of filigree iron and embossed bronze, alongside luminous 'tadelakts' (native craftsmanship) studded with river pebbles. That's just the lobby. By the time you've been welcomed, all of your luggage will already have found its way to your room.
The bedrooms
They are the big difference between the two hotels. The Royal Mansour was actually designed as a closed medina. Surrounded by a sixteen foot high wall, the hotel consists of 53 riads. Each a traditional one to three bedroom house with a rooftop terrace and a small private pool and deckchairs. This closed style offers complete privacy. If the mood takes you, there is no need to leave your accommodation, which comes complete with living room, dining room and bathroom. It's interesting to note that service is provided through a network of underground tunnels to ensure complete discretion. Fans of an 'each to his own' aesthetic will love it . It is less attractive for those who are claustrophobic and who hate dark (and cool) spaces.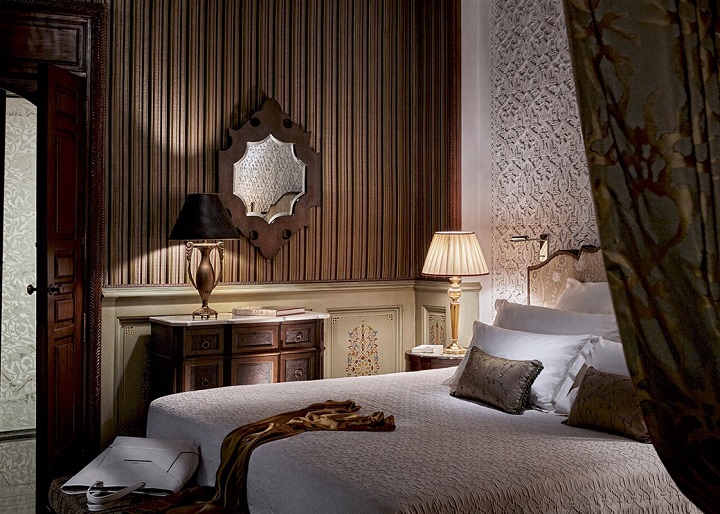 The Royal Mansour (Privilege)
In La Mamounia, on the other hand, in its 138 rooms (including 71 suites and a handful of detached villas), light reigns. Especially from the balconies and terraces which overlook the huge garden. Marrakech and its clear skies, storks flying, and the scent of orange blossoms offer a superlative experience.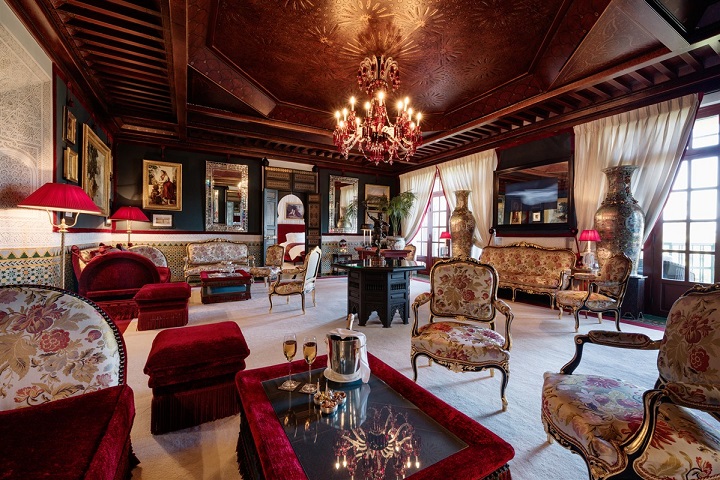 Alan Keohane / La Mamounia (Al Mamoun Suite)
The Garden
La Mamounia estate stretches out across 20 acres, making it twice the size of the Royal Mansour estate. The Royal Mansour garden has just been redesigned. It boasts an almost 100ft swimming pool and is charmingly planted with palm trees, olive trees and abundant flowers.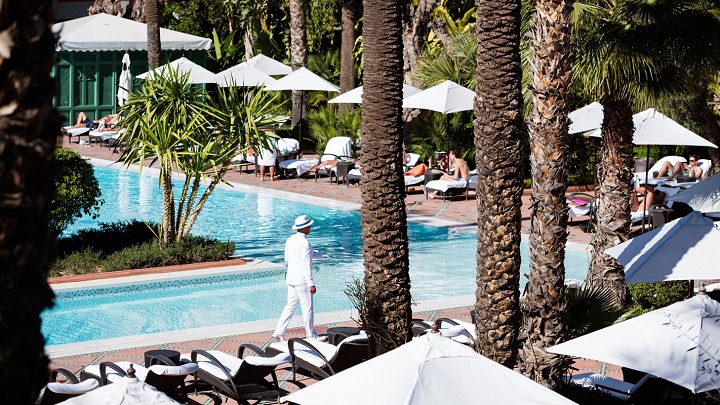 Alan Keohane/La Mamounia
La Mamounia has always been noted for its green spaces. Planted with orange and lemon trees, this garden is somewhere that demands a wander. It takes more than 70 gardeners to maintain. It is also complemented by an organic vegetable garden and an extraordinary and beautifully ordered cactus walkway, with more than 80 different species.
Dining
Parisian three-starred chef, Yannick Alleno (Pavillon Ledoyen) keeps watch over the Royal Mansour kitchens. The chef works wonders, creating dishes with French and Moroccan influences. At La Mamounia, residents have a choice of several restaurants, serving French, Italian or Moroccan cuisine. It's their favourite culinary trilogy.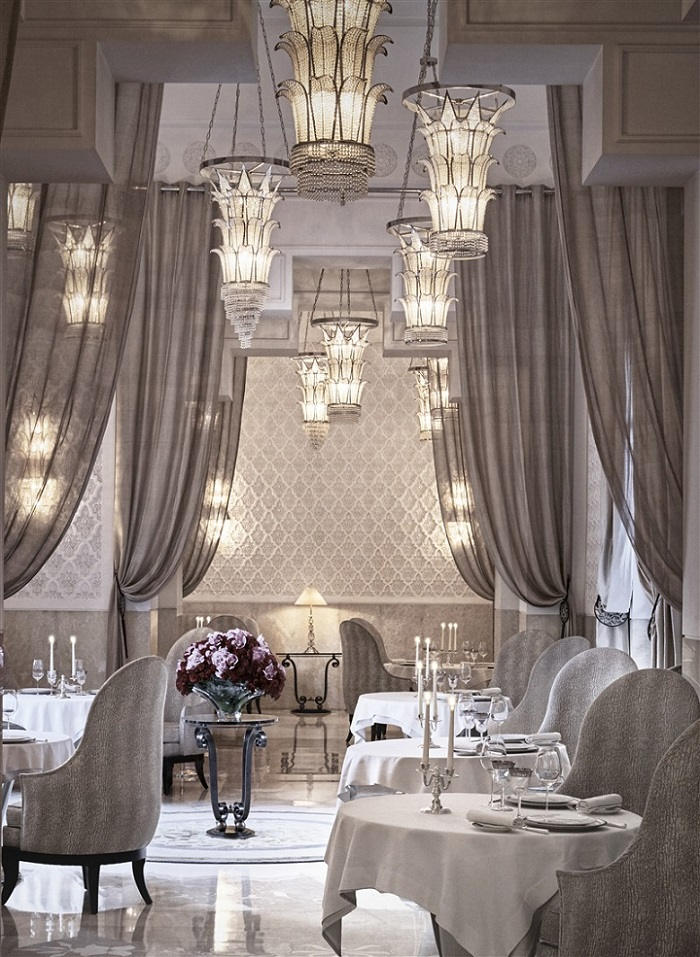 Royal Mansour/The Leading Hotels of the World
The Bar
Here again, two philosophies complement each other perfectly. At La Mamounia, a sense of British style prevails (Churchill was a frequent visitor, after all) with its leather armchairs, dark woodwork and subdued lighting. There are regular blues and jazz sessions, revealing the ability of this place to transform into a fancy club when required.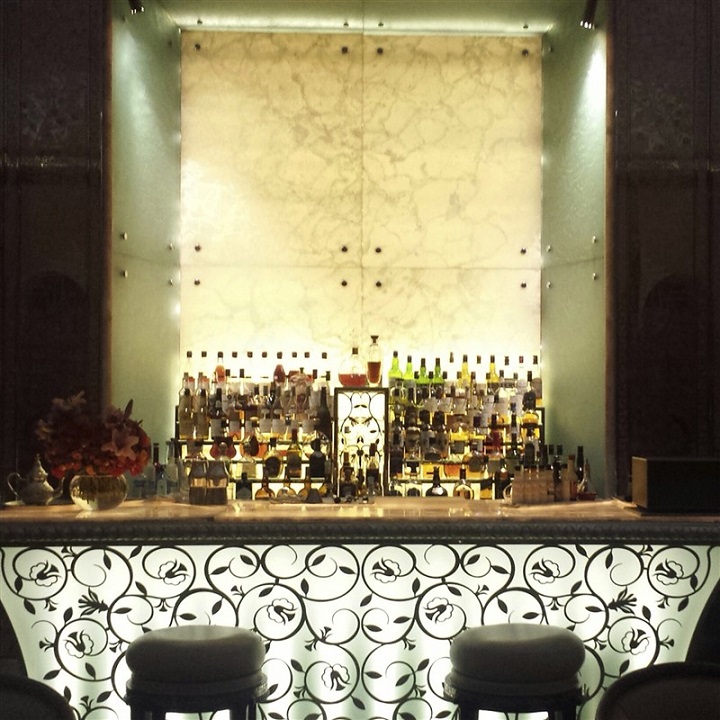 Faustine Poidevin
In the Royal Mansour bar, on the other hand, it's all about the bright light. But more than anything else, it is the setting that proves breathtaking: an illuminated bar counter lined with thin metal strips, mirrors inlaid with rose gold leaves, sculpted marble columns and Art Deco furniture... it's all pretty amazing. Another bar, in sycamore, mother-of-pearl and woven tapestry, is reserved for cigar smokers and lovers of fine spirits.
The Spa
The spa at the Royal Mansour has graced the front covers of all the lifestyle and interior design magazines. Its design is inspired by an aviary and its white painted aerial ironwork is a true work of art. In its lighting, furniture and treatment rooms, this is a different take on the vogue for white. Covering almost 27, 000 square feet, it offers 101 different treatments.
The Spa at La Mamounia has retained its Moroccan heritage. The walls are covered with tadelakts, there's some intense Majorelle blue, the pools are lined with coloured mosaics and zellij. Black soap and argan oil abound.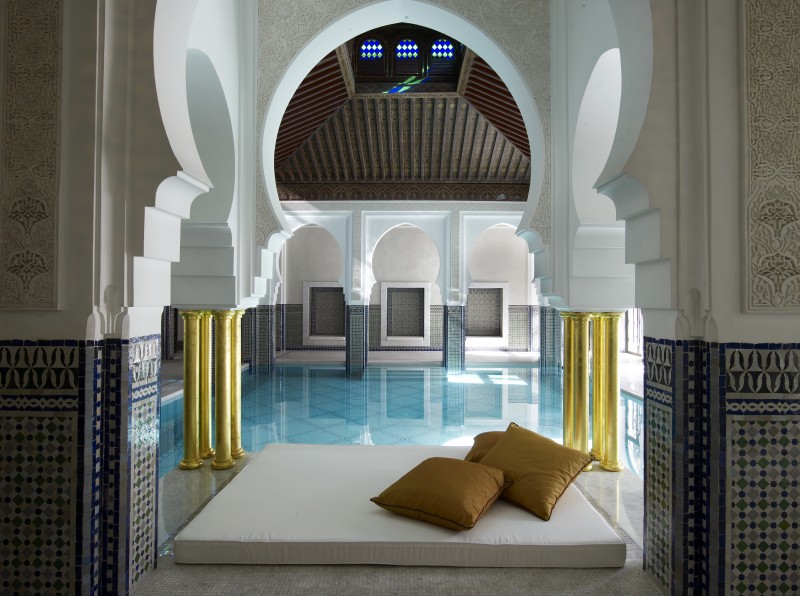 Alan Keohane/La Mamounia
The bill. Well, it's inevitably going to be high. But strangely, as much as the two establishments are on par in terms of luxury, elegance and service, the price of their rooms is very different. La Mamounia is almost half the price of the Royal Mansour. The Royal Mansour has always claimed that its high prices are a reflection of its excellence.