Itinerary Highlights
Ouro Preto, Rio and Buzios: Baroque and bohemian Brazil
Inhotim & Niteroi MAC: Contemporary Art in the Rainforest, Facing Rio Bay
Then stay in Buzios, a stylish hippie fishing village
Access to our local Concierge for 24-hour assistance, and all our usual additional services
Contact one of our Brazil specialists + 44 (0) 20 3958 6120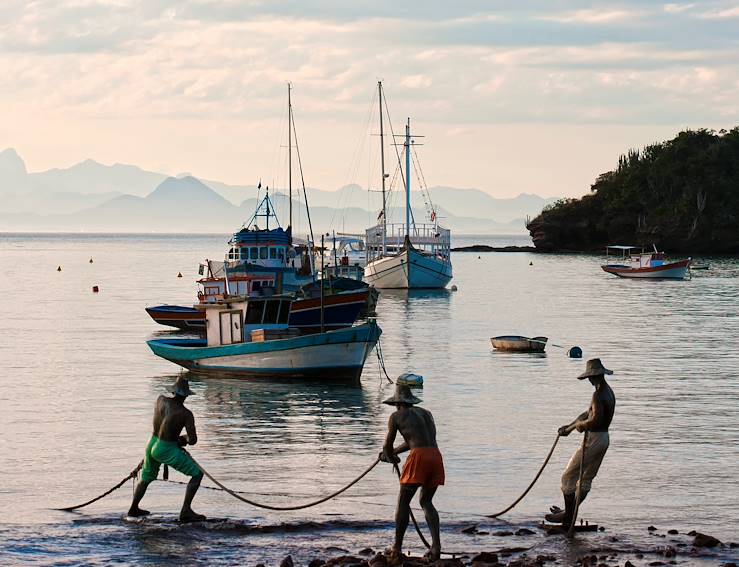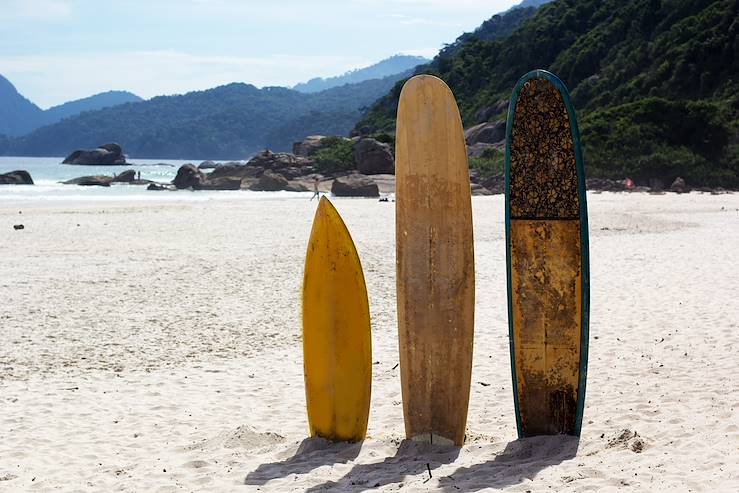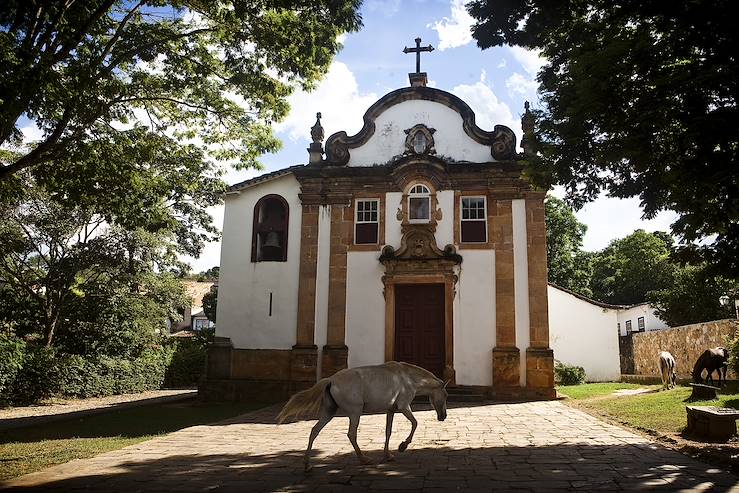 ANOTHER BRAZIL, BAROQUE AND BOHEME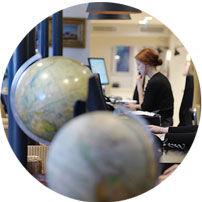 A journey designed for the aficionados of Brazil, to continue exploring this vast country. Your journey begins in
Minas Gerais
, a state once rich on gold and diamonds - at the end of the 17th century, the discovery of precious stones and metals in its mountains provoked a gold rush. As large as France, it is home to a considerable number of 18th century churches, Baroque blessings to God for their makers good fortune in striking gold. The jewel,
Ouro Preto, 'Black Gold'
, the gold rush capital, was the most populous city in the Americas in the 18th century, with upwards of 100,000 inhabitants. Across the city's hills, its churches illustrate the development of European baroque in Brazilian lands:
the original aesthetic is there, but the style imported from Europe has become tropical - sunflowers are replaced by passion fruit, wheat by maize, fish by shrimp. Thirteen churches and as many convents are there to be visited - an extravagant treasure trove of wooden statues and gemstone sculptures. Ouro Preto's steep alleyways are crowded with houses with rough, pink, white or blue walls, and roofs of red tiles, with hidden patios.
You leave the baroque for bohemia, and the hillside Santa Teresa district in Rio - its inhabitants call it 'Santa' - a world away from the skyscrapers and body worship of Rio's beaches, a refuge for artists inhabited by composers, writers and painters who have chosen it for its village atmosphere, for the decadent charm of its Art Deco houses and its terraces in the shade of the tall banana trees. There is still a Bohemian spirit in Buzios, a former fishing village that has been a stylish hippie hideaway since the 60s, where a romantic idyll was lived out, barefoot in the sand, by a certain Brigitte Bardot.


YOUR JOURNEY

In Ouro Preto and Tiradantes, stay in beautiful 18th-century mansions, furnished with antique furniture; and in Rio stay in a 19th-century house in the heart of an exuberant garden, on the green hillside of Santa Teresa. In Buzios, stay in a beautiful white house with blue shutters, glazed painted tile facades, a stone's throw from Sant 'Ana Church and the beach. In Minas Gerais you have a rental car to explore the area at your leisure. During the trip, you will visit two extraordinary museums of contemporary art, which display their exhibits in an exceptional way in their surroundings. In Minas Gerais, Inhotim, a folly offered by Brazilian billionaire Bernardo Paz, part botanical garden, part museum of contemporary art, which hosts large artistic projects. A true conservatory of rare tropical species, it brings together the world's largest collection of palms, 1400 varieties - and, scattered in lush vegetation, the works of generations of artists such as Vik Muniz, Steve McQueen, Anish Kapoor and Yayoi Kusama. And opposite Rio, the MAC Museum of Contemporary Art of Niteroi, the latest work by Oscar Niemeyer, an architectural UFO set on a natural promontory - a white concrete cup that is a technical and aesthetic feat. It is accessed by a circular ramp that allows you to admire the panorama over 360 degrees, with a crazy view of the bay and Sugarloaf Mountain which almost eclipses the Joao Sattamini collection that it houses. In Rio, we have also included in your itinerary a visit to arty Santa Teresa, accompanied by one of its inhabitants, which takes you to its cobblestone streets, and to its artists' workshops. And a private boat ride takes you around all the golden beaches of Buzios. If any problem crops up along the way, or if you have an unexpected desire, you can quickly find a answer to the problem by contacting our local Concierge. Their local experience is at your service.
Route
Everything is 100% tailored to you
DAY 1
International flight to Belo Horizonte, Inhotim
Flight to Belo Horizonte via Sao Paulo. Morning arrival in the capital of Minas Gerais. Assistance with picking up your rental car and setting off for Inhotim (40 miles).
On the way - Sabara, a city dating from the gold rush. See the cobblestone street along the river, low houses with pink, blue, saffron walls, tiled roofs, gardens of bougainvilleas, and myriad churches with ochre or azure facades, all containing treasures such as bas-reliefs, votive offerings, earthenware and gold.
Overnight accommodation in the small town of Brumadinho, in a welcoming hotel located in the immediate vicinity of the Inhotim Cultural Centre.
DAY 3
Inhotim - Ouro Preto
Included in the itinerary - Inhotim, both the botanical garden and museum of contemporary art, which hosts large artistic projects. A true conservatory of rare tropical species, it brings together the largest collection of palm trees on the planet and, scattered in lush vegetation, the works of generations of artists.
Then it's off to Ouro Preto (65 miles or about 2 hours) through the hills of Minas Gerais, along the way passing through the cities of Itabirito, Cachoeira do Campo or Mariana, founded in the 17th century, which have many preserved Baroque buildings. On arrival in Ouro Preto, accommodation for two nights in a beautiful 18th century house, furnished with antique furniture.
Here, all that glitters is gold - the heritage of the 18th, when the city was the mining centre of the Portuguese Crown. Walk through its squares and steep streets, admiring its colourful houses.
Things to see and experience - The thirteen Baroque churches, witnesses of the city's splendid past - the Mineralogy Museum: a dizzying collection of precious stones, diamonds and coloured stones, rubies, sapphires, emeralds, aquamarine and topaz - the Casa da Moeda (mint) - the municipal theatre, established in 1770 and the oldest functioning theatre in Latin America: four floors, 350 seats, gilding everywhere. Don't leave Ouro Preto without sampling the cuisine, and particularly the typical 'feijao tropeiro', pork shank, chopped cabbage, eggs, onions, grilled cassava flour, and brown beans.
DAY 5
Ouro Preto - Tiradentes
Then off to Tiradentes via the Estrada Real, the Royal Route which, in the 18th century, made it possible to transport gold from Minas Gerais to the port at Paraty and to Rio de Janeiro, to the court of the Portuguese King.
On the way - The small colonial town of Congonhas do Campos and its UNESCO listed Basilica do Senhor Bom Jesus de Matosinhos - Sao Joao del Rei, with its numerous Baroque churches and colonial homes.
Spend two nights in an old 18th-century building in the historic centre of the city.
An air of rebellion still clings to this city, once trampled by slaves and then by the abolitionist leader who bequeathed it his name. A lovely colonial city - probably the most romantic in the region - all white, nestled in a circle of hills. Churches and mansions bear witness to a magnificent past, where you can admire their facades and finely carved altars.
Must-see - The 'Chafariz' Saint Joseph, the Matriz de Santo Antonio, for its remarkable architecture, and the view of the city from its esplanade, the museum of Padre Toledo.
DAYS 7 & 8
Rio Tiradentes
Flight to Rio. Accommodation for three nights in the bohemian district of Santa Teresa. In an exuberant garden, a house where the 19th century has left its mark. The decor is cool and colourful - well served by Brazilian craftsmanship. At the window, Guanabara Bay, which shines in the sun. With this view, breakfast on the terrace is a opportunity that you simply can't ignore. Just below, a lovely swimming pool, perfect for relaxing in the evening. The spacious rooms overlook the garden.
DAYS 10 & 11
Rio - Buzios
Private transfer to the beautiful seaside resort of Buzios, 120 miles east in the state of Rio. Accommodation for five nights in a beautiful white house with blue shutters, glazed painted tile facades, in the historic centre of Buzios, a stone's throw from the church of Sant 'Ana and the beach. It looks a bit like Greece or Portugal but in the Tropics: Brazil, with a Mediterranean twist. In the spacious rooms, vintage furniture and the most comfortable bedding. The garden has two swimming pools and lush vegetation.
A la carte
RIO BY NIGHT

Rooftops in Ipanema, trendy bars in Leblon, electric bars in the alternative district of Botafogo ('BotaSoho') , or samba clubs in Lapa: Rio dances till the morning. You have a local for company who will take you to discover his/her favourite bars, to experience a great night out.
Optional
A Rough Idea of Price
Dependent on season, accommodation and activities
The estimated cost for this trip is £4,500 to £5,600 per person. All of our holidays are tailor made so prices will vary dependent on a number of factors, such as seasonality, level of accommodation and how far in advance you book. The final cost will vary according to several factors, including the level of service, length of trip and advance booking time. The exact price will be shown on your personalised quote. The average price for this trip is £4800 per person.
International flights with a scheduled airline
Airline taxes and fuel surcharge
The five days of car rental from Belo Horizonte
Private airport transfers/hotels/airports
Private transfer Rio-Buzios-Rio
Overnight stay in Inhotim in a double room, breakfast included
Two-night stay in Ouro Preto in a double room, breakfast included
Two-night stay in Tiradentes in a double room, breakfast included
Three-night stay in Rio in a double room, breakfast included
Three-night stay in Buzios in a double room, breakfast included
A visit to MAC in Rio with a guide
Half day exploring Arty Santa Teresa with a guide
Half-day private boat trip on the Buzios Peninsula with a guide
Our local Concierge service
A few of the benefits of travelling with us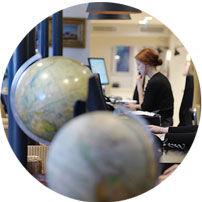 Get in touch
Our experts have the inside track on the destinations they sell and will tailor-make a holiday to your unique requirements.
Contact one of our Brazil specialists