New York is famously the city that never sleeps, but if there's any hotel that might tempt you to get a little shuteye it's the Viceroy New York.
Situated in Midtown on West 57th, so within easy reach of both hipster downtown and glamorous uptown, the Viceroy has 240 rooms (including 43 suites), some with Central Park views, spread across 29 storeys.
The supremely stylish guestrooms make elegant use of metal, wood and leather, with floor to ceiling windows and well-appointed bathrooms. Every room also features individual little design details such as vintage wallpaper in the wardrobes (we love a detail). The terrace suites also have a balcony or terrace.
On the subject of terraces the one at Roof rooftop bar on the 29th floor has amazing views out across the city and Central Park. Inside, the look is luxury yacht, with brass fittings, walnut and leather sofas and seacape photography from Dalton, and the drink to order is a perfectly mixed Monkey Business (scotch, aperol, contreau and fresh lemon juice) cocktail or one of a selection of local craft beers. Drinks are also served in the Library.
Itineraries that feature Viceroy New York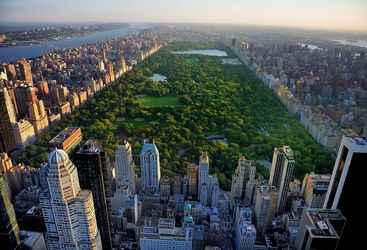 Best for: Couples
A City Break to New York
An action packed adventure in New York, where you will see and experience famous attractions both on the land and from the air. Shopping, museums,...
4 Days
From £735pp