Walking the Wilderness
Who: Couples
From £6,750pp
One of the best ways to really get acquainted with the bush is to spend time walking in it. During this 11-day trip spend several days camping, walking, adventuring and stargazing in the beautiful South Luangwa. Top and tail the trip with a luxury lodge or two for good measure.
Itinerary at a Glance:
Get to know your dedicated walking guides over a sundowner at Nkwali Camp
Trek into the beautiful South Luangwa and spot small, rare flora and fauna as well as a wealth of big game
Relax and rest your legs in the comfort of a luxurious camp
Why Book with Original Travel?
Just a few of the extra touches that come as standard on an Original Travel holiday...
See More
All of the holidays we create are completely tailor-made to you
This sample itinerary is intended to give you a flavour of what we can do
Day 1:

International Flight
Your overnight flight to Johannesburg leaves this evening and takes 11 hours, so make sure the iPad is fully charged and loaded with the latest box sets.
On arrival into Johannesburg in the early morning, connect across to the onward two-hour flight to Lusaka with your bags checked through all the way so you don't have to collect them en route. Your Lusaka flight lands around lunchtime and then it's one final connection onto an hour-long domestic flight to Mfuwe in the South Luangwa.
Nobody said getting truly away from it all was easy but when you arrive in Mfuwe you'll find a driver waiting to grab your bags and whisk you into the 4x4. From the airport the drive to your lodge should be around 45 minutes and will take you into the heart of the national park, hopefully spotting game on the way.
Once at the lodge, enjoy a well-earned drink and enjoy some 'sofa safari' as you watch game coming to the river to drink from the comfort of the lounge tent.
Use today to unwind and ease into the safari lifestyle. The team at the lodge also operate the walking safaris so they will be able to answer any last minute questions and discuss with you what you would prefer to do today.
Options include morning and evening game drives, guided walks with your knowledgeable guide, a visit to Kawaza village, or a tour of Tribal Textiles, a collective who make unique handmade textiles inspired by the beautiful wildlife and surroundings. Alternatively, you might prefer to simply relax in the sun by the pool, getting some rest before your walking safari starts tomorrow.
After an early breakfast you will be driven north out of camp to start your walking safari. The drive is approximately 60 miles to the Mupamadzi River, travelling along a bush road through remote parts of the park and hopefully spotting some wildlife as you go.
After the drive you should arrive in camp at around midday, just in time for a freshly made lunch. The camp will have been set up prior to your arrival and consists of traditional walk-in tents with beds, a bucket shower and a long drop loo which is made perfectly 'luxurious' by the addition of a wooden throne seat.
Enjoy a relaxing siesta after lunch, before going for a walk around camp in the afternoon, returning for sundowners and dinner under the stars.
Over the course of the next four days experience a true wilderness adventure as you explore the vast South Luangwa National Park and Mupamadzi River area on foot. The camp will remain in the same spot for the second and third nights but then move on to a second location by the fourth night.
Though each day will no doubt be slightly different, an average day would begin with you getting up at sunrise for the morning walk. Since the area here is remote and wild, the terrain and habitats are varied and the game is shy and unused to human presence, which is why it is ideal walking safari terrain. From seeing ants to buffalo and finding a bird's nest to tracking a lion, during your walks you will learn all about the many facets of the bush.
Each day lunch will be ready as you arrive at camp after the morning walk, and there will then be time for a siesta and a shorter afternoon walk. Sundowners and dinner under the stars will quickly become the norm, though we doubt the burning sunsets or crystal clear constellations could ever feel ordinary.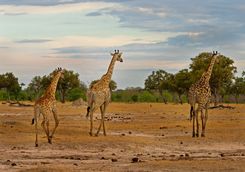 This morning you will wake up for the last time in your mobile camp and instead of heading out on a walk, make the four to five hour drive and short boat journey to Nsefu Camp, where you will spend the last couple of nights of your South Luangwa safari.
Found on a sweeping bend of the river, the historic Nsefu was the first game camp in Zambia and dates back to the early fifties - though it has been tastefully updated since then. Since you'll be arriving in the afternoon we suggest heading straight for the bar, which is tucked in beside a huge abandoned termite mound overlooking a waterhole. With a cool drink in hand and the light starting to fade sit back and enjoy a sofa safari as game graze on the river banks and then leopard start to emerge at the waterhole as night falls.
As it's your last day in Zambia and you've been up since sunrise everyday over the last few days, you deserve a lie in this morning. After breakfast on the terrace, your day is then free to spend as you please.
We recommend enjoying one of the cultural experiences offered by the camp, for example a village visit where you'll get to meet the locals and the ever friendly school children. As the afternoon draws in, go out on one final game search with an exciting night drive. We have then organised for you to enjoy a special, lantern lit dinner by the river, as a romantic end to a truly memorable trip.
Alas, the time has come to head home. The journey to Mfuwe airport should take around an hour, and the driver will have you there in plenty of time for your flight to Lusaka. From there you will board the two-hour flight to Johannesburg and connect on the overnight flight to London, which takes 11 hours.
The flight from Johannesburg arrives back into London in the early morning.
All of the holidays we create are completely tailor-made to you
This sample itinerary is intended to give you a flavour of what we can do
A Rough Idea of Price
While all of our holidays are completely tailor-made and prices will vary based on things like time of year and level of accommodation, we want to give you as good an idea of how much this itinerary will cost. The below prices are based on two people sharing.
This Itinerary
If you would like to book the itinerary mentioned above, with economy flights, during mid-season and staying in our preferred room category at our preferred hotels.
Bells & Whistles
If you are looking for something extra special, we can discuss with you upgrading your accommodation, flights or activities.
Charlotte C is our expert for this itinerary and, as a seasoned traveller, has the inside track on the most memorable adventures.