10 Days in Southern California
Who: Couples and Solo Travellers
From £4,020pp
10 Days in Southern California
A ten-day luxury road trip around Southern California (so-called SoCal) with all the bells and whistles. Visit movie studios and architectural gems and see whales in their natural habitat. All while staying in the lap of luxury.
Itinerary at a Glance:
Tour the City of Angels (Los Angeles) with a local guide
Enjoy an adventurous visit to the San Andreas fault
Search out whales off San Diego
Why Book with Original Travel?
Just a few of the extra touches that come as standard on an Original Travel holiday...
See More
All of the holidays we create are completely tailor-made to you
This sample itinerary is intended to give you a flavour of what we can do
Day 1:

International Flight
Depart from London at around lunchtime on your 11-and-a-half hour flight to Los Angeles, arriving in mid-afternoon.
Once you have cleared customs and collected your luggage, one of our team on the ground will meet you for a private transfer to your West Hollywood hotel, about half an hour away.
To make getting to LA a truly luxurious and hassle-free experience, not only can we reserve club class seats, we can also arrange for one of our team to meet you off the plane and whisk you to a private suite, where all of the immigration formalities will be handled and someone will bring your bags to you. Handy if you want to avoid the paparazzi at LAX, or just freshen up post-flight in your private bathroom.
After a leisurely breakfast enjoy a full-day tour of the city by electric bike.
With a local guide, you will take in all the highlights - from tourist hotspots in Beverly Hills to locals' favourite haunts - covering about 30 miles (hence the e-bikes). Lunch will be at a hip restaurant on the sand at Venice Beach - home to the infamous Muscle Beach - before cycling along the canals which gave the neighbourhood its name. Your tour will end with a visit to the iconic Culver City, home to the movie studios that made LA they city it is today.
After a late breakfast this morning, collect your hire car (or even opt to get it delivered to you for a super A-list start to the day).
Keys in hand, you will make your way to Palm Springs, two hours from Los Angeles in the middle of the California desert. We will provide you with detailed driving instructions, as well as a few suggestions for places to stop for lunch - after all, we're not sure if a Stateside-road trip really counts if there isn't at least one American diner burger-and-milkshake meal along the way. Once you arrive at your hotel we recommend getting out and exploring America's (or at least Hollywood's) most famous spa town before dinner.
For dinner this evening, our local Concierge will have booked you a table at The Edge Steak House, a Palm Springs institution with epic views across the desert thanks to its cliff-top position and wraparound glass walls. Your reservation will be perfectly timed to tie in with the sunset, so you'll have sundowners with a view.
Palm Springs is known to architecture buffs as the home of some of the best examples of mid-century modern architecture in America, designed by the likes of Frank Lloyd Wright and Charles Dubois.
This morning your design-expert and Palm Springs architecture aficionado guide will meet you at your hotel for a private tour of some of the best architecture and design in the city, including access to the interiors of some private homes.
This afternoon, you will make your own way to the Palm Springs Arial Tramway. Here, you will ride up and across the sheer cliffs of Chino Canyon. Once at the top, we recommend spending some time exploring the hiking trails, before making your way back down and to the San Andreas fault zone. You will explore the geological nooks and crannies, which have shaped the area for millennia, in an open 4x4 and with the help of an expert guide.
This morning you will make the two-hour drive to Newport Beach, on the coast south of Los Angeles.
Once you have arrived and settled into your hotel - perhaps playing a game of golf and having some lunch in the restaurant - you will make your way down to the harbour. Here, you will set off in your electric boat before spending the afternoon cruising around the harbour. Make sure you stock up on a delicious smorgasbord of snacks to take on board, or hold out and grab bites to eat later on a waterfront bar crawl.
This morning you will make your way to the meeting point for your whale watching excursion.
After you have boarded your RIB inflatable dinghy boat, you will head out to where the whales are known to spend their time, in the company of an expert guide. Depending on the time of year, you will be able to spot blue, fin, humpback, grey or minke whales - maybe even all of them if you're really lucky.
After breakfast this morning you will make your way south to San Diego, an hour and a half along the coast.
Your hotel is on a spit of land in San Diego Bay, so we recommend spending the rest of the day soaking up some sunshine on the beach - we'll make sure we give you a list of our favourites with your final documents.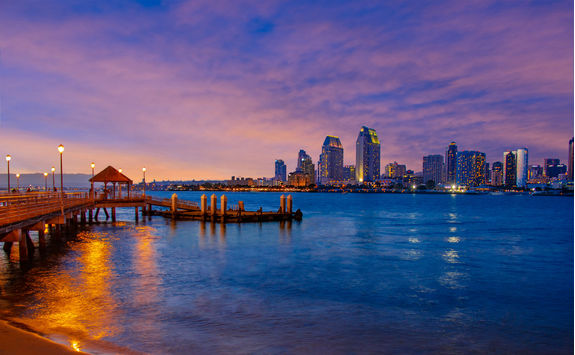 This morning we recommend heading to Torrey Pines State Reserve bright and early for a hike - we will arrange permits for you - through the forest and along the beaches on well-marked trails.
Later today, we recommend visiting the USS Midway Museum, a maritime museum aboard the eponymous aircraft carrier, where you will learn about the history of this vast ship, once home to 4,000 sailors.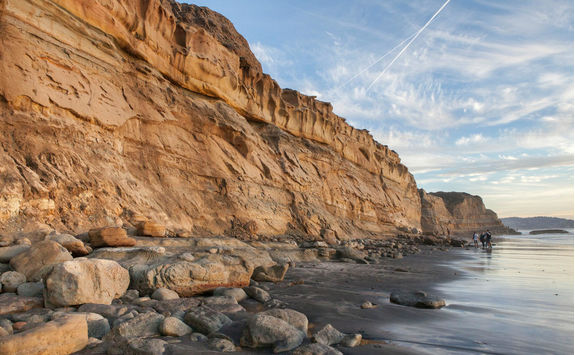 Day 9:

International Flight
Spend today relaxing on the beach before heading to the airport in good time for your overnight flight home.
Day 10:

International Flight
Your ten-and-a-half hour flight will land in London mid-morning.
All of the holidays we create are completely tailor-made to you
This sample itinerary is intended to give you a flavour of what we can do
A Rough Idea of Price
While all of our holidays are completely tailor-made and prices will vary based on things like time of year and level of accommodation, we want to give you as good an idea of how much this itinerary will cost. The below prices are based on two people sharing.
This Itinerary
If you would like to book the itinerary mentioned above, with economy flights, during mid-season and staying in our preferred room category at our preferred hotels.
Bare Necessities
If you would like to pare back the above itinerary by travelling at non-peak times, staying in a standard room and removing some or all of the guided activities.
Bells & Whistles
If you are looking for something extra special, we can discuss with you upgrading your accommodation, flights or activities.
George, Abigail and Ollie are our experts for this itinerary and as seasoned travellers they have the inside track on the most memorable adventures.