Wake up bright and early for a day exploring Peru's ancient valley and old Inca settlements. This morning your private guide and driver will take you to the pretty town of Pisac to see its traditional markets bursting with colourful textiles and local craftwork.
Then onto Ollantaytambo, one of the last Inca towns where you can wander its maze of cobblestone streets and original stone walls. If you have time, you can visit its ancient fortress where fearsome battles between the Incas and conquistadors took place. Lunch is served in a farmhouse looking out towards the quinoa fields.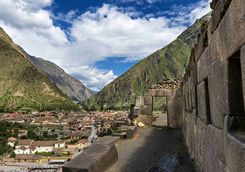 We always recommend acclimatising in the Sacred Valley before venturing to Cusco's higher elevations. Want to take it easy? No pressure. Like most of our tours, your day is flexible and you'll have a private guide and driver on hand to help you make the most of your time. Whether you're an archaeologist at heart, a keen historian or a family with wildly different interests, we can tailor the day to suit your pace.