Luxury Couple Borneo
Who: Couples and Solo Travellers
From £3,660pp
Luxury Couple Malaysian Borneo
Become a jungle explorer on this exciting adventure holiday in Borneo. See endangered species such as orangutans up close. Kayaking along rivers and through mangroves. Visit nature reserves, make a night safari and walk through the jungle canopies on boardwalks before sailing into the sunset on a luxury yacht.
Itinerary at a Glance:
Go on a day walking safari in Bako National Park
Meet the furry residents at Sepilok Orangutan Rehabilitation Centre and Sun Bear Conservation centre
Spend some time relaxing on the sandy shores north of Kota Kinabalu
Why Book with Original Travel?
Just a few of the extra touches that come as standard on an Original Travel holiday...
See More
All of the holidays we create are completely tailor-made to you
This sample itinerary is intended to give you a flavour of what we can do
Your overnight flight to Kuala Lumpur leaves London in the evening and takes around 13 hours, so make sure to pack a good book and/or download the latest boxsets on your iPad.
You will land in the Malaysian capital in the afternoon and connect to the one-hour-45-minute onward flight to Kuching with your bags checked straight through. After landing in the evening at Kuching Airport in the Sarawak state of Borneo, you'll be met by your personal guide and driver who will take you to the beautiful hotel we've chosen for your stay in Kuching. You will arrive in time for supper before a well-earned bed.
Day 3:

Bako National Park
Meet your guide this morning for an excursion to Bako National Park which is reached by a 45-minute drive and a short boat ride. The oldest of Sarawak's national parks, Bako offers the perfect introduction to the state's forests and wildlife. Bako is also home to 250 or so proboscis monkeys, which are found only in Borneo, as well as silvery langurs, bearded pigs and monitor lizards.
As you explore the national park on well-marked walking trails you'll meet some of the resident wildlife and your guide will explain how the ecosystem is delicately balanced. There will be time to stop for a simple lunch at the park café and then you'll head back to Kuching via boat and road. Dinner can be enjoyed at your hotel or our Concierge can recommend and book a fun local restaurant.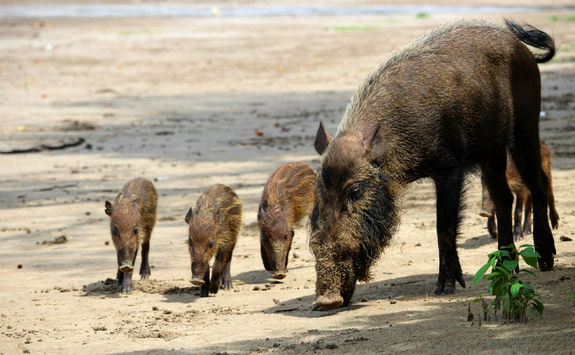 Day 4:

Semenggoh Nature Reserve
Leave the hotel after an early breakfast for the 20-minute drive to the Semenggoh Nature Reserve. At the park, you'll have the amazing opportunity to observe and photograph orangutans as they're being fed, before continuing to the Bidayuh village of Kampung Bengoh. It's around a 30-minute journey through lush rainforest with a beautiful mountain backdrop.
Once you're at Kampung Bengoh, you'll meet up with your qualified kayaking guides. After some introductory instructions on kayaking you'll be more than ready to hit the water and get paddling. Downstream, you'll enjoy a picnic lunch at another Bidayuh village before continuing your kayaking over some small and fun rapids. Moor your kayak up at Kampung Semadang and once you've dried off, it'll be time to return to the hotel for supper and bed.
Additional Activities
Check out the nightlife in Kuching, but don't stay out too late as you've an early start in the morning
Day 5:

Santubong Wildlife and Cycling
You'll be met at your hotel by your guide today for the short drive to Santubong village, where you'll board a boat and begin your morning wildlife cruise.
The cruise will pass along the mangrove forest which is renowned for its rich flora and fauna. Depending on the timing and tide you should be able to see mud skippers, crabs, reptiles, monkeys and other wildlife, and nearer the mouths of the Santubong and Salak Rivers, Irrawaddy Dolphins are also often spotted during the dry season (from April to November). Finish the cruise by spotting proboscis monkeys in the Kuching Wetland National Park and then return to the jetty and Kuching for lunch.
This afternoon continue your day of exploring with a cycling excursion around Malay village which is reached by boat on the Sarawak River. As you cycle, take in the slower pace of life in the remote village, chat to the locals and watch the sun set over the peaceful waterways. You'll then stop for dinner at a hawker street food market where your guide can recommend dishes and teach you more about the eclectic Malaysian cuisine. After dinner you will then be transferred back to your hotel in Kuching.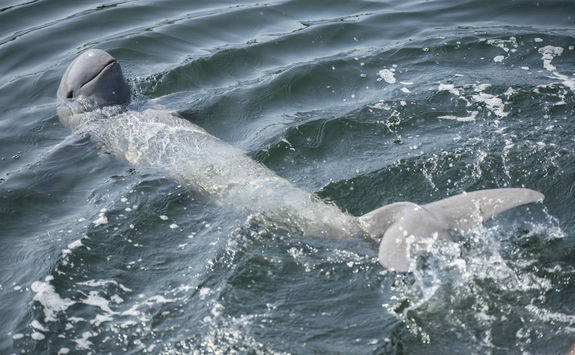 After enjoying a leisurely morning at your Kuching hotel, it's time to make the transfer to your next exotic location, Mulu. The flight takes an hour-and-a-half, and on arrival you'll be welcomed by your personal driver/guide. While your luggage is transported to the excellent hotel in Mulu National Park, you'll be off exploring your new surroundings.
If you've got a head for heights, walk the plank-walk through the treetop canopy until you reach Lang Cave, renowned for its amazing stalagmites and stalactites. After a good look inside, you'll then head to the gargantuan Deer Cave where you can spot huge colonies of bats. Then trek back to the hotel at nightfall just as the nocturnal jungle inhabitants begin to stir.
Additional Activities
Pamper yourself with a well-earned spa treatment
Day 7:

Caving in Mulu National Park
After breakfast at the hotel you'll be ready for some more exciting cave explorations in Mulu National Park. A jungle river boat ride will see you reach Wind Cave, but you'll have to walk the plank-walk again before you can actually get inside. Stroll the boards and mount the steps to reach the massive cave complex known as Clearwater Cave, reputed to be the largest of its kind in the world.
You'll have lunch back at the hotel and some time to yourself for a swim, or even a sneaky siesta, before your guide returns to collect you for an incredible jungle canopy walk. You'll have your head in the treetops and come eye to eye with the jungle occupants who live way above ground level.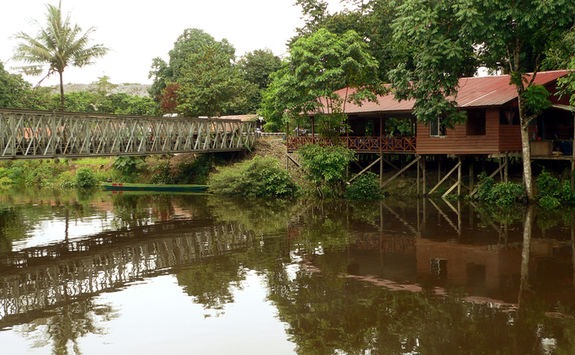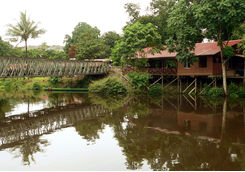 Today you'll be flying from Sarawak to Sabah, the other Malaysian state on the island of Borneo, but before you go you'll have plenty of time for a good breakfast.
You will be transferred to Mulu Airport for the connecting flights to Sandakan Airport (via Kota Kinabalu) and the combined flights won't take more than a couple of hours. Your driver will be there to meet you at Sandakan for the half-hour transfer to your new lodge in Sepilok Nature Reserve.
After checking in, enjoy a sumptuous lunch on the veranda with stunning views of the jungle. It's then a do-as-you-please afternoon and evening.
Day 9:

Sepilok Nature Reserve
This morning visit the fascinating Sepilok Orangutan Rehabilitation Centre and Rainforest Discovery Centre. The first feeding of the day is at 10am so your guide will make sure you're there in plenty of time to see these playful primates getting their breakfast. Afterwards, head back to your lodge for lunch.
This afternoon you'll be driven 30 minutes to visit the Labuk Bay Proboscis Sanctuary for the afternoon feeding. With orangutans this morning and proboscis monkeys this afternoon you should be starting to get a real feel for the amazing wildlife that calls this part of Malaysia home.
Tonight enjoy a quiet evening at your jungle lodge in the Sepilok Nature Reserve.
Additional Activities
Join your guide for a night walk through the jungle and look out for the nocturnal species that often go missed in Sepilok.
Day 10:

Sepilok to Kinabatangan
This morning sees an early check-out from your Sepilok hotel as you leave for a visit to see the bears at the Sun Bear Conservation Centre. This centre was established in 2008 to provide rehabilitation to rescued sun bears and aims to increase awareness on the plight of these special creatures.
After meeting the bears, board a boat from Sandakan jetty to the Kinabatangan Wetlands. It's a restful two-hour voyage on which you'll have plenty of opportunity to spot some amazing wildlife. On arrival you'll have time for a leisurely lunch before taking a riverboat cruise to spot more of the local fauna.
Enjoy a delicious dinner at the resort then, accompanied by a lodge guide, take a sedate evening walk and discover more about the nocturnal wildlife of the area.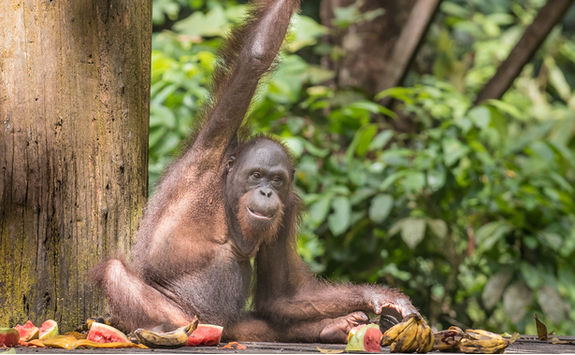 Day 11:

Kelenanap Oxbow Lake Cruise
You'll be up at the crack of dawn for a pre-breakfast cruise along the river to Kelenanap Oxbow Lake. Observe the early morning antics of the animals and admire the amazing ecosystem of the lake before returning to the hotel for breakfast.
Before lunch, one of the resort's naturalists will accompany you along the Hornbill Boardwalk to give you an insight into the traditional and medicinal uses of plants found in the jungle. After enjoying lunch at the hotel, you'll have the afternoon to yourself until it's time to go down to the river bank to watch out for more animal activity.
You'll take an early dinner before heading out again on an exciting night safari along the river, hoping to see crocs and more.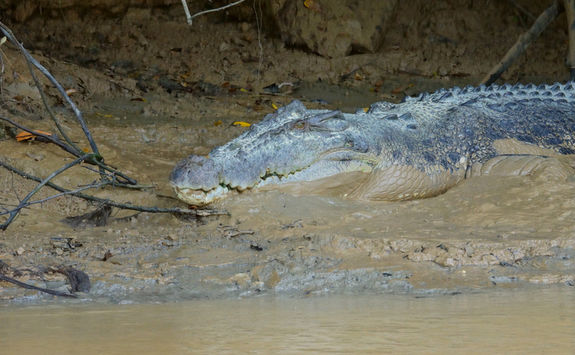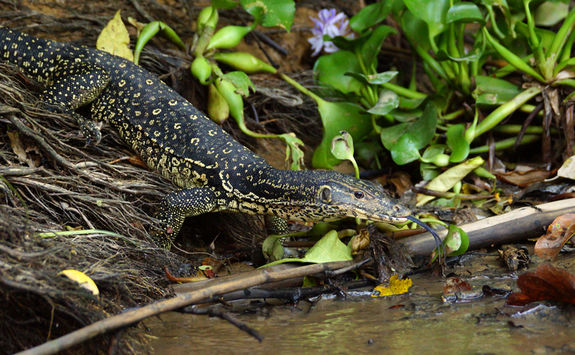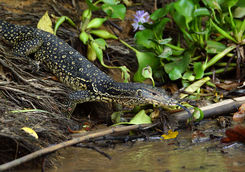 Day 12:

Sandakan to Tuaran Area
Enjoy a leisurely breakfast and then make your own independent expedition in the lodge surroundings and along the nature boardwalk until check-out time. You'll then board a boat at Sandakan jetty to begin your transfer to Sandakan Airport. It's a two-hour cruise followed by a 30-minute drive.
At Sandakan Airport, you'll take a 45-minute flight to Kota Kinabalu Airport where you'll be met and driven by your personal driver to your beach hotel an hour-and-a-half north of the city, in the Tuaran area.
On arrival, check in and drop the bags and then it'll be time for sundowners by the pool.
Over the next three days, fully immerse yourself in the luxurious surroundings of your Tuaran beach hotel. Chill out on your bedroom balcony, by the hotel pool or head down to the beach for a day by the sea.
With a range of water sports on offer and great land-based sporting activities too, active types will be well catered for here. Alternatively, the secluded stretch of beach surrounded by lush tranquil gardens is ideal for those wanting to take it easy.
Whatever your style is, make sure to also indulge in some of the fresh seafood and delicious cuisine served in the hotel restaurants.
Additional Activities
Indulge in a spa treatment
Play a round of golf on the 18-hole course
It's time to bid a sad farewell to the beach today. After a last long, lazy lunch meet your driver for the hour-and-a-half transfer to Kota Kinabalu Airport.
Your two-and-a-half-hour flight to Kuala Lumpur leaves in the early evening and connects with the late evening overnight flight to London, which takes 13-and-a-half-hours.
You will arrive back in London in the early morning.
All of the holidays we create are completely tailor-made to you
This sample itinerary is intended to give you a flavour of what we can do
A Rough Idea of Price
While all of our holidays are completely tailor-made and prices will vary based on things like time of year and level of accommodation, we want to give you as good an idea of how much this itinerary will cost. The below prices are based on two people sharing.
This Itinerary
If you would like to book the itinerary mentioned above, with economy flights, during mid-season and staying in our preferred room category at our preferred hotels.
Bare Necessities
If you would like to pare back the above itinerary by travelling at non-peak times, staying in a standard room and removing some or all of the guided activities.
Bells & Whistles
If you are looking for something extra special, we can discuss with you upgrading your accommodation, flights or activities.
Holly is our expert for this itinerary and, as a seasoned traveller, has the inside track on the most memorable adventures.