Best of The Kimberly, Australia
Who: Couples
From £12,725pp
Wine & Waterfalls, Beach & Barbecues, Aboriginal Art & Activities: Explore The Kimberley, Western Australia
Start in Perth and then head north to the remote and rugged Kimberly to cruise around this barely explored region in the lap of luxury.
Itinerary at a Glance:
Sip wine straight from the barrel at an award winning Swan Valley winery
Helicopter over the Kimberley's iconic Horizontal Falls
Forage for oysters and eat them fresh from the rocks
Swim in a billabong (oxbow lake) with a view and then relax with a clifftop picnic
Why Book with Original Travel?
Just a few of the extra touches that come as standard on an Original Travel holiday...
See More
All of the holidays we create are completely tailor-made to you
This sample itinerary is intended to give you a flavour of what we can do
Day 1:

International Flight
Head for the wilderness today as you begin the journey down under and check in for your evening flight to Perth.
There are then around 20 hours of flight time (or 17 if you opt to fly direct) between you and Australia, when the holiday fun can really begin. We will suggest the best flight route/airlines to suit you.
After spending the majority of today on a plane you'll finally land in Perth this afternoon or evening.
Thankfully one of our welcoming Aussie team will be waiting in the arrivals lounge for you and after a quick transfer you'll be settled into your city centre hotel before you know it. Depending on your arrival time, the rest of the evening is then yours to spend as you please - we suggest using our detailed destination Dossier for a restaurant recommendation.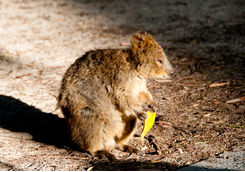 Spend your first full day in Australia as you mean to go on, by indulging in some of the country's world-famous wines on a private winery experience.
You will first be collected from your hotel and driven to the heart of the Swan Valley, which is around half an hour out of town. Once here you'll be greeted at one of the working wineries for an in-depth guided tour with one of the experts. Sample some of the wines straight from the barrel and learn about the process that takes the grapes from vine to bottle.
After the grape, the grain, as you move across to the neighbouring brewery for the low down on craft beers, and some more samplings.
By now we imagine you'll be pretty hungry, so we have arranged for a five-course degustation lunch to be waiting for you at the winery's onsite restaurant. Tuck in and settle down for a few hours before you are driven back to Perth for the night.
Enjoy a little lie in this morning before you are collected from your hotel and driven to the airport to begin your adventure in the Kimberley.
You'll first take a two-and-a-half-hour flight north to Broome, where you'll then be met and escorted to the dock. Here you'll find the luxurious True North expedition cruise boat waiting for you. Get to know your fellow explorers and your new home over cocktails and dinner as the boat sets sail for the overnight cruise to Yampi Sound.
Visiting the Kimberley is all about immersing yourself in the rugged remote scenery, which is why travelling around by boat is the best way to do it.
Start the adventuring as you mean to go on today with some seriously epic views at the iconic Horizontal Falls. A true natural wonder, the huge tidal power in the region has created a literally horizontal 'fall' which passes between two narrow gorges. Experience the power of the water on an exhilarating tender ride.
Later in the day, after lunch and time to let the morning's adrenaline lie, you'll also have time to take a stroll along the pure white sands of Silica Beach.
Additional Activities
Helicopter flight over Horizontal Falls
Day 6:

Aboriginal Art and Colourful Coral
Get up for an early morning fish and see if you can catch your own lunch, then relax on deck as you set sail for Raft Point. Once here you'll disembark and join your expert guide on a climb up to the Raft Point Wandjina Paintings. An art gallery unlike any other, this is a fantastically well-preserved example of aboriginal rock art and your guide will fill you in on the history that surrounds it.
After an hour or so you can get back on board True North for lunch, and then set sail to Montgomery Reef. Covering 140 square miles this extraordinary eco-system has to be seen to be believed. As the tide goes out and water cascades off the reef you'll get a glimpse of the world below the water, which is home to turtles, dugong, manta rays and all manner of colourful corals and sea creatures. Snap as many photographs as possible which you can then pour over at dinner tonight.
Additional Activities
Helicopter flight over Montgomery Reef
There is the potential for more fishing this morning as you cruise along the mighty Prince Regent River. If you're not the fishing type then simply sit back and enjoy the colour contrasting views of red rocks, white sand beaches and azure blue waters.
Excuse a brief bit of nautical terminology, but True North was designed with a very shallow draft (the vertical distance between the waterline and the bottom of the hull), meaning she can venture closer to the shore and further up rivers than most boats. This ability is perfectly demonstrated on a voyage up the Prince regent River to see the King Cascades, with the captain manoeuvring True North right under the falls for some spectacular views. It's then time to moor up and disembark in a tender boat for some more close up exploration. Go for a hike or, swim in a picture-perfect billabong.
This morning you can choose to relax, head out on the tender boat for a wildlife spotting trip with the onboard naturalist or take a hike to see some more rock art. Whichever you choose, make sure you're back on board before lunch time as you'll be enjoying it away today.
Hop in the helicopter for a short flight to a remote spot with panoramic views where a gourmet picnic will be ready and waiting for you. The rest of the afternoon is yours to spend enjoying the views from your picnic blanket or swimming in the crystal clear waters of a nearby billabong.
Wake up this morning in the heart of the Hunter River region. At the very tip of the country this is one of the most remote and unexplored areas in all Australia and yet it's home to some of the most incredible scenery and wildlife imaginable. Look out on the river systems, mangrove forests, rainforest-clad mountains and waterfalls and then get into the action as you join a guide to go exploring. You can choose from fishing, mud-crabbing, bird-watching or getting up in the helicopter for a bird's eye view.
This afternoon you'll continue the journey as you sail into Prince Frederick Harbour where you can finish the day with sunset drinks on a secluded beach.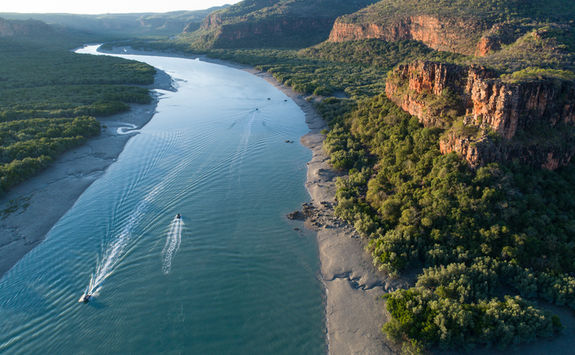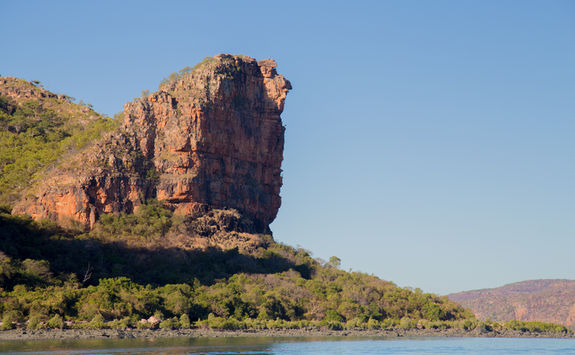 Get up for breakfast this morning and then head straight out in search of the region's famous black lipped pearl oysters. As you find them, crack them open, douse them with a squeeze of fresh lemon and eat them right there - it doesn't get fresher than that.
While you forage you'll come across more aboriginal rock art and you can hear about its origins from your guide; or you can join the ship's fishing guide to try and land queenfish, giant trevally and mackerel.
The afternoon sees you move onwards to the Voltaire Passage and the surrounding islands before mooring up ready for this evening's glamorous pearl party. Try on exquisite pieces from a local jewellers while sipping on champagne and enjoying more oysters.
Start today croc spotting along the Mitchell River as you head up to Surveyors Creek, where you can enjoy scenic views and a swim - don't worry, there aren't any crocs here.
This afternoon, do some more fishing, this time for barramundi, and then find yourselves back up in the air with a helicopter flight over the surrounding ancient lands and Mitchell Falls.
Cocktails are served, as always, as sun sets and then the evening will be once again filled with fabulous food and fun conversation.
Day 12:

Bradshaws, Bombers and a Barbie
The day starts with a visit to see the Bradshaws - remarkable aboriginal artworks dating back tens of thousands of years.
After lunch, the tender boast can take you to local beaches or even a remote spit in the rainforest where a WWII bomber crashed.
Additional Activities
Helicopter flight to Eagle Falls, where you can enjoy a picnic BBQ beside the gushing waterfall.
Cruise to the mouth of the mighty King George River this morning and as the tide rises, cross the sand bar to continue along the remote river channel. Enjoy the views as you approach the twin King George Falls, where there are various spots to explore.
After True North has anchored up, disembark to hike to the top of the falls. Alternatively, take the helicopter again for a bird's eye view.
Later on, visit Tranquil Bay and the wreck of the Koolama with your guide, who can explain the history of the ship, which was attacked by Japanese fighter planes during WWII. After returning to True North, during dinner the boat will cruise into the frontier port of Wyndham.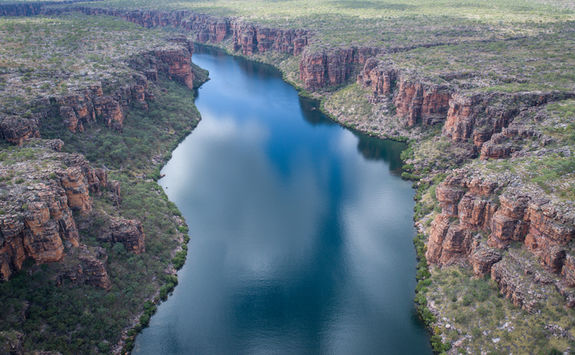 Sadly it's time to bid farewell to True North this morning and make your way back onto dry land. You'll be met at the port and transferred an hour to the airport in Kununurra where you can then check in for your three-and-a-half-hour flight to Perth.
Once landed here you will then be met by our driver and transferred to your hotel in the city centre. Freshen up and then enjoy the freedom of being able to wander out for dinner after spending the last few days on a boat. As it's your last night of the holiday we will book somewhere special for you to celebrate the end of a great trip.
With an amazing adventure behind you it's sadly time to head home today. Our driver will collect you from your hotel and drive you to Perth Airport for your overnight flight(s) home.
As with on the way, you can either fly direct or indirect and are looking at around 17-21 hours of journey time, depending on which route/airline you choose.
Depending on your exact flight(s), you should land back in London between early morning and lunchtime today.
All of the holidays we create are completely tailor-made to you
This sample itinerary is intended to give you a flavour of what we can do
A Rough Idea of Price
While all of our holidays are completely tailor-made and prices will vary based on things like time of year and level of accommodation, we want to give you as good an idea of how much this itinerary will cost. The below prices are based on two people sharing.
This Itinerary
If you would like to book the itinerary mentioned above, with economy flights, during mid-season and staying in our preferred room category at our preferred hotels.
Bells & Whistles
If you are looking for something extra special, we can discuss with you upgrading your accommodation, flights or activities.
Jacqui is our expert for this itinerary and, as a seasoned traveller, has the inside track on the most memorable adventures.