Island Hopping Indonesia
Who: Couples and Families
From £2,755pp
Island Hopping in Indonesia
Explore the huge variety of the Indonesian archipelago on a three week island hopping odyssey. From the ancient UNESCO protected temple sites of central Java, to the vibrant reefs and unique wildlife of the Komodo Islands, via beautiful Bali. Conclude the trip with some island hopping R&R on Lombok and the Gili Islands.
Itinerary at a glance:
Cycle from an active volcano to an ancient Hindu temple complex
Sail from deserted beach to deserted beach in the Komodo archipelago
Tour the temples and villages of central Bali in a vintage VW convertible
Kick back on the pretty beaches of Lombok
Why Book with Original Travel?
Just a few of the extra touches that come as standard on an Original Travel holiday...
See More
All of the holidays we create are completely tailor-made to you
This sample itinerary is intended to give you a flavour of what we can do
Day 1:

International Flight to Yogyakarta
Depart the UK on an indirect overnight flight to central Java, transiting through Singapore.
Day 2:

Arriving in Central Java
Upon arrival in Yogyakarta, central Java, you will be met at the airport after passing through immigration for the transfer to your hotel in the heart of rural Java. The journey will take around 90 minutes, passing through the hustle and bustle of the city before emerging into the verdant green of rice paddies and jungle. The rest of the day is free to relax after your long journey.
Day 3:

Cycling day trip in Central Java
Enjoy a cycling trip today, taking you from the lower slopes of majestic Mount Merapi to the 8th century Hindu temple of Prambanan - a UNESCO heritage site.
You will be picked up from your hotel and driven to a village near to Mount Merapi. The village boasts incredible views of active volcano Merapi, and the dozens of ravines which have been created by molten streams of lava over thousands of years. This is the starting point for the cycle ride, which is around 10 miles in length and, thankfully, mostly downhill! On route, pass through villages and countryside, with plenty of opportunities to stop off for photo opportunities and the chance to chat to local villagers and farmers. Your guide will explain about the various crops and plantations as you pass them, from tobacco to rice to snakeskin fruit. Take lunch in a local restaurant after your cycle ride, where your meal is accompanied by great views of Prambanan temple. Once you are suitably refuelled, your driver will be waiting to transport you to the Prambanan Temple complex to explore with your guide. The early years history of Prambanan is a little woolly, though it is thought to have been constructed to commemorate the return of a Hindu dynasty to Java, and dates back to the 9th century. After exploring with your guide, it's time to return to your hotel to relax.
Many of the temples lay in ruins for years, before valiant restoration efforts began in the 1930's. Under the watchful eye of UNESCO in recent years, many of the temples have been beautifully restored.
Day 4:

Borobudur Excursion - Buddhist Temples
An early start is required today, as you travel to the beautiful Buddhist Stupa of Borobudur in time to enjoy a serene sunrise. The temple is at its most magical at this time, free from too many other visitors, and with a view of the morning mist rising over the surrounding Menoreh hills. The carvings of Borobudur tell the story of Ramayana over ten levels and circumambulations of the ten levels of Borobudur will allow you to follow the story chronologically, with help from your expert guide, of course.
Next up, visit the market near to Borobudur, which is at its busiest in the morning, as the local people come to buy and sell their produce. Continue on to explore the smaller temples of Pawon and Mendut, both of which are older than Borobudur before gaining an insight into Javanese village life in Candijero. You'll travel along small lanes by traditional 'dokar' (horse and cart) lined with traditional houses and stop to see village activities such as making cassava crackers and harvesting and drying chillis. You might also like to learn how to scale a coconut tree - or you could leave it to the experts to climb up and fetch you a fresh one to quench your thirst. The rest of the day is at leisure to relax, and catch up on some zzz's.
Borobudur is the largest Buddhist Temple in the world and a true work of art. The Stupa is constructed from thousands of volcanic and river stone blocks which were assembled by hand over 75 years back in the 9th century.
Enjoy a leisurely al fresco breakfast today. Your guide will come to the hotel to collect you for the transfer back to the airport, where you will board a direct flight to Bali, an hour away. Upon arrival, you will be met at the airport for the 90 minute drive north to Ubud, the cultural heart of Bali. Settle into your luxury hotel and relax.
For dinner, I recommend heading to Naughty Nuri's – a low key, local roadside warung (restaurant) serving the most delectable pork ribs with a side of cool Bintang beer. For a slightly more refined affair, indulge in the tasting menu at contemporary and organic Locavore.
Day 6:

Explore the countryside
An early start today, as you are picked up from your hotel by your driver in a vintage style VW convertible. First stop is Taman Ayun, one of the island's most beautiful temples, before continuing the journey through beautiful countryside and little villages before an uphill drive to the stunning Lake Bratan. Located at 3900ft above sea level, this volcanic lake is surrounded by mountainous scenery. You'll also have time to gawp at Bali's most photographed temple - Pura Ulun Danua Bratan. This beautiful temple was crafted in the 17th century and is dedicated to Dewi Danu, the goddess of water and as such, the beautiful thatched Hindu Meru seems to float on the tranquil lake. Pura Ulun Danua Bratan is also home to a Buddhist shrine and a small mosque.
Continue your journey higher into the mountains of central Bali to visit Bali's 'Great Lakes': Buyan and Tamblingan. As you drive high along the rim of the caldera, there will be plenty of chances for photos. You'll leave your VW behind now, and transfer into a normal vehicle which can handle the steeper inclines as you travel to the hilltop village of Munduk. Enjoy lunch in this peaceful location before making the journey back to your hotel, travelling along the rice terrace lined roads of Pupuan, and stopping for a coffee break at a plantation in Belimbing.
Day 7:

Excursion to Mount Batur
A super early start today as your guide comes to collect you around 2am for the drive to Mount Batur. This journey will take approximately 90 minutes. Upon arrival you will be greeted by your local guide who will provide you with a torch and lead the way up the mountain! The first section cuts through forest, followed by volcanic ash, sand and small rocks; the pathway is mostly uphill but with plenty of opportunities to stop and rest. After approximately two hours of trekking you will approach the crater rim where you will see a dramatic change in the terrain with wind swept pathways, few rocks and vegetation.
Around 6am, while sitting at the top (5600ft up), you will witness the long awaited sunrise over Mount Abang and Mount Agung. On clear days it is even possible to see Lombok's Mount Rinjani in the distance across the Lombok Strait. A simple breakfast of bananas and cake with hot coffee or tea will accompany you while you enjoy the view. Take in the view, cook a boiled egg in a volcanic vent and begin your descent along the far side of the crater, with daylight allowing for spectacular views of the surrounding landscape. You will see the lava flows from the most recent eruptions and their path of destruction as well as Lake Batur in the distance. Upon reaching the base, there will be an opportunity to soothe muscles in natural hot springs before returning to Ubud. The rest of the day is free to relax - we strongly recommend a Balinese massage today!
Today is at leisure to explore. Take the opportunity to barter for gifts and souvenirs in the central handicraft market (the batik silk scarfs make beautiful presents and fold up nice and neat for transportation back to the UK!), visit the Ubud Palace and Monkey Forest in the heart of town, or simply relax by the pool. Enjoy a final dinner in Ubud - we'll provide some up to date restaurant recommendations before you travel.
Additional Activities
Cookery class
Whitewater rafting
Paddy field trek
Day 9:

Welcome to the Komodo Islands
Early this morning you will return to the airport for the flight further east to Labuan Bajo, the jumping off point for the Komodo Islands. Your guide will meet you at the airport for the twenty minute transfer to the harbour where you will board your private houseboat. We can suggest a range of boats, starting from simple wooden houseboats right up to some of the finest sailing vessels in the Far East. Set sail to begin exploring the Komodo Islands, where the beaches range from black to white to pink sand, the ocean offers up every shade of blue imaginable and the reefs teem with colourful fish.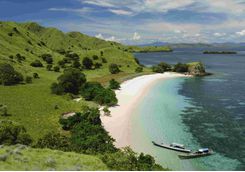 Day 10:

Meet the Komodo Dragons
After breakfast aboard, disembark your boat on Rinca Island for your first glimpse of the fearsome Komodo Dragons; they can be spotted as you trek across the undulating landscape. Continue on to Komodo Island, while also making a pit stop at the beautiful pink beach - so named because of the rose shade of sand - where we suggest your don your snorkel and mask and explore the vibrant underwater world.
Your boat will return to harbour this morning, and you will be transferred back to the airport for the return flight to Bali. Upon arrival, transfer by road to the east coast, a journey of around two hours. The rest of the day is at leisure. Perhaps join the daily yoga class overlooking the ocean for an hour of calm after your day travelling.
Day 12:

Relaxing day in Bali
Free day to relax by the pool, indulge in a spa treatment or five, and try your hand at yoga, tai chi or Pilates.
Day 13:

Meet the locals in Bali
After breakfast, set off on foot with a local guide to explore the famed rice fields of Eastern Bali. You'll walk from Asak to Bug Bug, passing farmland, villages and local temples; you may even witness a traditional ceremony or two as you go. Be sure to stop and chat to the village farmers - your guide can translate - and perhaps even share a glass of Bali coffee with them.
The afternoon is at leisure.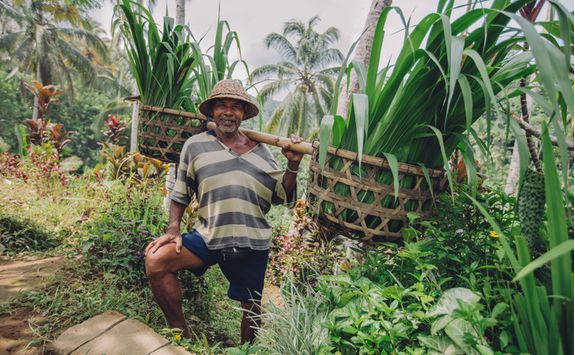 Day 14:

Take the boat to Lombok
This morning, you will be picked up for the short road transfer to the harbour of Padang Bai where you will board the fast boat to Lombok. The boat journey takes around two hours and can be a little bumpy, but the convenient route - and the chance of spotting dolphins as you go - makes it a great option for travel. You will be met upon arrival and transferred to your luxury beach hotel on the north west coast of Lombok.
The afternoon is at leisure.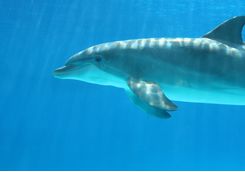 Day 15:

Meet the locals in Lombok
This morning after breakfast you will be picked up and driven to the Sasak village of Karang Bayan where villagers can be observed going about their daily activities. The local people here still preserve their traditions, both in terms of building styles and religious customs. After, proceed to Suranadi's protected woodland for a short trek through the ancient forest keeping an eye out for the wild monkeys.
The tour then stops en-route to Benang Kelambu at a local restaurant for lunch before taking the five minute walk to Benang Kelambu waterfall. Continue walking for a further 30 minutes to reach Benang Setokel waterfall which is 120ft high and flows over caverns, densely covered by indigenous herbs, flora and fauna. Return to your hotel and spend the rest of the afternoon at leisure.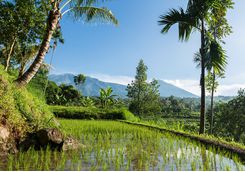 Day 16-18:

Days at leisure
Days at leisure to relax and enjoy your beach hotel.
Additional Activities
Cookery class
Snorkel or scuba dive tour to the Gili Islands
Sadly the holiday has come to an end and it's time to begin the journey home. Transfer two hours south by road to the international airport in plenty of time for your departing flight. Travel overnight, connecting through Singapore, on route back to the UK.
All of the holidays we create are completely tailor-made to you
This sample itinerary is intended to give you a flavour of what we can do
A Rough Idea of Price
While all of our holidays are completely tailor-made and prices will vary based on things like time of year and level of accommodation, we want to give you as good an idea of how much this itinerary will cost. The below prices are based on two people sharing.
This Itinerary
If you would like to book the itinerary mentioned above, with economy flights, during mid-season and staying in our preferred room category at our preferred hotels.
Bare Necessities
If you would like to pare back the above itinerary by travelling at non-peak times, staying in a standard room and removing some or all of the guided activities.
Bells & Whistles
If you are looking for something extra special, we can discuss with you upgrading your accommodation, flights or activities.
Holly is our expert for this itinerary and, as a seasoned traveller, has the inside track on the most memorable adventures.