Highlights of Chile
Who: Couples, Honeymoons, Families, Groups and Solo Travellers
From £7,615pp
Highlights of Chile: Top to Toe
Chile might be thin, but it packs a punch within that narrow strip of land which stretches for over 2,500 miles. On this trip, you'll see some of its many highlights, exploring the dramatic landscapes of the Atacama, visiting the delightful cities of Santiago and Valparaiso and hiking in the beautiful Torres del Paine National Park.
Itinerary at a Glance:
Take a city tour of Santiago
Wander the cobbled streets of charming Valparaiso
Explore the dramatic landscapes of the Chilean Atacama
Enjoy a wine tasting in one of the country's premier vineyards
Hike to see mountain peaks and glacial lakes in Torres del Paine National Park
Why Book with Original Travel?
Just a few of the extra touches that come as standard on an Original Travel holiday...
See More
All of the holidays we create are completely tailor-made to you
This sample itinerary is intended to give you a flavour of what we can do
This evening board your overnight direct flight to the Chilean capital Santiago. Estimated flight time is a little over 14 hours.
Day 2:

Arrival in Santiago
This morning your plane will touch down in Santiago. After you complete immigration and customs formalities, we have arranged a private transfer into the city centre.
Your hotel will be close to the historic heart of Santiago and there are plenty of good restaurants close by, particularly in the buzzing Bellavista district just across the Parque Forestal. A guide will show you around the main sights including the cathedral and presidential palace, as well as a few of the characterful barrios (neighbourhoods) and the view from Cerro Cristobal, reached by funicular.
Today, you'll head an hour or so out of town via some of Chile's most productive wine country.
Your focus today is the brightly coloured and charming city of Valparaiso, known as 'Valpo' to the locals. Straggling up the hillside, the lower and upper parts of town are linked by elevators called ascensores, making light work of the climb. A labyrinth of cobbled streets revealing bohemian cafes, shops and a multitude of restaurants gives the city bucketloads of character. On this private guided tour you'll visit two of its most eclectic neighbourhoods, Cerro Concepcion and Cerro Alegre, as well as Pablo Neruda's house, La Sebastiana. Return to Santiago in time for dinner.
Leaving Santiago behind, you'll catch a two-hour flight north to the city of Calama, a mining town that is the nearest major settlement to the Atacama Desert.
An hour by car gets you to the delightful tourist village of San Pedro de Atacama. An oasis in the desert, its compact centre is characterised by single storey, whitewashed adobe homes and despite the many visitors, it still retains a laidback air. Check in to your hotel, and the picturesque Valle de la Luna, which takes its name from the moonscape it emulates, is a beautiful spot to explore on foot this afternoon.
Day 5:

Explore the Altiplano
This part of the Atacama Desert usually experiences a little more rainfall than the coastal desert strip, ensuring vegetation adds interest to the dramatic scenery.
We can tailor excursions to your specific requirements, but we would recommend you begin with a visit to the high altitude lakes and mountains which truly have the wow factor. Watch out for farmers bringing their herds of llamas down to the lake shore to drink. Later, try a spot of stargazing. You don't have to venture far from the edge of San Pedro to be plunged in darkness, making this the perfect place to gaze into the night. Fixed telescopes and expert guides enable you to spot the planets and stars obscured by light pollution in more built up areas.
No visit to the Chilean Atacama would be considered complete without seeing the wonder that is the El Tatio.
The third largest geyser field in the world and thought to be the highest, this is a magical place, particularly in the early morning. Get up early and see the sun rise through clouds of billowing steam before relaxing in the naturally heated thermal baths that are located within sight of the geysers themselves.
Day 7:

Visit Wine-Growing Country
Departing San Pedro de Atacama this morning, you'll catch a flight from Calama Airport back to Santiago. From there, head west to the La Casona at Matetic, a boutique hotel set in a working vineyard.
A two-night stay has been arranged for you in this century old colonial era property. The rooms have beautiful views across the grounds and vineyards. This afternoon, relax. Curl up with a book in the cosy living room or go for a swim in the swimming pool. Later, enjoy dinner at the hotel's Equilibrio restaurant, which embraces the twin tenets of slow food and locally sourced ingredients.
Day 8:

Cycling Through the El Rosario Valley
The El Rosario valley is well suited to viticulture and one of the best ways to explore is by bicycle.
A guide will meet you in the lobby and lead you through the private farmland belonging to the Matetic family. Explore the vineyard's antique winery, Coralillo, before making your way to the modern facilities for a private wine tasting and picnic lunch. Breeze on your face, you can cycle back to the hotel in time for dinner.
Day 9:

Depart for Patagonia
Ahead of you lies a day of travelling, but despite the lengthy journey time, your destination is worth the effort.
Catch a flight from Santiago south to Punta Arenas. There, a driver will be waiting for you to transfer you by car to the spectacular Torres del Paine National Park. Though it takes over four hours by road, much of the route passes through scenic landscapes so sit back and enjoy the view. On arrival, check in to your luxurious Patagonian lodge, your base for the next four nights.
As national parks go, this is a beauty, and possibly the country's most well known.
Three granite peaks shaped like rounded towers dominate the landscape and give the park its name. Around them lie mountain pastures, exquisite glacial lakes and tumbling waterfalls. Herds of wild guanaco, the petite cousins of the more famous llama, graze by the roadside and are easy to spot. Your lodge offers a range of activities designed to make the best of its incredible setting. Begin with a short hike along the shores of Lake Pehoe to discover orchids and other native vegetation before ascending to a viewpoint to admire the Paine ridge in all its splendour.
Much of the landscape of the park has been sculpted over time by vast ice flows. Today, take a boat out on Lago Grey for a close-up look at Torres del Paine's most impressive glacier.
Before it splits into two to enter the lake, the glacier is a whopping four miles wide and 100ft high. Your boat will first cross the lake and then skirt along the snout of the glacier. There, it calves into icebergs weakening as it comes into contact with the water. Under immense pressure, the ice is a deep cerulean blue and fractured by huge cracks and crevasses. It's a sight worthy of any bucket list.
Day 12:

Hike to Mountain Lakes
The signature hike in Torres del Paine, known as the 'W', takes five days to complete, but many shorter hikes are equally as rewarding when it comes to scenic value.
One of our favourite day excursions is the Cuernos hike. By 4x4, you'll travel to the Cerro Paine Ranch from where the hike around the base of Almirante Nieto begins. Afterwards, you'll walk along Lake Nordenskjold and tackle the demanding ascent to the start of the Bader Valley. Here, you'll enjoy unrivalled views of the cuernos, or horns, which lend their name to this hike, as well as a trio of lakes: Pehoe, Sarmiento and Nordenskjold.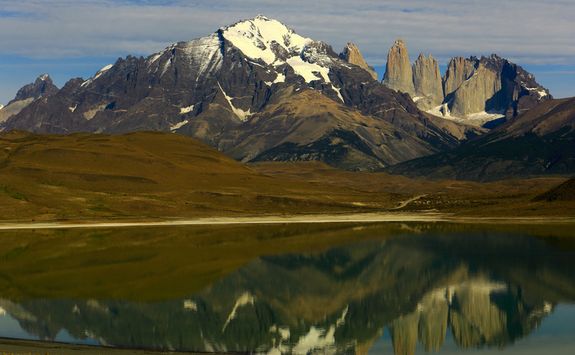 Today, you'll be driven south to Punta Arenas where you'll catch a flight north to Santiago. Then connect with your overnight flight back to the UK, which leaves in the late afternoon.
Your flight will arrive back in London at lunchtime.
All of the holidays we create are completely tailor-made to you
This sample itinerary is intended to give you a flavour of what we can do
A Rough Idea of Price
While all of our holidays are completely tailor-made and prices will vary based on things like time of year and level of accommodation, we want to give you as good an idea of how much this itinerary will cost. The below prices are based on two people sharing.
This Itinerary
If you would like to book the itinerary mentioned above, with economy flights, during mid-season and staying in our preferred room category at our preferred hotels.
Bare Necessities
If you would like to pare back the above itinerary by travelling at non-peak times, staying in a standard room and removing some or all of the guided activities.
Bells & Whistles
If you are looking for something extra special, we can discuss with you upgrading your accommodation, flights or activities.
Ollie is our expert for this itinerary and, as a seasoned traveller, has the inside track on the most memorable adventures.