Family Halkidiki
Who: Families
From £2,225pp
Halkidiki is, in our humble opinion, one of Europe's best spots for a luxury family holiday. For a week of family bonding, you need look no further than one of our favourite family-friendly hotels and some well-chosen activities.
Itinerary at a Glance:
Spend time playing in the pool as a family
Take Greek dancing lessons
Leave the kids to dance the night away (fully supervised) while the grown-ups enjoy a private dinner
Why Book with Original Travel?
Just a few of the extra touches that come as standard on an Original Travel holiday...
See More
All of the holidays we create are completely tailor-made to you
This sample itinerary is intended to give you a flavour of what we can do
Day 1:

International Flight
There are several flights a day to Thessaloniki, so depending on which one we've booked for you, you will arrive at some point between late morning and early afternoon. We heartily recommend having the children's iPads and Sharky & George packs - full of personalised fun - at the ready for the three-and-a-quarter-hour flight
After you have cleared customs one of our team on the ground will meet you for a private transfer to one of our favourite family-friendly hotels. There will be car seats in the car and your hotel will be able to provide much of the paraphernalia you'll need, so you can leave most of it at home. After dropping your bags in your hotel, we recommend you and children making a complete inspection of each of your hotel's pools and the beach, deciding where you're going to base yourselves for the rest of the week.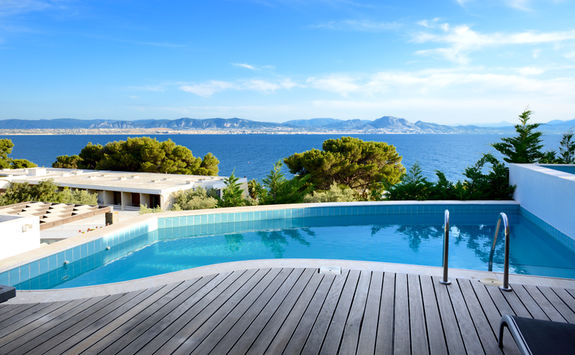 Rather than exploring Halkidiki the traditional way, by foot or car, this morning you will take to the waves and explore it from the sea. After breakfast, you will head down to the beach, where you will meet your expert guide for the four-hour kayaking trip.
After a safety briefing you will head into the water. From here, you can explore the wild and imposing cliffs as you guide keeps the children rapt - and, handily, distracted from aching arms - with stories of monsters and men of ancient mythology who did battle on land and sea. When you find a deserted cove you like the look of, you can moor up for a picnic lunch and dip, before paddling back to your hotel. This afternoon, we recommend paying a visit to the Kid's Club at your hotel and signing up for a few sessions later in the week.
The next two days are all about having fun and spending time together as a family, replacing school runs and hockey matches with sandcastle building competitions and playing in the pool(s). Your hotel has an incredible kid's club, with a schedule that changes every day, offering everything from Pirate days and Greek cookery classes to foreign language classes and Greek dancing lessons (plate throwing optional).
While the kids are fully occupied, grown-ups can make full use of the facilities available, from salubrious spa treatments to wine tastings. As the Kid's Club runs a disco every evening, we have booked the little ones in to dance the night away (until bedtime, anyway) while the grown-ups enjoy a private, candle lit dinner. Halkidiki is bursting with outdoorsy activities, as well as those of the more indoorsy variety, so we can arrange family trips away from the hotel on a few days.
Additional Activities
Boat tours
Sailing lessons
Water sports
Visit to a local monastery
Guided hiking
Cookery classes
As we're sure you've discovered over bowls of yogurt and honey at breakfast time, Halkidiki is home to some pretty special bees.
After breakfast this morning, you will meet an expert apiologist (expert in bees) for a walking tour to visit the bees in their natural habitat. Suited up in bee-keeping gear, you will have the opportunity to nose around the hives and get to know the bees. As you explore, your guide will explain how the traditional ways of bee-keeping and honey making have been passed down the generations for over two-and-a-half millennia.
Don't forget to pick up a few jars of local honey to take home with you!

As tonight is your last on holiday, we've organised something fairly special. Before dinner, you will make your way down to the water for a sunset sailing tour of the bay. As the sun sets you will gently float through the water, keeping an eye out for the stars as they start to appear. When you arrive back in the marina, you will make your way back to the hotel for one last supper - and perhaps a late night paddle - before bed.
Day 8:

International Flight
Today it is sadly time to wave goodbye to Greece (well, for this trip at least) so after breakfast you will be privately transferred to the airport for your three-and-a-half-hour flight home. Depending on which one we've booked for you, you will land back in the UK between early and mid-afternoon.
All of the holidays we create are completely tailor-made to you
This sample itinerary is intended to give you a flavour of what we can do
A Rough Idea of Price
While all of our holidays are completely tailor-made and prices will vary based on things like time of year and level of accommodation, we want to give you as good an idea of how much this itinerary will cost. The below prices are based on two people sharing.
This Itinerary
If you would like to book the itinerary mentioned above, with economy flights, during mid-season and staying in our preferred room category at our preferred hotels.
Bare Necessities
If you would like to pare back the above itinerary by travelling at non-peak times, staying in a standard room and removing some or all of the guided activities.
Bells & Whistles
If you are looking for something extra special, we can discuss with you upgrading your accommodation, flights or activities.
Kate L is our expert for this itinerary and, as a seasoned traveller, has the inside track on the most memorable adventures.