Design in Barcelona
Who: Couples, Families and Solo Travellers
From £1,410pp
A Design Big Short Break in Barcelona
Barcelona is a Big Short Break classic, and on this four-day trip the focus is on the city's legendary design heritage. See the finest examples of Gaudi's architecture and other Catalan design classics with your expert private guide.
Itinerary at a Glance:
Visit Gaudi's Catalan modernist masterpieces, Casa Batllo, Casa Mila and the incomparable Sagrada Familia
Learn about Catalan culture and design heritage from your expert guide
Enjoy Barcelona's famed nightlife and restaurants with recommendations and bookings from our local Concierge
Why Book with Original Travel?
Just a few of the extra touches that come as standard on an Original Travel holiday...
See More
All of the holidays we create are completely tailor-made to you
This sample itinerary is intended to give you a flavour of what we can do
Day 1:

International Flight
There are direct daily flights to Barcelona from London and several other UK airports, so depending on which one we've booked you will arrive in the Catalan capital between lunchtime and evening. You will be met at the airport by one of our team on the ground for the 20-minute transfer to your city centre hotel. Our Concierge can recommend the best tapas bars and book a restaurant for your first evening in this fun port city.
After a leisurely breakfast at your hotel you will be met by your art historian guide for a private day tour of Barcelona with the focus on the visionary design of Antoni Gaudi, a fiercely proud Catalan and the chief architect (both literally and metaphorically) of the Catalan Modernist movement.
The tour starts on foot with a wander through the Eixample district, home to many of Gaudi's modernist buildings with their asymmetrical and almost fluid design, including two masterpieces - Casa Batllo and Casa Mila. 'Jump the queue' tickets are included, so you and your guide can explore the interiors, which are every bit as fascinating as the facades.
Then, after lunch in a popular local restaurant, you will take a cab to the greatest Gaudi building of all, the Sagrada Familia (with added queue jumping as before). This remarkable basilica (fast fact - there is no bishop in Barca, so technically no cathedral) was begun in 1882 and taken on by Gaudi who created the extraordinary sinuous designs that mark this out as one of the most iconic buildings in the world. Astonishingly, work continues on the church today, long after Gaudi died in 1926, but he is buried in the crypt and this is the ultimate monument to the man's genius.
After the Sagrada Familia any other building would be anti-climactic, so you will head instead to the Park Guell, where Gaudi once lived, and somewhere to wander while you mull over his achievements and hear more from your guide about Gaudi's importance in defining Catalan identity.
Tonight our Concierge can recommend the most fun tapas bars or book a restaurant where you can enjoy dinner and discuss the day's design masterclass.
Day 3:

More Grand Designs
After another lie-in and breakfast you will have the morning to do as little or as much as you want in this busy and brilliant city. Head to the shops (our Concierge can recommend the best boutiques), enjoy another tour or - season dependent - lie by the rootop pool at your hotel.
After lunch, it's time for another deep dive into the design aesthetic that makes Barcelona such an intriguing destination. Your design specialist guide will show you around parts of the city where contemporary designers and architects have taken inspiration from Gaudi and elaborated on his visions further still. You will visit design hotels, learn about modern Catalan handicraft and see surrealist works by Miro and Dali, all the while gaining a fuller understanding of the city's gift for creativity and the resurgence of Catalan identity in the post-Franco era.
This evening enjoy a final night on the (beautifully designed) tiles with the help of our local Concierge's advice on the most fun bars and restaurants.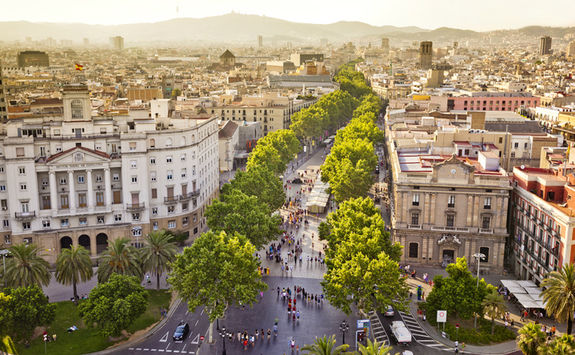 Depending on what time your flight back to the UK is, you may have another morning to explore Barcelona, and maybe pick up a few goodies from the city's design stores. Our Concierge can recommend the best and also suggest the best place for brunch or lunch before your private transfer back to the airport and return flight to the UK.
All of the holidays we create are completely tailor-made to you
This sample itinerary is intended to give you a flavour of what we can do
A Rough Idea of Price
While all of our holidays are completely tailor-made and prices will vary based on things like time of year and level of accommodation, we want to give you as good an idea of how much this itinerary will cost. The below prices are based on two people sharing.
This Itinerary
If you would like to book the itinerary mentioned above, with economy flights, during mid-season and staying in our preferred room category at our preferred hotels.
Bare Necessities
If you would like to pare back the above itinerary by travelling at non-peak times, staying in a standard room and removing some or all of the guided activities.
Bells & Whistles
If you are looking for something extra special, we can discuss with you upgrading your accommodation, flights or activities.
Kate L is our expert for this itinerary and, as a seasoned traveller, has the inside track on the most memorable adventures.