Classic Laos
Who: Couples and Solo Travellers
From £2,790pp
Spend 11 days discovering the best of Laos, visiting Luang Prabang and Vientiane as well as the lush, riverside areas in the far south.
Itinerary at a Glance:
Receive a baci blessing as the sun sets over Luang Prabang
Learn to cook like a local in Vientiane
Cruise along the Mekong River and visit some of the 4,000 islands and waterfalls at Siphandon
Why Book with Original Travel?
Just a few of the extra touches that come as standard on an Original Travel holiday...
See More
All of the holidays we create are completely tailor-made to you
This sample itinerary is intended to give you a flavour of what we can do
Day 1:

International Flight
Head to the airport in London this morning to begin your holiday to Laos. There are no direct flights available but there are slick connections in Bangkok. The lunchtime flight to the Thai capital takes 11-and-a-half-hours, arriving early the next morning.
Land in Bangkok in the early morning and connect across to the two-hour onward flight to Luang Prabang, arriving before lunch. You'll be met by one of our team and transferred the short distance to your hotel in the centre of town.
We suggest going for lunch - our detailed destination Dossier will come in handy for recommending a good restaurant - and then you have the afternoon at leisure to stretch your legs and get your bearings.
Day 3:

Looking around Luang Prabang
To really understand what makes the UNESCO protected city of Luang Prabang so special you need a private guided tour with a local. The tour begins at the former Royal Palace, which is now the National Museum, then moves onto Wat Mai (wat means temple) and its gold covered bas relief.
You'll next visit Wat Sensoukarahm and Wat Xieng Thong, Luang Prabang's most revered temple. Take a look at the ornate carvings and mosaics and then move on to your lunch spot for authentic Lao dishes.
This afternoon continue touring, visiting more incredible pagodas but also zig-zagging along the little alleyways and back lanes where the locals live and work. You'll then leave the town centre and head to the Traditional Arts & Ethnology Centre to learn about the various ethnicities and beliefs that exist in this diverse city.
Feeling suitably enlightened, finish your day with a climb to the top of Mount Phousi, the city's highest point where you'll enjoy sweeping views of the city and the Mekong River below. By the time you get back down the night market will have opened up and you can then say goodbye to your guide and wander through the stalls before dinner.
Day 4:

Luang Prabang Like a Local
After seeing the city's highlights yesterday, today you'll escape the other tourists to see the more rural, local side of the city and its surroundings.
Start by heading across the Mekong in a ferry boat with your guide to reach the western banks. From here you can pick up a tuk-tuk (motorised rickshaw) to arrive at Wat Chom Phet, an ancient temple which was once used as a retreat for the King. Next up are the mural paintings at Wat Long Khoun, which you'll visit before heading into the deeper countryside.
Visit a Khmu village and meet with the local residents who live solely off the land, practising a way of life that is virtually unchanged in centuries. Finally, travel onwards to Ban Chan pottery village to observe the ancient methods of pottery making and to meet the locals before heading back across the river to the centre of Luang Prabang by lunchtime.
After a busy morning this afternoon and evening are yours to spend as you please - exploring, dining or relaxing by the pool at your hotel.
You've had a busy few days exploring since you arrived in Laos, so today treat yourselves to a lie in and a leisurely morning. You might like to re-visit some of the sights you've already seen or simply do some wandering, soaking up the atmosphere of the city in the sunshine.
This evening we have arranged for you to enjoy a really special experience: a private baci ceremony with the locals and monks at Wat Phou Kouey. This quintessentially Laotian ceremony begins as the sun sets, with special trays of flowers and other offerings being laid out. Join the locals to touch the tray while chanting Buddhist mantras. The rhythmic chants call for good luck and good health to be brought upon the baci participants by summoning a person's spirits - which can sometimes escape - back in to the body.
After the chanting, cotton bracelets will be tied around everyone's wrists with special, individual blessings being offered. Feel the deep spirituality and genuine nature of the Lao people as they solemnly knot the bracelets, and then enjoy the tranquillity of the temple.
Back in the city, reflect on your spiritual experience as you enjoy a final dinner in Luang Prabang.
This morning wave goodbye to Luang Prabang and head to the airport for a one-hour domestic flight to the under-rated capital, Vientiane.
One of our team will be waiting to you to your hotel in the centre of this riverside city. Once checked in, spend some time wandering around the elegant tree-lined streets admiring the beautiful French architecture of the colonial part of the city.
This evening, head back to your hotel to meet a guide for a fun and hands on introduction to the culinary delights of the city. You'll be taken to a local chef's home and her outdoor kitchen where a selection of goodies will be waiting for you to prepare. Distinguished by spicy, sour and bitter notes, Lao's best dishes offer interesting heat and layers. You'll soon see what we mean as you taste your very own hao niaw (sticky rice), laap (meat or fish salad), jeow (sauce made from grilled eggplant, tomatoes and mushroom) and typical mok pa (steamed fish in a banana leaf) - all of which will taste better knowing you made them.
After a flying visit it's time to leave Vientiane behind again today. You'll be collected and taken to the airport for your direct flight to Pakse. The flight is again less than an hour long, so you'll be there before lunchtime.
By now deep in the south of Laos you'll discover a rarely unexplored part of the country, where tourists seldom visit and life moves at a much slower pace.
You'll spend today exploring some of the area before reaching you hotel later this evening. Start at the Bolaven Plateau, a mountainous region home to dozens of hill tribes, gushing waterfalls and coffee and tea plantations. After visiting two of the most famous waterfalls, have lunch at a plantation and then visit more beautiful waterfalls and a remote village on your way to your hotel in the Champasak area.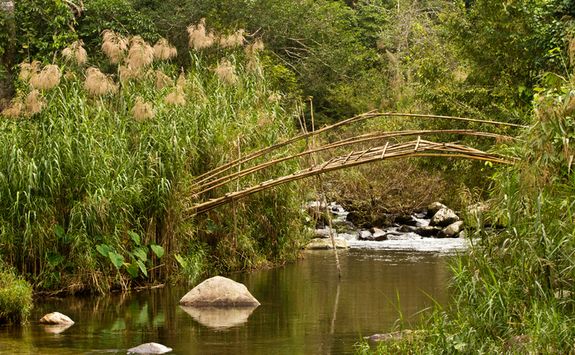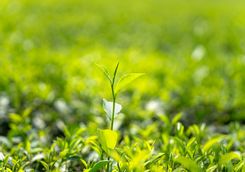 After breakfast at your riverside hotel this morning, meet your guide to travel to Wat Phou, a UNESCO protected temple that pre-dates the Angkor complex of Cambodia.
Set among the rice fields and waterways common to this part of the country, the spectacular three level temple is particularly striking. The bottom level is focused on the baray (water reservoir) and promenade, the second level features pavilions and galleries of carvings, and the top level is the sanctuary. Explore all three levels with your guide and appreciate the spiritual and historic significance of this beautiful temple.
After you're done exploring, head back to your hotel for an afternoon at leisure. You might like to relax by the hotel pool, or borrow bikes to go cycling around the area on. Dinner can then be enjoyed overlooking the river.
Head south of your hotel today as you embark on a full day tour to Siphandon, an archipelago of over 4,000 islands in the Mekong River in the very south of Laos.
This unique cluster of islands is found in a section of the river that's over eight miles wide (no, that's not a typo) and is dotted with rapids and waterfalls. You'll start your visit at the village of Ban Nakasang, where you can hop on a boat and cruise across to the peaceful island of Done Khone, home to simple villages and plantations and where you can spend some time cycling around.
After this, travel on to the impressive Lippi Falls, which are a site of great spiritual significance for the locals, and then continue cruising along the river to look for the rare Irrawaddy dolphin.
You'll stop for lunch at a local restaurant and the afternoon will then continue with similar explorations on the river. By late afternoon, head back north to your hotel in time to watch the sunset.
After a busy holiday of sightseeing and immersing yourself in the local Laos culture, today is yours to simply sit back and reflect on the trip.
Spend a full day enjoying the sunshine, either from the pool at your hotel or at one of the nearby sandy beaches. With the sun on your face and a good book in hand the day should fly by and before you know it, you'll be tucking into your final dinner of the holiday.
Additional Activities
Rent bicycles and explore the area, stopping to chat to locals and bartering for goodies at the side of the road
You have the morning to relax and after a long, lazy lunch bid farewell to your riverside retreat and the beautiful country of Laos. You'll meet your driver for the private transfer to Ubon Ratchathani airport, which is around two and a half hours away, across the border in Thailand.
Once there, board your one-hour flight to Bangkok and connect on to your direct overnight flight to the UK from there. The flight takes 13 hours.
Your flight arrives back into London early this morning.
All of the holidays we create are completely tailor-made to you
This sample itinerary is intended to give you a flavour of what we can do
A Rough Idea of Price
While all of our holidays are completely tailor-made and prices will vary based on things like time of year and level of accommodation, we want to give you as good an idea of how much this itinerary will cost. The below prices are based on two people sharing.
This Itinerary
If you would like to book the itinerary mentioned above, with economy flights, during mid-season and staying in our preferred room category at our preferred hotels.
Bells & Whistles
If you are looking for something extra special, we can discuss with you upgrading your accommodation, flights or activities.
Frances, Holly and Rosie are our experts for this itinerary and as seasoned travellers they have the inside track on the most memorable adventures.