Brazil Explorer
Who: Couples, Honeymoons and Solo Travellers
From £4,965pp
Brazil has all the ingredients for an exclusive adventure. Dig a little deeper and its treasure is bountiful from peak to port. This two-week itinerary explores Rio de Janeiro, colonial Paraty, the emerald waters of Angra dos Reis and bucolic Minas Gerais. You may never want to return home.
Itinerary at a Glance:
Enjoy a cooking class and dinner in Rio's trendy Jardim Botanico district with your Brazilian hosts
Explore the historical colonial town of Paraty with a private guide
Stay in a stylish waterfront hotel in Angra dos Reis
Unwind at a country farmhouse retreat in the heart of a natural reserve
Why Book with Original Travel?
Just a few of the extra touches that come as standard on an Original Travel holiday...
See More
All of the holidays we create are completely tailor-made to you
This sample itinerary is intended to give you a flavour of what we can do
Your direct flight from London to Rio leaves at around lunchtime and takes just under 12 hours. You touch down into Rio de Janeiro in the evening and after you've cleared immigration, a private guide will be waiting to take you to your hotel by the sea.
Fancy a taste of Rio's famous nightlife? We can recommend samba clubs and live music hotspots where you can be sure to get on to Brazil time on a fun night out.
After breakfast, head to a local market with your private guide and sample a mind-boggling array of exotic fruit. Sweet tooth? Make sure to grab a caju juice for the journey. Hop on a cable car to the Sugarloaf Mountain for picture-perfect views over the entire bay below and then travel down to the Lapa district to see its 215 brightly coloured Selaron steps.
Your guide will introduce you to Rio's burgeoning port region where you can witness the largest graffiti mural in the world. If you have time, the Museum of Tomorrow is also worth a look-in, even just for a photo outside its spaceship-like structure.
This evening, take a taxi into the well-heeled Botanic district for dinner with your Brazilian hosts. Learn how to make a traditional moqueca and the perfect caipirinha (the first of many, we presume). Gazing out from the penthouse, you'll be treated to views of Rio's twinkling evening lights.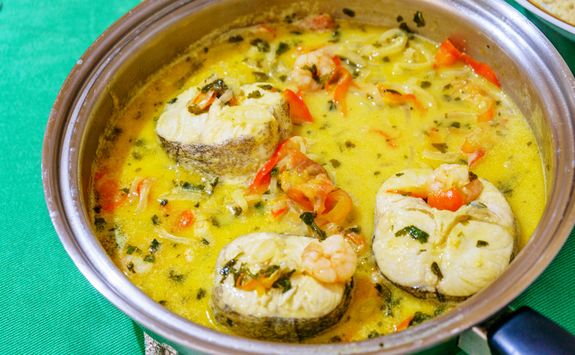 Today you will be able to gain a different perspective of the city from high in Rio's forested hills. A transfer will take you to the foot of the Two Brothers Hill, twin peaks rising some 1,750ft above the sea.
After booting up, you can navigate a labyrinth of footpaths, all the while stopping to take in 360-degree views over Leblon and Ipanema beaches and the sweeping Atlantic Ocean. You'll also have the chance to visit one of Rio's favelas (shanty towns) for insight into its friendly local community and social development projects.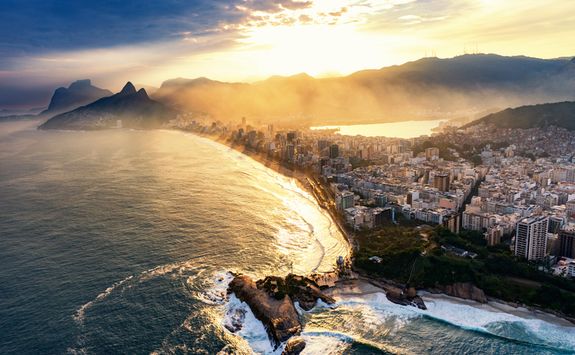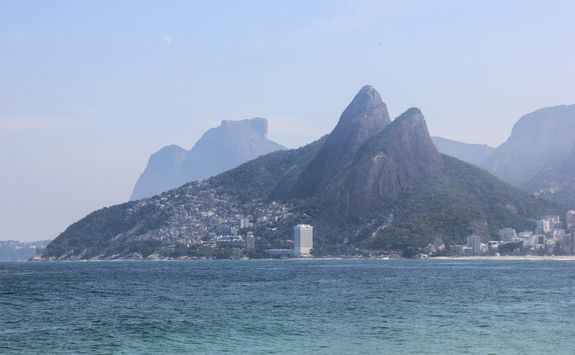 Nothing will shed light on true Carioca (Rio residents) gaiety until you experience Rio's samba culture. For tonight, we can reserve front-row seats at the best samba club in the city where couples whisk each other around the floor to the sultry sounds of a live band. Sit back with a caipirinha or dance the night away. Need a bit of practice before hitting the floor? We can arrange a private samba lesson to master the basic moves.
This morning, a private chauffeur transfer will take you four hours along the lush emerald coast to the pretty colonial town of Paraty. Arriving into what was once a port for exporting gold, time stands still with not a single car in sight.
Check into your pousada (government run - but charming - inn) and meet your private guide (a savvy local) who will accompany you through cobblestone streets full of historical charm. Visit exquisitely preserved churches and well-curated art galleries and appreciate the town's centuries-old architecture and colourful doorframes. You have the rest of the afternoon free to explore the town, perhaps stopping in at the plethora of artisan shops and small cafes.
Paraty has many strings to her bow including the 65 neighbouring islands and dreamy bays. In the spirit of true exploration, hop on a traineira (one of the local fishermen's boats that you would have seen bobbing in Paraty's port) and embark on a seafaring adventure along the tropical coast.
Moor up for dips in warm turquoise water and for private picnics on hidden beaches. Don't forget to pack the snorkelling gear; the waters surrounding the islands are teeming with exotic fish.
This morning, a private transfer will take you to Angra dos Reis, a mirage in the jungle. Check in to your ultra-glam outpost by the sea and slip on the Prada sandals. It's time to relax on the terrace and look out towards the yachts with a cold glass of rose.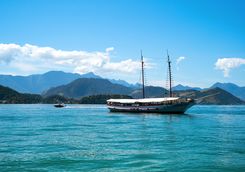 Lazy days can be spent lolling on Angra's bright white beaches or by the hotel's chic swimming pool. Break up the day with long seafood lunches and dinners of fresh fish straight from the morning catch.
Should you feel energetic, you can board a schooner to explore the archipelago or embark on jungle jaunts. On your return we can arrange for pampering massages and facials in the spa.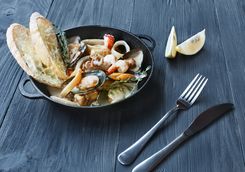 After lunch, say goodbye to the beach and a private transfer will take you the three hours back to Rio de Janeiro. This time you can stay in the leafy hills of the Santa Teresa district brimming with bohemian attitude and artists' residences.
Some our favourite restaurants are within striking distance of your hotel. They're popular amongst the locals, so we'll make reservations for you well in advance.
You've already explored Rio's remote hillsides, but today your private guide will help you discover the city's iconic landmarks. First stop, Christ the Redeemer which you can reach on a cog railway.
Sitting at 2,300ft at the summit of Corcovado Mountain, the statue is a glorious spectacle and offers city views stretching all the way to the sea. Then hike into the thick of the surrounding Tijuca Forest where you'll find rivers, lakes and hidden waterfalls. Keep your eye out for capuchin monkeys and the quatis (a brazilian raccoon) that live in the verdant vegetation. You can then recover with an acai juice by the sea and beach-hop back to your hotel.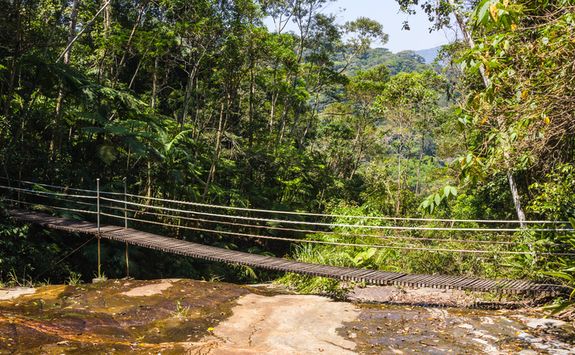 This morning your private guide will drive you four hours into the countryside of Minas Gerais. During the 17th century gold rush, bandeirantes (fortune hunters) flocked to its mountains and forests in search of treasure.
Now Minas Gerais's riches can be found in its natural beauty, much of which still feels undiscovered. Arrive at your 18th century farmhouse where a home-cooked feijoada (Portuguese stew) and icy caipirinha awaits.
Days 12-13:

Into the Wild
Spend your days hiking through a fertile nature reserve with expert local guides. Whilst you traverse forest-clad mountains, you'll see crops of sugarcane, lush coffee plantations and exotic birdlife. When you reach the summit, you can gaze out blissfully at rolling bucolic landscape.
Your guide will pack sandwiches made from freshly baked bread and slices of homemade lemon cake to keep you going. Feeling hot? Cool off under the picturesque waterfalls dotted around the reserve. We'll make sure towels and treats are there at the ready. Those with the need for speed can go galloping on horseback through the grassy valleys and cantering through the woodland.
In the evening you can rejuvenate in an outdoor jacuzzi underneath a blanket of stars.
Additional Activities
Visit local villages and communities
Bird watching
Cooking classes
Venture through the countryside on 4x4 drives
Rapelling
White water rafting
After fourteen days of exploration, it's time to head home, but only after one last morning and lunch. Your private chauffeur transfer of around four hours will then take you to Rio airport in good time for your international flight home. Don't forget to charge your iPad for the journey ahead. The flight leaves in the late evening and takes 11-and-a-half-hours.
Your flight into London Heathrow arrives around lunchtime.
All of the holidays we create are completely tailor-made to you
This sample itinerary is intended to give you a flavour of what we can do
A Rough Idea of Price
While all of our holidays are completely tailor-made and prices will vary based on things like time of year and level of accommodation, we want to give you as good an idea of how much this itinerary will cost. The below prices are based on two people sharing.
This Itinerary
If you would like to book the itinerary mentioned above, with economy flights, during mid-season and staying in our preferred room category at our preferred hotels.
Bare Necessities
If you would like to pare back the above itinerary by travelling at non-peak times, staying in a standard room and removing some or all of the guided activities.
Bells & Whistles
If you are looking for something extra special, we can discuss with you upgrading your accommodation, flights or activities.
Ollie is our expert for this itinerary and, as a seasoned traveller, has the inside track on the most memorable adventures.