Oman is a country of outstanding natural beauty and home to a diverse variety of terrains, from lonely wind-blow deserts and pristine coastlines to historically rich cities and bustling markets. For a luxury family holiday, Wahiba Sands, a desert region in eastern Oman, delivers on all fronts. Thrilling 4x4 adventures that will entertain the little ones for hours, once-in-a-lifetime desert camping experiences and a surprisingly varied array of flora and fauna to spot in an extraordinarily epic game of 'I spy'.
Just four hours' drive from the country's capital Muscat, a trip to Wahiba Sands feels more like an expedition to Mars. A land of vast emptiness and other-worldly terrains, you're almost guaranteed a few moments of peace and quiet from your youngsters as they take in colossal 300ft sand dunes and immense salt flats. Explore this remarkable region on an exciting 4x4 tour and, for parents who like adventure as much as their children do, put your driving skills to the ultimate test on the daunting dunes for a self-drive option.
Stay in a desert camp and experience a memorable night that begins with a golden sunset, continues with a densely-starred sky and concludes with the soft light of a desert dawn. Admire the ever-changing colours of the sand from pale rose-gold to rusty terracotta-red and keep your eyes peeled for the wildlife that calls this empty wilderness its home.
Once the children have had their fill of dreamy deserts, drive them to Muscat along a coastal route passing sandy bays where turtles nest year-round, and small villages and towns are scattered along the shoreline. Make sure to have your Sharky & George packs close to hand for the all-too-soon moans of "are we there yet?" and keep your little adventurers entertained for hours with a range of fun games and challenges. In Muscat, spend your time perusing the museums, wandering through flower-filled parks and exploring the old forts. To cool off, head to nearby lagoons to dive with turtles and swim from sandy beaches - a guaranteed win with your kiddos.
From Muscat, head into the mighty Al Hajar Mountains and enjoy 4x4 driving excursions complete with cinematic views. On Fridays, make sure to visit the ancient Omani capital of Nizwa for its weekly livestock market where you parents can indulge in rich fabrics while the children pick out fun souvenirs to remind them of their momentous holiday in this fascinating corner of the world.
Itineraries
Best for: Families and Groups
Luxury Family Oman
Oman will ignite your children's adventurous spirit during this brilliant combination of off-road drives along wadi gullies and rough mountain...
11 Days
From £4,610pp
Family Fun with Original Travel
Planning a successful family holiday takes a similar amount of organisation and fortitude as a small scale military operation. But fear not, our team of specialists (many of whom are parents themselves) are here to take the stress out of the planning process so those toddler tantrums and teenage meltdowns are kept to a minimum.
From our carefully curated Sharky & George fun packs, which keep children entertained on those long journeys, to knowing the most family-friendly hotels and holding client focus groups, we pride ourselves on making sure that you have the best family holiday imaginable because there's no more important time together.
Where to go
Oman
A wonderful destination combining beautiful beachfront properties and dramatic mountain and desert landscapes to explore.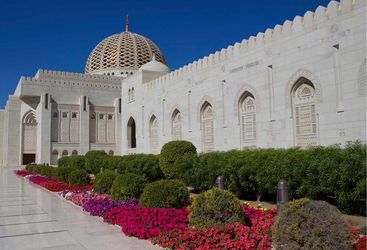 Muscat
The Omani capital is home to some of the most luxurious hotels in the Middle East.
Start creating your tailored trip today
Our thoughtful experts are ready with ideas, inspiration and advice for your next journey.
Working with you we'll craft an unforgettable trip and tailored itinerary.
We're here to help with everything while you're away from the smallest to the biggest request.
Matt and Charlotte C are our 'Family Wahiba Sands' experts and as seasoned travellers they have the inside track on the most memorable adventures.