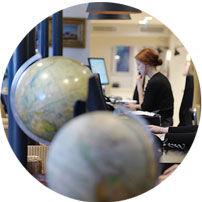 The Kingdom of Morocco is the western gateway to Africa. Bordered by the Mediterranean Sea in the north, the Atlantic in the west and the Sahara Desert in the south, Morocco's landscapes are as diverse as its cultural heritage. In the mountains, mud-built villages house the indigenous Berber population while in the desert, glistening oasis towns provide a refuge from the scorching African sun. Spend your Morocco hot holidays in one of the country's electric, historical cities, from the whitewashed streets of Casablanca to the blue-painted old town of Chefchaouen. Sip tea on a shaded cafe terrace,
browse the stalls of a humming souk, and taste the rich flavours of traditional Moroccan couscous – Moroccan hospitality is second to none. The architecture here is first class, too with Islamic influence giving rise to magnificent marble palaces and colourful, intricately tiled mosques. If it's the beach you're looking for, laidback souls can stretch out on Agadir's crescent shores, while adrenaline seekers can kitesurf on Essaouira's wind-whipped waves. With its scenery, cities and people, Morocco brings more than just the sunshine to warm your holiday.
Morocco Escape to the Sun Holiday Ideas
A few suggestions to get the holiday planning process started
Escape to the Sun by country
Other Morocco collections
A few of the benefits of travelling with us
What our clients say about us
Morocco customer reviews (3 reviews)
4.7/5
Overall, I'd give the trip a 5+ out of 5. Very well planned and executed, even with last minute changes to my husband's travel. Thanks so much for one of our favorite trips thus far! We look forward to working with you again.
Morocco Guide
Practical advice, client testimonials and inspiration to help you prepare for your holiday
Contact one of our Morocco specialists