Are you sitting comfortably, with your mobile phone turned off and popcorn in hand? Good, because now we want you to throw all of those things out the proverbial window and grab your hiking boots/oar/moustache comb (all will become clear). 2020 is set to be a blockbuster year in terms of film releases and will feature some fantastic filming locations, but don't just watch the likes of Harrison Ford embarking on an adventure around the rugged landscapes of the Klondike, or Kenneth Brannagh inspecting Egypt's ancient wonders, explore them for yourself (enter the oar and moustache comb)…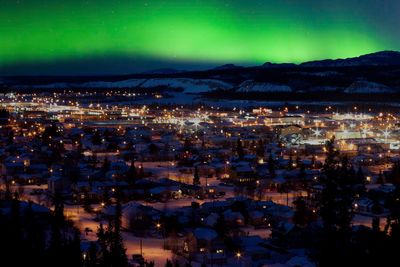 'Call Of The Wild', Canada
Adapted from Jack London's classic Yukon-set classic novel, the latest adaption of The Call of The Wild is sure to warm even the coldest of hearts - although we'd be lying if we said we didn't find the ruggedly wild Canadian scenery as equally compelling as the adventure on screen. Embark on your own Yukon adventure and step back into the period the film is set in - that of the infamous Klondike Gold Rush which saw over 100,000 people migrate to the region in 1896 - by visiting the exact spot where gold was first discovered, before having a go at panning for gold yourself. From canoeing down the Yukon River and spotting wildlife as you go, to spending evenings chasing the Northern Lights in the Kluane National Park, you may never want to come back…
'James Bond: No Time To Die', Jamaica
Shaken or stirred? Try spiced or dark - rumour has it the opening filming location of James Bond's 25th outing is set in Jamaica with Bond having retired there… Become part of the action with our Classic Jamaica itinerary - which shows there is so much more to this spectacular island than rum and reggae. Hike into the UNESCO World Heritage Blue Mountains with a guide who can teach you about the rare botanicals you'll observe, before going to the oldest coffee plantation in Jamaica to taste some of the famous Jamaica Blue Mountain coffee. The adventure doesn't stop there - visit deserted islands, go deep-sea fishing and take a musical tour of Kingston all while winding down into James Bond-style island life.
Death On The Nile, Egypt
Monumental pyramids, mysterious mummies and a mish-mash of cultures, it's easy to see why Egypt provided the perfect backdrop for Agatha Christie's famous whodunnit, Death on the Nile. To coincide with the new Kenneth Brannagh movie, Original Travel has exclusively chartered the Steam Ship Sudan, on which Agatha Christie sailed and got her inspiration for the book. This once-in-a-lifetime trip is led by the UK's top Egyptophile, Anthony Sattin, and together you will ply the waters of the Nile stopping along the way for some out-of-hours and exclusive experiences, such as private guided tours of the Valley of the Kings - which houses the tombs of Tutankhamun and Rameses II. Other delights include a trip to Kitchener's Island at sunset, a private tour of the Egyptian Museum - which boasts an extensive collection of coins and items from the tombs of the Pharaohs - and visits to the Temples of Luxor and Dendera (to name a few).
'Jungle Cruise', Ecuador and the Galapagos Islands
Inspired by the famous Disneyland theme park ride, Disney's Jungle Cruise is an adventure-filled, Amazon jungle expedition. Explore the thick uncharted jungle of the Amazonian rainforest with our Wilds of Ecuador and the Galapagos itinerary, and hike deep into the forest with an expert guide to visit the Kichwa Anangu community where you'll gain unparalleled insight into their ancestral customs and traditional way of life. Along the way you'll discover clay licks, which attract parrots and macaws by the hundred, who gorge on the clay which helps counteract the toxins they consume from plant matter. The latter part of this phenomenal trip will see you exploring the Galapagos Islands and their extraordinary biodiversity. See everything form giant tortoises, to fur seals and blue footed boobies, most of which are wonderfully unafraid of humans thanks to the historic isolation of the islands.
Interested in a holiday at some of these fantastic filming locations? Get in touch and we'll be happy to help.